This Subway Map Renames Stations After Women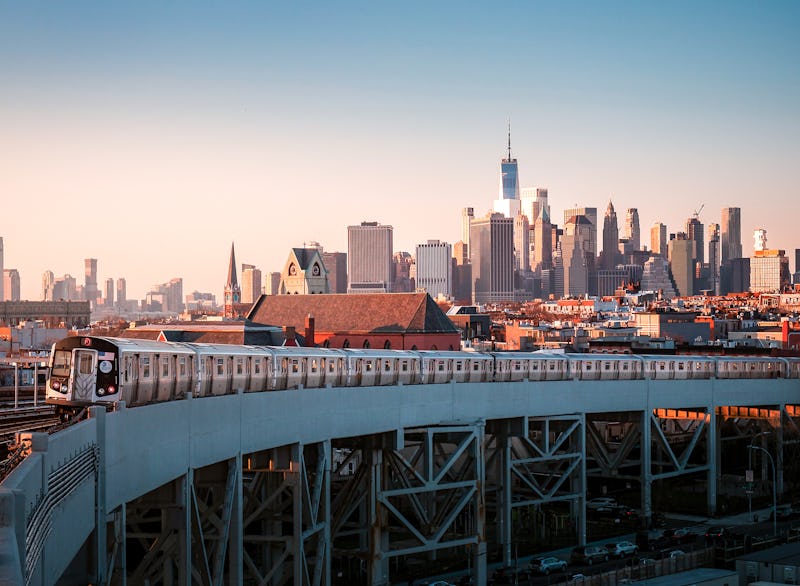 Stefan Tomic/iStock Unreleased/Getty Images
Women may not be a gender minority, but we certainly are underrepresented in society. Think about our dollar bills, the statues on college campuses, and the names of airports — more often than not, they feature the names and images of men, and typically white ones at that. But what if streets and subway stations were named after accomplished women instead? This is the concept behind the "City of Women" subway map in the recently published book Nonstop Metropolis: A New York City Atlas, a volume of 26 maps that re-imagine life in the city's five boroughs. "I wanted a map honoring the great women of New York," writes co-author Rebecca Solnit (yes, that Rebecca Solnit) in an email to Bustle. "It notes the stunning absence of women's names in the cities we actually inhabit, that women are not celebrated in the world we walk through every day."
So why the city's subway map? Since tons of people use the iconic but traditionally masculine subway map on a daily basis, Solnit explains, it made sense to conceptualize a new map to "hang a whole lot of women's names on" that reflects women's history in the United States. Thus, all of the subway stations are renamed after women, and not just those those named after men. The map gives a shout-out to well-known women, from Eleanor Roosevelt to Lucy Liu to Queen Bey, as well as unsung heroines of New York, such as Diana Reyna, deputy borough president of Brooklyn.
"We wanted, as with the atlas as a whole, a list of women that looked like New York, so there are women of all races, and of course the conventional names are not only mostly men, but mostly white men," Solnit writes. "Wouldn't it be beautiful if things were named after Audre Lorde and Grace Lee Boggs and Victoria Woodhull?" Along with co-author Joshua Jelly-Schapiro, historical researchers, and other experts, Solnit also drew inspiration from similarly altered transit maps like Simon Patterson's Great Bear, which is based on the London Underground map.
Check out an interactive, magnified version of the map over at The New Yorker.
"Maps have a special kind of authority and authenticity and immediacy, so we've found that this ['City of Women'] map really gives women and other people an exhilarating sense of ,'Yeah! It could be like this! This city could be ours!'" writes Solnit. "It's a symbolic claiming of space that hasn't been particularly for women or about women, historically."
The map, drawn by cartographer Molly Roy, is also meant to empower everyday women who are used to dealing with a heteronormative culture. Living in a city bombarded by the names of men can reinforces the notion that women should feel less entitled to occupy space in a male-dominated society — in other words, this "amplifies male identity and withers female identity."
"I realized I would feel very different had I grown up in a world where women's names were widespread. I would have felt a little more like this was my world and I had rights in it," Solnit writes. She adds, "These representations that surround us go all the way down into your body, your sense of your own rights, the way you move through the city and imagine yourself."
I can just imagine consulting the map and telling my friend that I'll be getting off at the Zora Neale Hurston station. Nomenclature aside, I love how the "City of Women" map connects tons of amazing women who deserve a ton of credit for what they've done, whether it's being the first woman to win Best Original Score in the Tony Awards or the first African American woman to hold citywide office. Yeah, women. We're pretty awesome.
For a closer look at the "City of Women" map, check out Solnit's column about it in The New Yorker . Nonstop Metropolis: A New York City Atlas is available from the University of California Press.
Images: Stefan Tomic/iStock Unreleased/Getty Images