Here's The Best Hairstyle To Hide Dandruff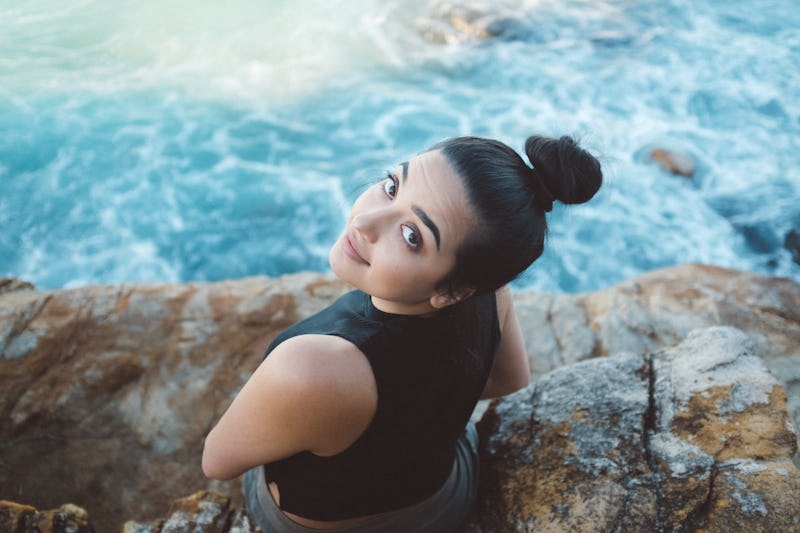 Dandruff is an unwelcome guest that turns up at the worst possible moment, hangs around for a while, and leaves a mess everywhere. Dandruff makes a bad first impression and temporarily ruins your clothes. The best hairstyle to hide dandruff might be the only solution to your flake-filled life, while you try to heal your dry scalp and rid yourself of dandruff once and for all.
Dandruff doesn't discriminate between hair type, length, or color — it can plague any human hair, leaving a sprinkle of gross fairy dust on your shoulders and wherever you rest your head. However, dandruff can be a particularly ruthless enemy of folks with darker hair, because unfortunately, dandruff is usually a pale hue that contrasts against dark locks like snowflakes on coal. Dandruff is also super annoying and quite embarrassing; when you least expect it, flakes can drift down from your bonce. This can occur without any notice and it usually happens at the precise moment you could do without it, when you're hugging a friend, leaning over someone, or god forbid, during a meeting at work.
But, there is action you can take right now to put a dampener on dandruff for the time being. So I spoke to a bunch of hairstylists about the best hairstyle to hide dandruff, so you can keep your flakes under wraps while you get to the root of the problem.
Triana Francois, hairstylist at Haven Spa, tells Bustle over email, "Hairstyles that hide the scalp are ideal for days [when] hair flakes are taking over. Some of these hairstyles include: Buns, braids, and textured hairstyles, e.g. beach waves."
Francois explains that any hairstyle that involves, "teasing of the hair root" will also help to camouflage your dry scalp. She suggests dandruff sufferers, "add some dry shampoo to conceal the flakes," to whatever style they choose.
"I think a ponytail or braid will offer the most control so the hair can remain undisturbed all day — so the dandruff at the scalp has less of a chance to fall onto your shoulders," Max Gierl, stylist at Mizu New York, says via email.
Gierl explains why wearing a ponytail or braid while suffering with dandruff may assist your treatment application. He says, "Some dandruff treatments require the treatment to go onto a dry scalp, so blow dry your hair first, apply treatment, then pull up into a ponytail. I like to pull the front/top out of the ponytail holder a bit so it's not too tight."
Tony Kane, hairstylist at Haven Spa, also rates casual up 'dos as the go to hairstyle for dandruff sufferers. In an email to Bustle, he says, "The perfect hairstyle to hide dandruff is to apply olive or coconut oil to the scalp, then brush the hair so the oils can penetrate the scalp. Wear fashionable high or low ponytails and classic or messy buns and topknots."
So the best hairstyle to hide dandruff is your favorite up 'do that'll hide your scalp, make it easier to apply dandruff treatments, and cause as little disruption to your flakes as possible. Choose from a ponytail, a bun, or a braid, but don't forget to wear a spritz of dry shampoo to make your dandruff even less noticeable!
Images: Jacob Morgan (1), Jacob Morrison (1), Ben Waardenburg (1), Corey O'Brien (1) /Unsplash