Is Being Vanilla A Deal-Breaker?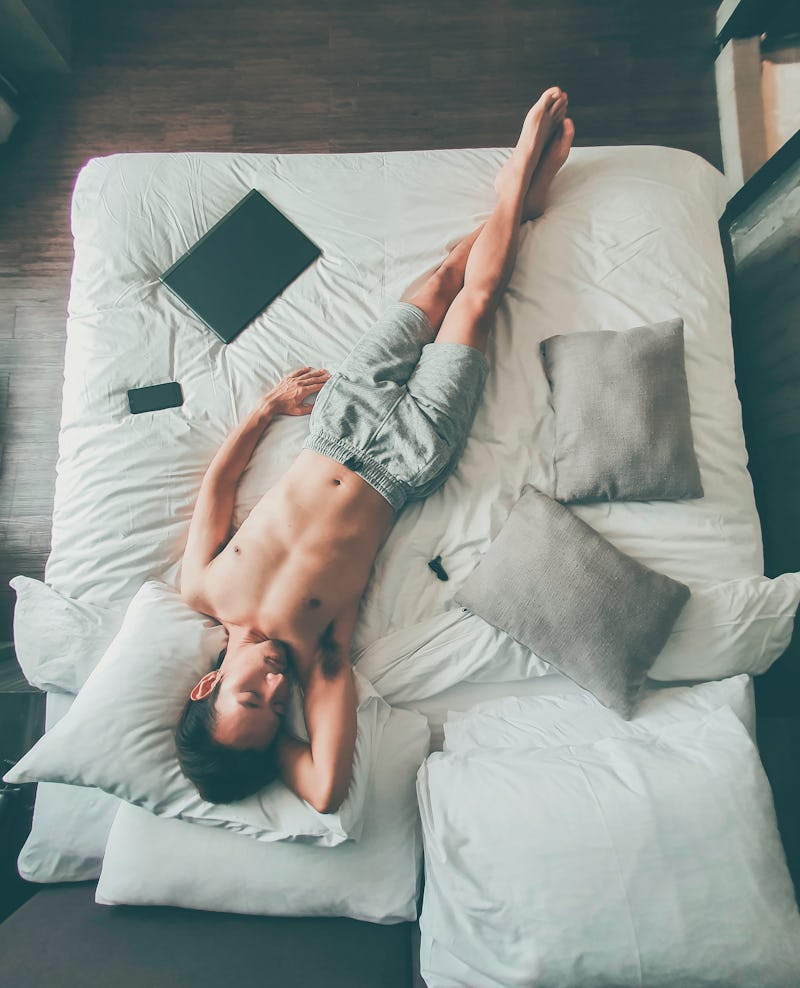 Suphachai Engchuan / EyeEm/EyeEm/Getty Images
We're always hearing that we could be having better sex, a better orgasm, or a better relationship. But how often do we hear the nitty-gritty of how we can actually better understand our deepest desires and most embarrassing questions? Bustle has enlisted Vanessa Marin, a sex therapist, to help us out with the details. No gender, sexual orientation, or question is off limits, and all questions will remain anonymous. Now, onto this week's topic: whether being vanilla is bad or a deal-breaker in a partner if you're kinkier.
Q: "My partner is great in every way — except one thing. He likes pretty vanilla sex. It's good sex, but I'm much kinkier than he is. I like roleplaying, using props and sex toys, and exploring power play. I guess I've been lucky in that all of my past partners have been as kinky as I am, so I've never even had to ask a partner to be kinkier. I feel embarrassed even bringing it up with my partner because I know he's so vanilla. I feel like I'm forcing him to do something that isn't natural to him. I've tried asking him to be more dominant a few times. He did it, but it wasn't believable, so I felt bad for even asking in the first place. I still love him, but it's not everything I want. Is not being as adventurous in bed a deal-breaker?"
A: Thanks for the question! Sexual compatibility is one of the trickiest issues I work with. I know how scary it can be to feel like everything else is right in your relationship except for the sex. Fortunately, in your situation, I have a hunch that it might not be as dire of a situation as it seems. Here are seven important things to keep in mind if you have a vanilla partner.
Don't Make Assumptions
Most couples tend to default to vanilla sex. We're all nervous to please our partners and seem good in bed, so we tend to stick to our tried-and-true, bread-and-butter techniques. Once we've gotten into this groove, many of us tend to stay in our comfort zones, even when we've been together for a while. A lot of us have a hard time being our authentic sexual selves, even with serious partners.
I wonder if your partner might actually be a little kinkier than you give him credit for. Maybe he's been sticking to the vanilla because he thinks that's what works. Or it's comfortable for him. It sounds like you haven't talked to your partner about your sexual desires, so he may not even know that you're interested in trying more things in the bedroom. I've worked with couples who had been together for years, but hadn't ever talked about their actual interests in the bedroom. I would really encourage you not to make any assumptions about your partner's interests until you've actually had some conversations about them.
Share Your Desires
I was doing some research recently on different apps and websites for couples, and I found a few resources for couples who want to talk about their desires. Check out the website Mojo Upgrade or the app Kindu. They're each slightly different, but the basic format is a questionnaire with dozens of different bedroom possibilities. You work through the list on your own, and pick the ideas that you're interested in. You can also input your level of interest, with options like, "I'd do it if my partner was interested" or "I'd consider it at some point." Then you hand off your computer or phone for your partner to take the exact same quiz.
At the end, you'll each be able to see the ideas that you both said you were interested in trying — but those will be the only ideas you'll see. So, for example, if you said you'd be down to try a threesome, but your boyfriend didn't, the idea won't display. Some of the options provided are a little silly, but I think it's a good way to open up a conversation, especially for couples who are on the shy side. I've recommended this exercise to some of the couples I work with, and they each reported back that there were some surprises (even amongst couples who had been together for years!)
You Have To Be Willing To Ask For What You Want...
Now we get to the heart of my response to you: you have to be willing to advocate for your desires. You have every right to want kinkier sex. Kinky sex is great! But you can't expect your partner to know that that's what you want. You can't expect your partner to read your mind. I know talking about our desires can seem embarrassing at first, but it's such a necessary part of having a happy and healthy sex life.
… And Make It Happen
To take it one step further, you should also be willing to show and teach your partner what you want. If he truly is vanilla, and has no idea how to do some of the things you would like him to do, you've got to show him what you want.
For example, he might not really know what you mean by "dominant." Those other times you guys tried it may have been his best shots in the dark. It would be a lot more helpful for you both if you could explain to him in more details what you want a dominant partner to do. Or try playing the dominant one, so he can get a sense of what it means to be dominant. Or show him what you like using one of your toys. Or talk through one of your favorite role-playing fantasies.
Be Patient
A lot of people bring up the same concern you mentioned — "but it won't feel natural!" I say screw natural! Sex is goofy and awkward sometimes. We learn new sexual skills the same way we learn any other skill — by trial and error, and with some occasionally comical failures. And that's OK. If your partner has never been dominant before, it may take them some time to get used to it. Give your partner a chance, and keep working together.
Remember That Effort Is Important
In my experience, the most important quality in a sexual partner is their willingness to make an effort with your sex life. A great sex life does not just happen; it has to be worked on. Your partner may not be a pro Dom at this point, but do they take your desires seriously? Are they willing to try new things and make an effort? Those qualities are much more important in the long-run than your partner magically being a fantastic Dom on their first try.
Adjust Your Expectations
So now we get to one of the hardest parts of your question — is this a deal-breaker or not? Ultimately, you're the only person who can answer that question.
I think that with some time and open communication, your sex life can get a lot better than it is right now. But it's never going to be exactly what you want. You're never going to find a partner who is a 100 percent perfect match, inside of the bedroom or out. So you have to adjust your expectations a bit. Is there enough good stuff there to keep you satisfied, even though there are some disappointments?
Another possibility worth mentioning is to talk about opening up your relationship to allow you to explore your kinks with other people while preserving what seems like an otherwise great relationship (of course, assuming it's something you're both interested in).
Wishing you the best of luck!
Images: Suphachai Engchuan / EyeEm/EyeEm/Getty Images; Giphy