The Kylie Cosmetics Holiday Makeup Bag Is Perfect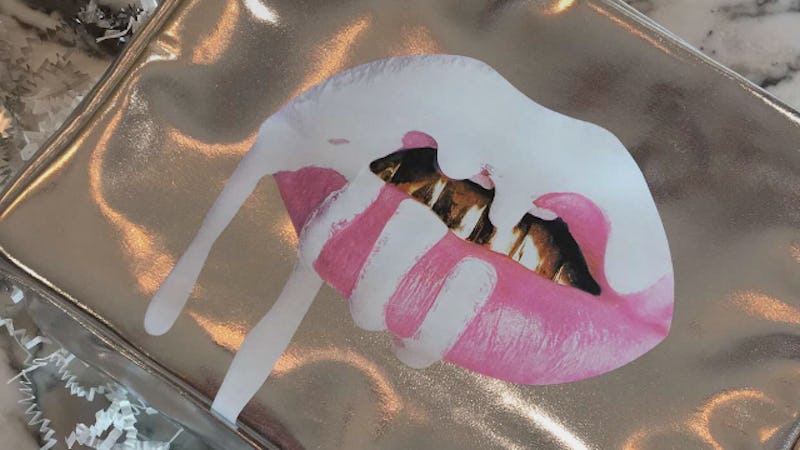 On Wednesday night, Kylie Jenner took Snapchat by storm with the reveal of her Kylie Cosmetics Holiday Edition Collection. The jam packed group of products was straight up awe inspiring, and Jenner added a familiar — thought slightly different — favorite. The Kylie Cosmetics' Holiday Edition makeup bag is a gorgeous shimmering bag that takes the Birthday Edition bag up a notch. Basically, the new makeup bag is perfect, and Kylie Cosmetics fans are sure to want to snatch it up. After all, what else are you going to keep all your Kylie Cosmetics goodies in?
When Jenner began debuting her Holiday Edition Collection on her personal Snapchat, fans were basically enthralled. With multiple new lip glosses, lip kits, a new metal matte, creme shadows, and a Kyshadow palette, it was a sight to behold. For her last product — before she took an "intermission —, Jenner debuted the new Kylie Cosmetics makeup bag.
While the old makeup bag was definitely classic Kylie Cosmetics with its overall black color and signature lip logo, the new bag is totally glam and may just top the old one. With stunning silver metallic all over color and gorgeous white drips over the classic lip logo, it's super luxe.
The bag looks to be the same size as the old Kylie Cosmetics makeup bag, but the design is definitely a step up from the old one.
Plus, if you're planning to order the Kylie Cosmetics Holiday Edition collection, the bag is totally on theme. The snowy white drips match the rest of the collection perfectly.
As of press time, Jenner had yet to update fans on how much the bag would cost of if it would even be sold outside of the rest of the collection. Despite those questions remaining unanswered, one thing fans know for sure is that this beauty needs to be in their collection.
Images: Kylie Jenner/Snapchat; Kylie Cosmetics/Instagram