'Saved By The Bell's Jessie Could've Made History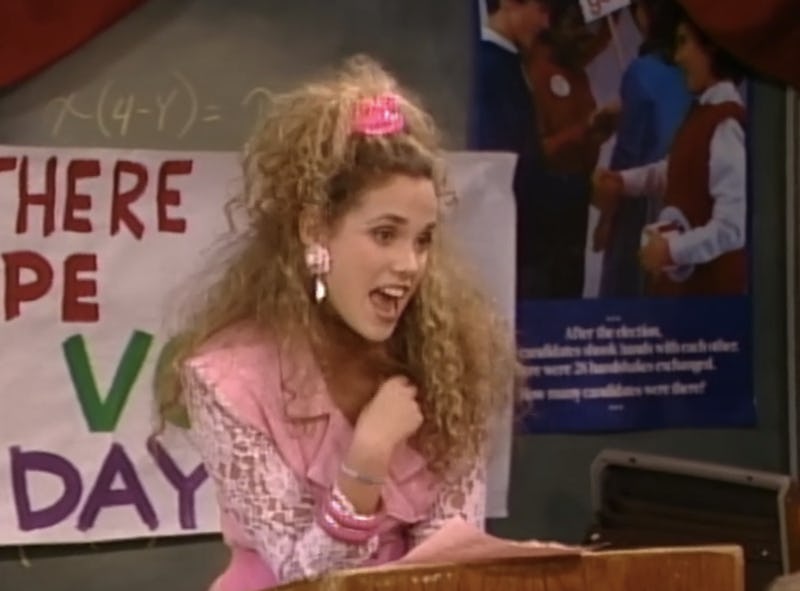 In the '90s, you'd wake up in the morning, your alarm would give out a warning, and you wouldn't think you'd ever make it on time. Or at least that was the case if you attended Bayside High and starred on Saved by the Bell. Back then, Zack Morris and his pals ruled the school — and the mainstream TV lineup. Even if you were a toddler at the time (like me), you've probably caught plenty of reruns in the years since. So it's easy to wonder, what would the Saved by the Bell cast be up to today? Luckily, I have the answers straight from the series' executive producer, Peter Engel.
Engel recently released a book called I Was Saved by the Bell: Stories of Life, Love and Dreams That Do Come True, reflecting on his personal life, career, and the show that forever holds a spot in TV history. While chatting with Bustle, he shared how a certain SBTB character could've made history, too. "Jessie [Spano] wanted to be the first female president. She might've won, and she probably would have won," Engel says with a laugh. "Or a Supreme Court Justice, but she wouldn't have been the first female."
Considering Hillary Clinton's recent presidential run, the comments couldn't be more timely. Sure, Donald Trump became the president-elect, but that doesn't mean Clinton didn't break barriers as the first woman to be the nominee for a major party. It's a toss-up whether Jessie could've defeated the likes of Trump, but, in an episode of Saved by the Bell , appropriately titled "The Election," she runs for Student Body President against her pal Zack, who has no political experience. He tries to shake up the school and offer unrealistic promises to students. But all Zack really wants is to go on a free trip to Washington.
When trying to sway his friends' votes, Zack asks, "What would the world be like if a woman ran it?" In response, Slater offers, "Less violent, and color-coordinated." (Honestly, that description sounds good to me.) Interestingly enough, the episode's commentary isn't unlike that surrounding the 2016 election. Despite airing more than 20 years ago, it's still relevant, since Jessie is told by her friends, "You've got to change your image. You've got to lighten up, Jessie. Appeal to more of the people." Hmm, sound familiar? This is the same criticism that often plagued Clinton's campaign.
At the heart of it, Jessie is committed to making the world (or at least Bayside) better. In the aforementioned episode, she says, "This is important to me. My mother got involved in the '60s and she made such a difference." Ultimately, she loses the election to Zack by only one vote. And, yet again, her unexpected loss is strangely similar to current events. (The key difference? Zack steps down at the end, and gives Jessie the role she deserves.)
Now that you have that parallel to ponder, let's take a look at the rest of Engel's predictions for where the SBTB cast would be today.
Zack Morris
"Zack wanted to be a game show host," Engel says. And, in case you need more specifics, he adds, "Zack would probably be the host of Price Is Right or something." He would totally fit right in.
Kelly Kapowski
"Kelly would probably be doing a cooking show," Engel explains with a laugh. "And being a housewife." He likely was referencing the fact that actress Tiffani Amber Thiessen hosts a cooking show IRL. She stars on Cooking Channel's Dinner at Tiffani's.
A.C. Slater
As for everybody's favorite jock, Engel says, "Slater, we always said would be Hulk Hogan." Despite that fun mental image, he then gets a bit more realistic, since there can only be one Hulk: "Slater would probably be a coach, a high school coach."
Lisa Turtle
Unsurprisingly, the fashionista would have a job that tied into her shopping habit. The executive producer tells me, "Lisa would probably be a buyer at Neiman Marcus." Perfect.
Screech
Last but not least, Engel says, "Screech would probably be, I don't know, a standup comic." Sounds about right, huh?
And, because it wouldn't be a true Saved by the Bell moment if there wasn't a heartwarming ending tying things together, Engel shares what he wants readers to take away from his book. Coincidentally, the concept also applies to these characters pursuing their biggest dreams. "You never know where your satisfaction and your victories are going to come from," he offers. "And no matter how many times you get knocked down... never give up."
Now, if only she wasn't a fictional character, I'd be starting to campaign for Jessie Spano 2020. Even if she lost to Zack in high school, that wouldn't get in the way of her presidential aspirations. No way.
Images: NBC Enterprises/Netflix (3); Giphy (5)