Lana's Time On 'AHS' Wasn't As Epic As Expected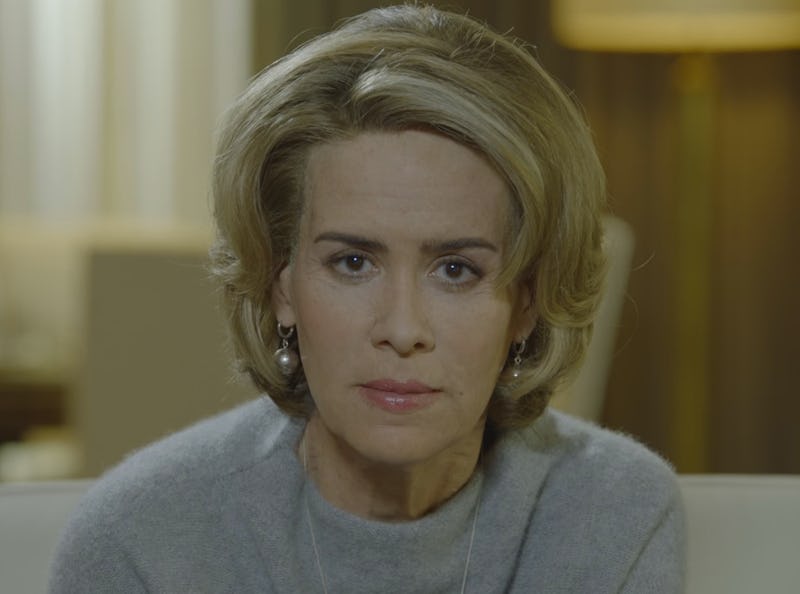 If you were disappointed with how little Lana Winters was in the finale of American Horror Story Season 6, I don't blame you. But you gotta admit that a lot went down in Lana's short amount of screen time. While the previews for Roanoke's final episode seemed to indicate that Lana would be a major fixture, her live special with Lee Harris was over before it could even truly begin. But that was because of powers beyond Lana's control.
Viewers did learn a few things from the beginning of The Lana Winters Special before chaos ensued. Like the fact that she has an amazingly retro title sequence for her show. But more importantly, we found out that the world indeed knows that Lana killed her son by Bloody Face, Johnny, since Lee said that was the reason she had agreed to do an interview with the icon over people like Barbara Walters or Diane Sawyer. Lana also highlighted her hard-hitting journalism skills when she revealed that Flora had gone missing a mere hour before the interview started, making Lee a suspect once again.
However, that's as far as the special went since the final surviving Polk, Lot Polk, interrupted the live interview, threatening revenge on Lee for killing his incestuous, pig-loving family. Lot was shot and killed before he could murder Lee, but he still managed to hurt the beloved Lana from Season 2's Asylum . Not on our watch, buddy!
American Horror Story Season 2
Lana survived — as she always does — but that was the end of the highly anticipated The Lana Winters Special. Paulson's character did appear one more time to give insight on Lee, who was in a standoff with police at the Roanoke house, but her time was shorter than expected. Yet, I guess I can't complain since any Lana Winters is better than no Lana Winters at all.
Image: FX