Here's Where You Can Hear The 'Moana' Soundtrack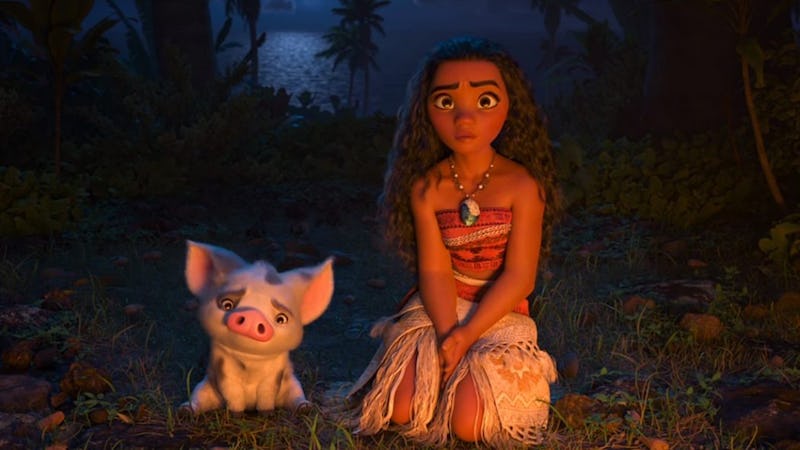 In 2013, after struggling to find its way with its animated films during the first decade of the new millennium, Disney returned to the Broadway-musical style films that defined the Disney Renaissance of the '90s. The result was Frozen, currently the highest-grossing animated film of all-time and a pop culture phenomenon on a level that Disney hadn't seen since The Lion King. So naturally, Disney is busting out their musical chops once more with Moana, which features tunes by Hamilton maestro Lin Manuel Miranda. But where can you listen to the Moana soundtrack?
Click Here To Buy Moana Soundtrack
Thankfully for fans, the film's soundtrack is available right now basically wherever music is sold. The soundtrack became available for download on Nov. 18, several days before the film even hits theaters. This is great news, since oftentimes a movie's soundtrack won't be released until well after the movie has premiered. You can download the album on both Amazon and iTunes, and both stores offer not just one but two different versions of the soundtrack. There's the original motion picture soundtrack, which consists of a whopping 40 songs. There's also a deluxe edition that contains an additional 19 tracks, most of which are outtakes and demos, as well as a few karaoke versions of the soundtrack's biggest songs.
Speaking of the songs themselves, they were composed in part by Miranda, but he had some help. Mark Mancina, who had previously assisted Hans Zimmer with the score for The Lion King and worked with Phil Collins on Tarzan 's soundtrack, composed the film's score and co-wrote some of the songs. Also collaborating with Miranda and Mancina was musician Opetaia Foa'i. Foa'i is Samoan-born, lending some authenticity to the movie's Polynesian setting. He is also the lead singer and songwriter of the band Te Vaka, who perform a modern style of traditional music from the South Pacific.
Click Here To Buy Moana Soundtrack
Two songs were released ahead of the soundtrack, and both did a pretty solid job of building hype. One is performed by Miranda and Foa'i, and another is a single version of one of the movie's songs, performed by Alessia Cara. You can check them both out below, as well as a clip from the film previewing a third song.
"We Know The Way" — Lin Manuel Miranda And Opetaia Foa'i
This catchy number sounds like classic Disney with a South Seas twist, and shows just how potent of a mix Miranda and Foa'i are.
"How Far I'll Go" — Alessia Cara
This is the single version of a song sung by Moana (Auli'i Cravalho) in the film. Similar to how Demi Lovato recorded a version of "Let It Go" separately from Idina Menzel, Cara's version is more poppy than the one in the film.
"You're Welcome" — Dwayne Johnson
The Rock shows off his impressive singing voice as Maui in this clip from the film.
All indications are that the Moana soundtrack is definitely living up to Disney's reputation, and you can find out for yourself firsthand by downloading it from the vendor of your choice.
Click Here To Buy Moana Soundtrack
Images: Walt Disney Pictures