There's A Condom Vending Machine In NYC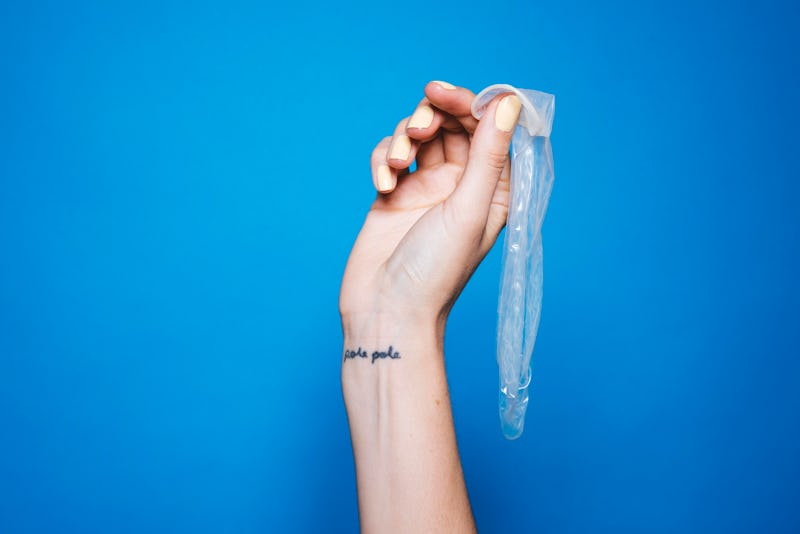 A few years ago, I was mid-hook-up with a guy in Paris when we realized we didn't have any condoms. Being a responsible sexually active woman, I usually have my own stash but, well, I had used them all already. As we paused for a second, to cool off, the guy reminded me that there was a condom vending machine around the corner on the street and he'd run down to grab a few. We were saved. I remember thinking that condom vending machines were exactly what New York City needs… and apparently, someone was listening to my thoughts that night.
Friday, Nov. 18, LifeStyles Condoms will be debuting the first-of-its-kind condom vending machine in Washington Square Park, from 10 a.m. to 6:30 p.m., as part of their "Smart Is Sexy" campaign. The campaign is all about educating sexually-active people not just on the facts that STDs have reached an all-time high in the United States, but exactly what we all need to do to be pro-active in protecting ourselves and our partners.
"Despite recent declines, 2015 was the second year in a row in which increases were seen in all three nationally reported STDs," Dr. Gail Bolan, Director of CDC's Division of STD Prevention, tells Bustle. "The approximately 1.5 million cases of chlamydia represent the highest number of annual cases of any condition ever reported to CDC. Substantial increases were also seen among reported cases of gonorrhea and syphilis." Basically, I think we need condom vending machines everywhere.
Here's why the United States is late to the party on vending machines, as well as why STD rates have sky-rocketed.
1. Vending Machines In The United States Tend To Get A Bad Rap
"Vending machines in the U.S., historically, have been perceived as less than premium, often located in bathrooms, while in Europe vending machines are designed to reflect an upscale, clean, reputable image," Carol Carozza, vice president of marketing at Ansell Healthcare (aka the company that makes LifeStyles Condoms), tells Bustle. "The LifeStyles vending machine upends the usual U.S. image of vending — it is clean, premium, offers a great prestige product, similar to those vending machines you see now in airports with electronics."
2. The Vending Machine Comes With A Quiz
One of the unique aspects about the vending machine is that it's interactive. Users will be asked to answer five questions about sexual health before receiving their condom sample. The questions will cover STI stats, basics about contraception, and the history of condoms, which is actually a really interesting one. Carozza explains that the reason behind this interactive aspect of these machines is it offers both an experience and a product — that you run home and use ASAP.
3. Condom Vending Machines Are (Hopefully) Our Future
"We believe vending machines that are well-maintained, offer premium products, interact with consumers, and elevate the experience to mutual engagement while offering products at convenient, in-the-moment locations serve an unmet need for consumers," says Carozza. "These should be in malls, airports, train stations, bus stops, restaurants, clubs… every convenient location to provide full accessibility at all times."
4. Condoms Still Don't Get The Respect They Deserve
"Condoms have always met with some resistance, because intimate moments may be interrupted to don a condom, and then they are perceived to be somewhat desensitizing," explains Carozza. "All of the above issues, and more, contribute to poor excuses for not using a condom."
5. People Need To Prioritize Safety Over Inconvenience
"The prevalence and implications of STIs far outweigh any slight inconvenience the donning of a condom, or accessibility, might cause," says Carozza. "Having a condom at all times prepares for the moment when someone will need one. … Our new 'Smart is Sexy' campaign is precisely created to speak to the benefits of wearing a condom versus the damage that could be done by not using one."
6. Condoms Can Actually Be Used As A Part Of Foreplay
When you have them on hand, I, 100-percent agree, that condoms don't kill the mood, nor are they an inconvenience, and Carozza echoes this sentiment: "In fact, donning a condom could become part of the intrigue and foreplay of the entire sexual experience, so there should be NO reason for not using a condom to prevent STIs."
7. There Are High Hopes For These Vending Machines
"We created the vending machines here in NYC to educate consumers on sexual health and provide them with responsible messaging and tools needed for sexual education," says Carozza. "Our new 'Smart is Sexy' campaign highlights the positive qualities of being responsible and proactive about your sexual health and this was our way of bringing the campaign to life. It's also created to open a dialogue around condom use, STI impact, and remind people of the 'smart' behaviors around sex, relationships, and protection."
Not only will LifeStyles Condoms vending machine be in Washington Square Park on Friday, Nov. 18, but it will also be on the second floor of Webster Hall, Nov. 19 through Dec. 17. If you're in town, check it out!
Images: Andrew Zaeh for Bustle; Giphy (7)