11 Beauty Products That'll Help You Look Less Sick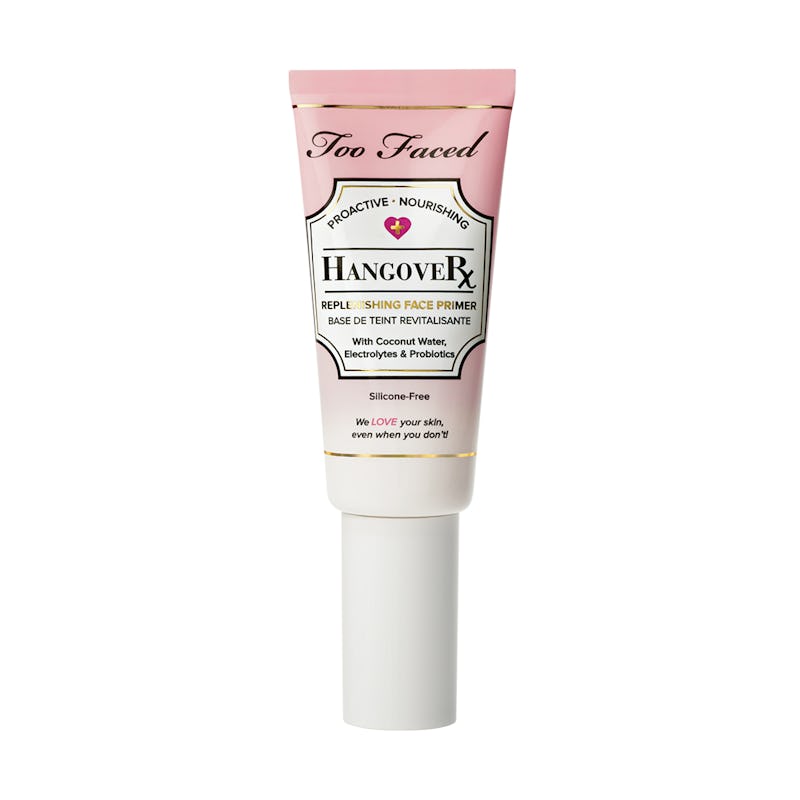 'Tis the season to be jolly, but it's also the time of year you may catch a bug. Blame it on the changing temperatures, harsh elements, or a boost in your social calendar — illness finds a way in. Beauty products that'll help you look like you're not sick will be a necessity if you find yourself coming down with something. Because even though you may feel like a zombie, you probably don't want to look like one when it's not Halloween, unless you're a huge The Walking Dead fan.
Of course, no amount of makeup or skincare products will make you look healthy if you're seriously ill, but if you're perched frustratingly on the brink of just being well enough to function, you may want to look a little less sick than you feel. Illness always strikes at the most annoying of times — like when you're meeting your S.O.'s parents for the first time, you've got a killer meeting at work, or you're attending a special event you've been excited about for weeks.
So if you really don't want to miss out or you need to look a little less poorly, check out these beauty products that'll help you look like you're not sick. FYI, these products don't work miracles and if you are really suffering, you should probably take a sick day and recuperate. But, if you're powering through like a warrior, take a peek at these items.
1. The Moisturizer
Celestial Moisturizer, $25.95, lushusa.com
Specifically designed for sensitive skin, this moisturizer will help to hydrate even the most painful of flu suffering faces.
2. The Hangover Primer
Hangover Primer, $32, toofaced.com
Sometimes when you're feeling sick, it feels like you've got a hangover, but sadly, you didn't get to have fun in the process. Prep your poorly face with this nourishing primer that proclaims to give a "healthy looking finish."
3. The Tinted Moisturizer
OCC Tint: Tinted Moisturizer, $29.50, occmakeup.com
When you're feeling under the weather, the last thing you want to be doing is caking your face full of heavy makeup. Opt for a tinted moisturizer instead, like this hydrating OCC Tint that's free from nasties such as phthalates, parabens, and more.
4. The Locked In Concealer
Lock-It Concealer, $25, katvondbeauty.com
Your eyes can really give the game away when it comes to looking ill. So cover up any redness and dark circles with a hardcore product like Kat Von D's Lock-It Concealer.
5. The Subtle Tint
Benetint Cheek & Lip Stain, $30, benefitcosmetics.com
Put some color back into your cheeks with a lovely, rosy cheek stain.
6. The Brow Gel
Tinted Brow Gel — Granite, $22, anastasiabeverlyhills.com
Let's face it, if you're not feeling so great the last thing you'll want to be doing is crafting the perfect brows, so ensure your brows stay polished in a jiffy with some tinted brow gel instead.
7. The Waterproof Eyeshadow Primer
Proof It! Waterproof Eye Shadow Primer, $7, nyxcosmetics.com
If your eyes and nose are constantly streaming, there's no chance your eye makeup is going to stay put. So prime your eyelids with a waterproof primer to keep your eyeshadow intact.
8. The Eye-Catching Eyeshadow
Liquid Moondust Eyeshadow, $22, urbandecay.com
Once your eyes are looking more alive, pick a vibrant eyeshadow and use it to slick a winged flick along your lash line — this should avert people's gaze to your fresh looking peepers instead of your snotty nose.
9. The Gentle Mascara
Eyes Right Mascara, $19.95, lushusa.com
When you're sick you need to treat yourself with extra kindness. So go easy on your eyes with this gentle mascara made from wheatgrass.
10. The Soothing Lip Balm
e.l.f. Soothing Lip Balm, $1, elfcosmetics.com
You'll likely be suffering with dry, chapped lips if you've got a cold, so use this soothing, super subtle, tinted lip balm containing Vitamins A and E, to nurse your pout back to health.
11. The Rainbow Highlighter
Color Icon™ Rainbow Highlighter, $4.99, wetnwildbeauty.com
If all else fails and literally nothing is making you look less sick, swipe some rainbow highlighter on your cheekbones and dazzle folks with your new unicorn glow. Everyone will be too busy looking at your magical cheeks that they won't notice how ill you look!
Look as fresh as a daisy, even if you don't feel it with these beauty products that'll help give you life!
Images: Courtesy Brands