11 Sexy Gifts For Your Significant Other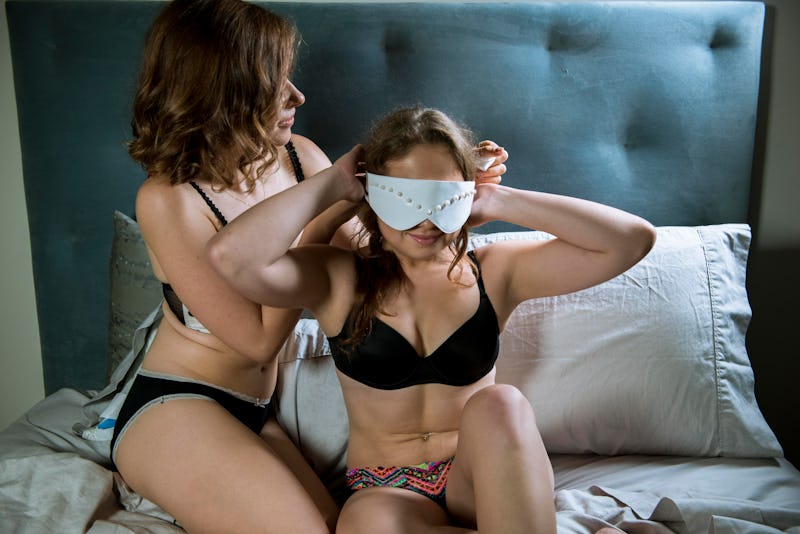 Holiday gift-giving can be downright stressful! As if it's not hard enough to shop for friends and family, shopping for sexy gift for your significant other can feel like a full week's work. Sure, you want to see them blush, in that sexy way of theirs, but you also don't want them to feel like you're trying to lead them into a sexual hole that they might not be ready to explore just yet. What this means is that it's wise to tread lightly, realize what's within their comfort zone, what's within your comfort zone, and then go from there.
When you're in a romantic relationship with someone, sex is usually a component of that relationship and a fairly big one at that. Since this is the case, it only makes sense that you would want to give your partner at least one sexy gift — you know, a little something that might make them blush and feel a bit tantalized at the same time.
No matter your partner's gender, identity, or sexual orientation, there's something out there for everyone. Here are 11 sexy gifts, from sex toys to movies that'll get them in the mood and make your partner one happy duck that you're their main squeeze.
Delta of Venus , $15, Amazon
If your partner is someone who thinks the best way to spend a Friday night is cuddled up in bed with a book, then you need to get them Delta of Venus by Anais Nin. Published in 1977 after her death, this collection of erotica that she wrote in the 1940s is so tantalizing that your significant other will thank you for such a gift in all the glorious ways that only Nin could have dreamed up.
Bondage in a Box, $25, Babeland
Perhaps you and your significant other have been flirting with the idea of BDSM, but you're just not sure where to start. Well, then your partner needs the Bondage in a Box. With a blindfold, silky restraints, and a feather tickler, this is the perfection introduction into light bondage. Once your partner unwraps it, the only thing you have to figure out next is who gets tied up first.
Position of the Day Expert Playing Cards, $7, Babeland
Although sex can rarely be called "boring," even when it's not all that great, sometimes we find ourselves with someone who constantly needs to spice things up in the bedroom — which is a good thing for both of you! So the perfect gift for this person are the Position of the Day Expert Playing Cards. With 52 positions to choose from, it's going to be a while before your significant other suggests it's time to switch things up in the bedroom again.
Babeland Beginner's Strap-On Set, $95, Babland
No matter your partner's gender or how they identify, anal is always an adventure. This is especially the case when it comes to strap-ons. With Babeland Beginner's Strap-On Set, you can get to pegging your boyfriend or tickling your girlfriend's G-spot with everything you need in one kit.
The New InterCourses: An Aphrodisiac Cookbook , $25, Amazon
Food and sex, in many ways, go hand-in-hand. They're both delicious, play upon all our senses, and are really just wonderful pleasures that make life that much more interesting. Because food and sex do go so well together, and your budding chef partner knows that, you need to get them The New InterCourses: An Aphrodisiac Cookbook . With 19 "sensual" foods and recipes, cooking at home has never been more sexy.
Babeland Massage Candle, $16, Babeland
Considering the state of the world, it's hard not to be stressed right now. So for those who were already stressed, even before the outcome of the election, it's safe to assume that their stress levels are probably through the roof. Stress doesn't do anyone any good. Giving your partner a massage in a darkly lit room, with just a few candles burning is bound to put them on cloud nine and take all their worries away — until Monday rolls around again.
7. For The Movie Fiend
Various Movies, $TBA
OK, for this one, you need to get creative. Why? Because you're going to put together a boxset of sexy movies for your partner. Although what's considered sexy varies from person to person, I'm going to suggest some movies that I think would make for a great sexy movie boxset: The Lover, Nymphomaniac: Volume I and II, Nine ½ Weeks, Venus in Fur, Blue is the Warmest Color, and Y Tu Tambian. All of these are enough to light your TV on fire, as well as your partner's loins.
Naughty Roll Play Dice, $18, Babeland
Who doesn't love board game night? Well, board game night at your place is going to get so much hotter when you give your partner Naughty Roll Play Dice. You'll be licking and blowing and sucking all night long.
Picnic Time Verona Insulated Wine Basket , $67, Amazon
Everyone loves a wine and cheese picnic, but no one loves a wine and cheese picnic quite like a romantic. This adorable wine basket comes with everything you need: glasses, napkins, corkscrew, bottle stopper, cheese board, and cheese knives. All you need to do is provide the wine and cheese, and things will get romantic really fast.
L'Essentiel Des Albums Studio 1958 - 1987 Box Set , $63, Amazon
The one thing I learned from my years and year of taking French, then marrying a French man, is that Serge Gainsbourg is sexy AF. His music is great to make out to, have sex to, cook to, eat to, tie each other up to — you name it. Even if your partner has never even heard of the legendary French singer, it's time to introduce them. All they need to hear are the moans at the end of "Je t'aime… moi non plus," to be sold on Gainsbourg.
Moregasm Set, $288, Babeland
So, you've racked your brain for sexy gifts, looked at this list, wondered, pondered, and realized that nothing you've seen will really seal the deal in regards to fulfilling the word "sexy," huh? Then you need to think big with the Moregasm Set! This set is the ultimate sexy gift for your partner, but is chockfull of goodies you'll both enjoy: lube, vibrators, butt plugs, condoms, candles, massage oil, G-spot massager — the works. Yes, it will cost you a pretty penny, but considering after you give this to your partner neither one of you will be leaving the bedroom for a long time, it's a great financial investment.
Something tells me your significant other is going to be delighted that you stumbled across this gift guide this year. Happy shopping!