The Sexiest Black Friday Deals Of 2016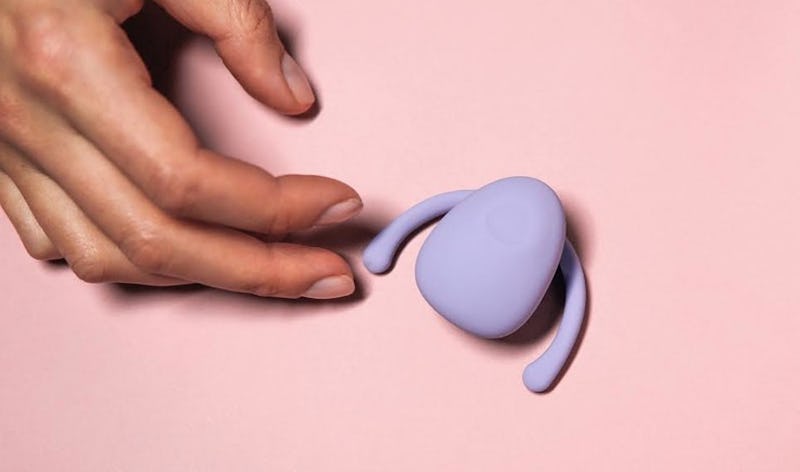 If your holiday shopping has yet to get underway, then you're in luck because, whoa Nelly, these Black Friday deals are going to give you everything you've wanted. It's pretty safe to assume that every store and every site is going to be offering fantastic deals that just might justify the fact that you were camped out in front of some big retailer 24 hours before it opened. But while it will be exciting to get a pair of jeans for your partner, a book for you, and a cashmere throw for mom, what's a really exciting gift to give is the gift of sex toys.
Although sex toys are late to the party when it comes to joining the ranks of Black Friday deals, they're here now — and hopefully here to stay. Sex toys don't just make our sex lives better, but they open the doors to communication and intimacy — something all relationships not only need, but deserve. And if you're currently single, then giving yourself a sex toy is the best gift you can wrap up, pretend you forgot, then unwrap a few weeks later, all full of glee. Who doesn't need more glee in their lives?!
So, before you get to sex toy shopping, here are 10 deals you need to check out.
Sensual Touch Wand Massager, $70, Adam & Eve
On Black Friday, Adam & Eve Black Friday Doorbusters will have dozens of toys available for up to 60 percent off. All you have to do is click on the list of goodies that are part of the promotion, then enter code 59SHIP when you check out, and you're good to go.
A&E Silicone G-Gasm Rabbit, $50. Adam & Eve
Because there's no such thing as having too many rabbits in one's life, Adam & Eve has created a vibrator that will stimulate both your clitoris and G-spot simultaneously. The vibrator is eight inches of fun, with seven speeds, and is even water proof. Also, the best part about this toy, is that with the code BUSTLE it's 50 percent off, plus shipping.
In fact, the BUSTLE code will get you 50 percent off nearly any product on the site. Not too shabby, huh? (Also, it's not restricted to just Black Friday.)
HULA Beads, $179, LELO
From Black Friday through Cyber Monday, LELO is going to be offering some of their biggest deals ever. Not only are 100,000 products set to go on the site for those four days, but the discounts will be ranging above 50 percent for some products. You can also sign up now for Early Bid Specials, but clicking on www.lelopromo.com and registering.
Ooh Her Name Is Rio Set, $105, Babeland
On Black Friday, Babeland will be offering 15 percent off all their top picks, ranging from vibrators to lube to dildos to bondage tape, to everything in between. So if you've been waiting for a certain toy to go on sale, here's your big chance to pounce and make it yours. Just use the code HOTGIFTS16 when you check out.
Massage Wand Couple's Gift Bundle, $125, LoveHoney
Lovehoney is having Black Friday Real Deals, where select items are up to 50 percent off. Not only are these deals great, but they change what products are part of the deals at 6 p.m., 9 p.m., and midnight. So if what you want isn't listed when you click on the site around 7 p.m., then check back around 10 p.m. and maybe you'll get lucky.
November Bundle, $149, Jimmyjane
Now through November 30, you can save over $63 on the Jimmyjane Form 8 Plum and small Ben Wa balls bundle. Also, until Thanksgiving Day, you can get the Jimmyjane Form 6 slate and small Ben Wa balls bundle, for only $99 instead of its usual $189.
Eva, $105, Dame Products
Dame Products, which made a name for itself with its wearable, handsfree vibrator, Eva, and has now launched their newest creation, Fin, is having a Black Friday surprise. Although details aren't all that clear, if you go to their site and register with your email, you'll be in for a special treat from the amazing Alexandra Fine and Janet Lieberman of Dame Products.
24" Basic Rubber Flogger, $47, The Stockroom
Black Friday through November 30, The Stockroom will be celebrating with their Spanksgiving Sale, with up to 40 percent off select toys. What this means is that crops, paddles, canes, and floggers will all be at reduces price for those out there who love to spank and be spanked.
Sapphire Spiral Dildo, $9.99, Vibrators
From Thanksgiving Day at 8 p.m. to Black Friday at midnight, Vibrators.com is having at least 50 percent off of selection products. Toys like vibrators, anal beads, butt plugs, and more will up for grabs, some of which will be as much as 60 percent off.
Moregasm Contour Gift, £100, Ann Summer
If you're fortunate enough to live in the UK near Bristol's Broadmead Ann Summers, then get ready to possibly score a free gift in celebration of Black Friday. The retailer will be giving out 150 free gift sets worth £100 to 150 lucky shoppers. The Moregasm Contour Gift set includes couples vibrators and lube.
Images: Adam & Eve; LELO; Babeland; Lovehoney; Jimmyjane; Dame Products; The Stockroom; Vibrators.com; Ann Summers