Read This If You're Giving Kylie Makeup This Xmas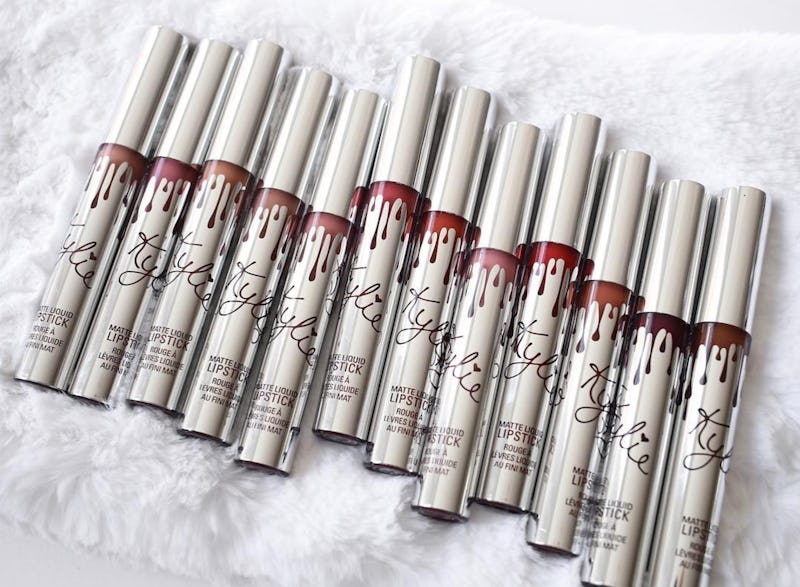 Sometimes, when it comes to gift giving, one of the most important factors is whether or not you can return it. So, while we all love Kylie Jenner's growing beauty empire, can you actually return items if you get them as a gift? Does Kylie Cosmetics have gift receipts?
Honestly, I think we can safely say that the chances that you or your giftee will want to return a highly-coveted Lip Kit are pretty much slim to none, but it's still important to know whether or not you have the option. Unfortunately, the answer is appears to be no. The website doesn't address gift receipts in particular, but Kylie Cosmetics doesn't do returns, exchanges, or refunds... which kind of makes gift receipts something of a moot point, doesn't it?
It's a bummer, and definitely might give you pause before you buy the ultra-daring Dead of Knight Lip Kit for your bestie — it means you might want to stick to some of the more universally-loved products, like the Mary Jo K Lip Kit (because who can't use a good, universally flattering true red?) or the KoKo K Lip Kit (which might just be the most popular Lip Kit of them all).
Along those lines, chances are you probably can't go wrong with LE stuff from the brand — that way, if they hate it they'll at least be able regift it to a very grateful friend.
Kylie Cosmetics Limited Edition Holiday Box, $290, kyliecosmetics.com
Plus, one of the fun Kyshadow palettes, or even one of the soon-to-be-released phone cases might also make a good gift, especially since neither is quite as dependent on personal skin tone as a Lip Kit might be.
Kylie Cosmetics Kyshadow The Burgundy Palette, $42, kylie
That's all to say, there are definitely ways around the whole "no gift receipt clause," if your heart's set on gifting some Kylie Cosmetics this year. Still though, fingers crossed they amend this whole no returns and exchanges/no gift cards thing by next holiday season!
Images: kyliecosmetics/Instagram; Courtesy of Kylie Cosmetics