Bustle's Editors On Starbucks And The Kardashians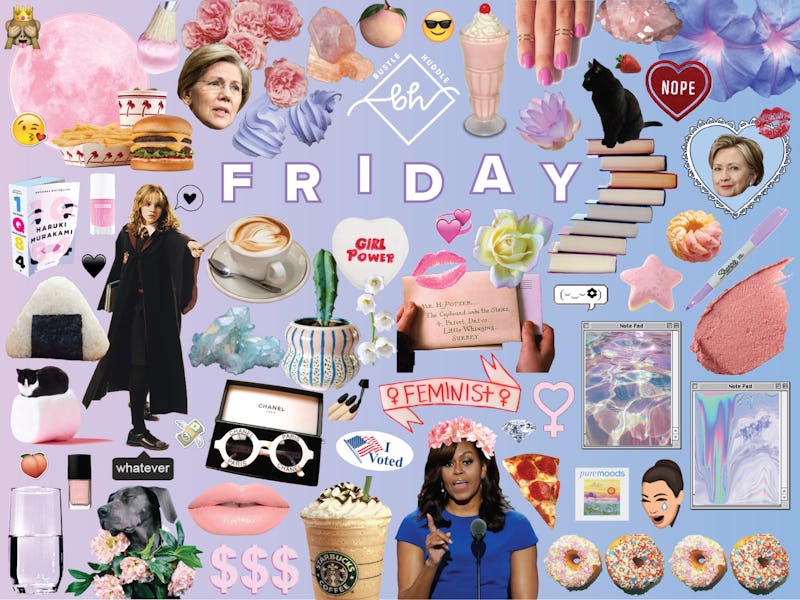 Hello and Happy Friday, babes! The first week back after a holiday is always long, but you were probably really dragging your feet if, like me, your food coma lasted for days because you just can't quit turkey or apple pie. Listen, we all have our vices.
But here we are. The week's almost over and you're *this close* to happy hour and hanging out with friends and finally catching up on the Gilmore Girls revival so you can stop avoiding spoilers. Hope you have an amazing weekend but, until then, here's what Bustle's editors were talking about today:
Mila Kunis + Ashton Kutcher
It's official, Mila Kunis and Ashton Kutcher welcomed their second child, a baby boy, on Dec. 1. Lucky for us, the That '70s Show couple — who are already parents to a 2-year-old daughter named Wyatt Isabelle — revealed the name of their son only one day later. According to Kutcher's website A Plus, the baby's name is Dimitri Portwood Kutcher. I would have sold one of my kidneys for it to be "Kelso," but these things happen.
Fun Fact: Ashton Kutcher has webbed toes on his right foot. No, I'm not punking you. Here's proof. Um, is that hereditary? Kidding!
Kourtney Kardashian + Scott Disick
Despite breaking up in July 2015, it appears that Kourtney Kardashian and Scott Disick might really be back together. So, yes, LOVE IS REAL.
The stars, who are parents to Penelope, Mason, and Reign, and have been on and off since 2007 (but most Kardashian fans have been rooting for 'em all along), were spotted on a family vacation in November, sparking rumors that they were back together. While the reunion has not officially been confirmed, the KUWTK official Twitter account did tweet about the happy news. I'm personally deciding to believe it's real because I love this family.
Quote of the Day: "It's a Christmas miracle that Kourtney and Scott are back together," Bustle's Associate App Editor (and Kardashian-in-Training) Christine DiStasio said about the news. Can't disagree with that.
Music + More New Music
What a day for music fans (aka everyone). Not only did John Legend's new album Darkness and Light drop, but Childish Gambino released his third album, Awaken, My Love!, and word on the street is that J. Cole is releasing a surprise album next week. Feeling a little overwhelmed and not sure where to start? I got you. John Legend's "Surefire" is beautiful and uplifting. So, basically, the perfect way to kick off your weekend. Take a listen:
Even MORE New Music: If you're still looking for something to listen to, The Hamilton Mixtape is also out today and this is the one song every woman needs to hear. You're welcome.
Deal of the Day: If you're looking for a little oomph in your beauty routine, this Premium Nature Eyelash Growth Serum ($20, Amazon) is definitely worth a try. You'll be batting your lashes in no time!
Wisdom Teeth + Weird Emails
In what might be the funniest news of the week, Abby Jo Hamele, a 19-year old student at the University of Nebraska-Lincoln, sent the funniest email to her T.A. after getting her wisdom teeth removed. It's now going viral because it's seriously funny AF. Don't believe me? See for yourself.
Those pain meds can be strong. Word to the wise: Put away your phone and your laptop after getting your wisdom teeth out.
WTF Moment of the Week: The world might end as early as this month. As in, any day now. At least that's what believers of this doomsday theory think. Well, it's been nice knowing ya!
What to Watch: Staying in tonight? These ~dirty~ movies on Netflix have your name written all over 'em.
Will You Find Love This Weekend?: Whether you have a first date tonight or you're planning on a girls' night tomorrow, I hope your weekend is lit. Truth be told, I still don't know how to use "lit" correctly so, just in case, here's what you can expect this weekend, based on your zodiac sign.
Design: Chelsea LaSalle, Alyssa Foote/Bustle