Torrid's New Makeup Line Is Stunning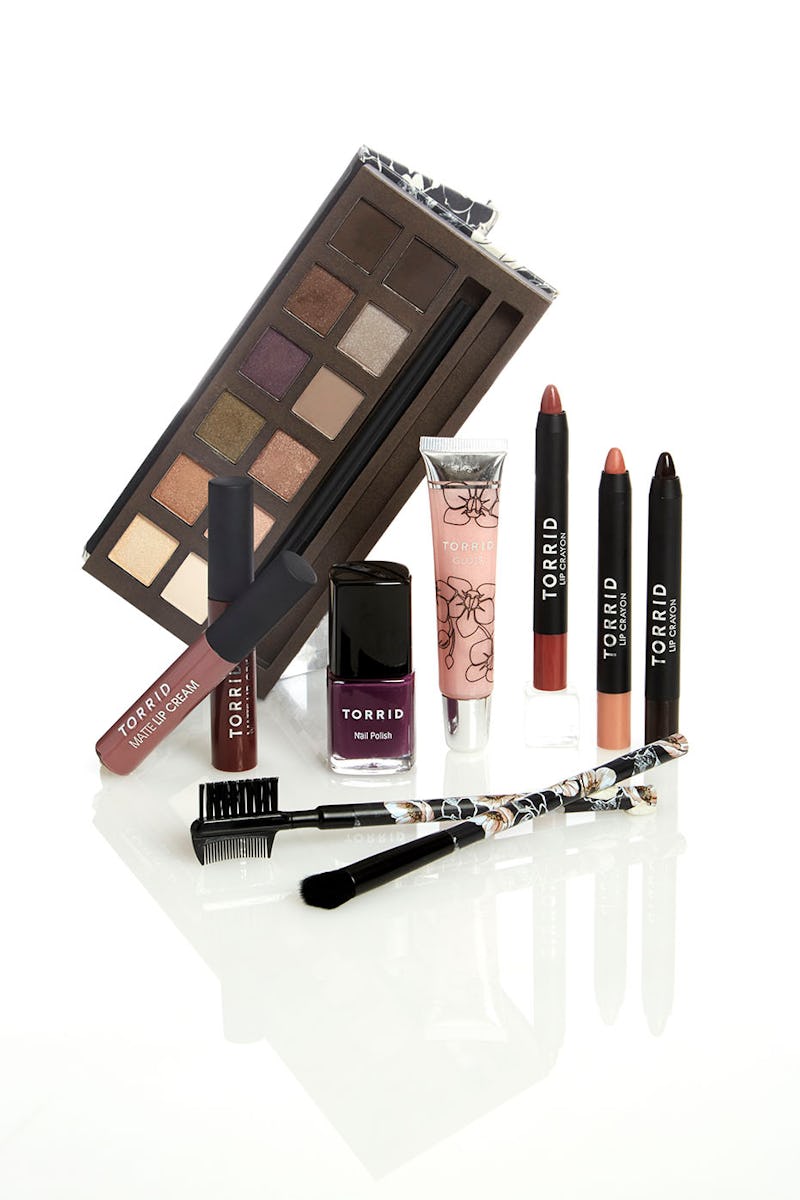 Torrid has long been an industry favorite when it comes to stylish, cool plus size clothing. Now, however, the retailer is branching out. These photos of Torrid's makeup line show that their beauty collection is going to be just as gorgeous as their clothes. While you may not have been expecting a makeup collection from Torrid, they've already conquered everything so why not burst into another market? Based on the photos, they're going to be doing it well, too.
Beauty may not yet be what you think of when you consider shopping at Torrid, but the new collection shows that it'll definitely be more than an after though thanks to this launch. Plus, the brand definitely didn't hold back with the launch, either. With everything from lip glosses to beauty sponges, they debuted both makeup and tools, and they're all so cute. The brand balanced sleek, simple packaging with chic floral patterns, and the result will make you want to make a purchase — but the fact that the products are sure to be amazing should as well.
It's no secret that packaging matters when it comes to makeup — just look at how much people love ultra-cute brands like Too Faced and Benefit —, and Torrid totally nailed it with theirs.
The collection as a whole is so insanely cute.
Flower Print Eyeshadow Palette, $24.90, Torrid
Look at how sleek the inside of the palette is!
Makeup Brush Set, $18.90, Torrid
Plus, the florals on these brushes are so perfect. Who wouldn't want to blend eyeshadow with these?
Beauty Sponge Pack, $12.90, Torrid
Beauty junkies love makeup sponges, and these sweet, pastel pink beauties are totally being added to collections everywhere.
Floral Print Tweezer, $8.90, Torrid
Speaking of tools, you should never over tweeze your eyebrows, but using these tweezers will be a serious treat.
Matador Lip Gloss, $8.90, Torrid
Even the lippies look great with their vibrant color and floral tops.
Barely There Lip Gloss Tube, $6.90, Torrid
If you want to snag the super adorable new Torrid makeup collection, it's available over at the brand's website. Plus, everything costs between $6.90 and $24.90, so it's definitely affordable. It's time to get these adorable treats for yourself just in time for the holidays.
Images: Courtesy of Torrid