'Hairspray Live' Swaps Out The Movie's Killer Cast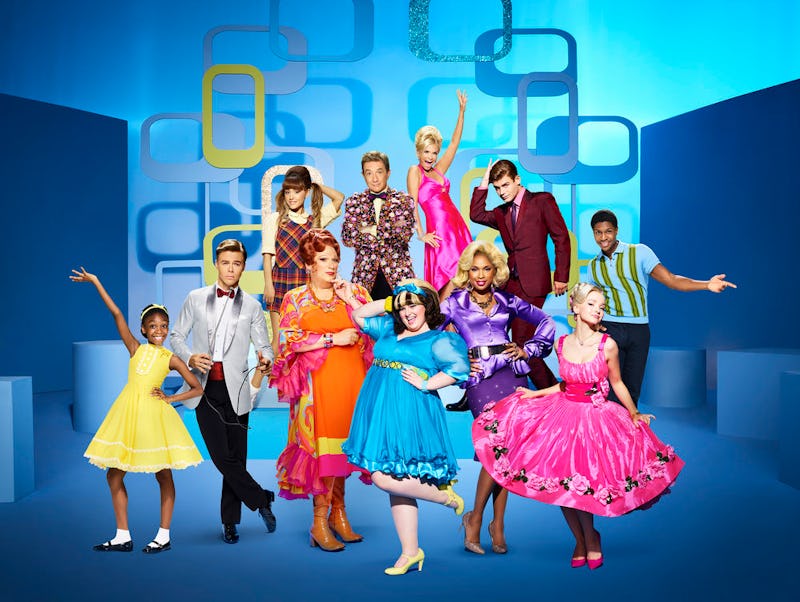 When you're putting together an ambitious piece of live television, you need several things, including a director who excels at coordinating many moving parts, a nimble crew, lots of luck, and — perhaps most importantly — a cast that's not just talented and magnetic onscreen, but also adept at adapting to the challenges of live performance. Fortunately, NBC looks like it has that latter part down pat when it comes to their upcoming broadcast of their fourth live musical, following The Sound Of Music Live!, Peter Pan Live!, and The Wiz Live!. The Hairspray Live! cast is packed to the gills with talent… but how does it measure up to the musical's previous movie adaptation?
The 2007 feature film version of the 2002 Tony-winning Broadway musical was a huge success, earning rave reviews (a certified 91 percent Fresh at Rotten Tomatoes), boffo box office (over $200 million worldwide), and three Golden Globe nominations (for Best Picture — Musical or Comedy, Best Actress, and Best Supporting Actor). It also featured a roster full of big-name, from acclaimed Oscar nominees to Emmy-winning favorites and young rising stars. That's a high bar for Hairspray Live! to measure up to… but if the following 12 cast members are any indication, it's a bar that the live musical will easily meet.
1. Tracy Turnblad
MOVIE: Nikki Blonsky
18-year-old Blonsky was a complete unknown when Hairspray premiered in July 2007. Since the movie's success, she went on to star in her own short-lived ABC Family series, Huge, as well as appear in episodes of shows like Ace Of Cakes, Ugly Betty, and Smash.
TV: Maddie Baillio
Like Blonsky before her, young Baillio is also a newcomer to the screen — although she has plenty of experience onstage. She had just completed her sophomore year studying Theater Arts at Marymount Manhattan College when she was cast on the show, and she had previously performed alongside her future co-star Harvey Fierstein at the Kennedy Center, Carnegie Hall, and Lincoln Center back in 2014.
2. Edna Turnblad
MOVIE: John Travolta
Before he donned a wig and a dress to play Tracy's plus-sized mother, Travolta was nominated for two Oscars for his performances in 1977's Saturday Night Live and 1994's Pulp Fiction. More recently, he earned an Emmy nomination for his work on the FX anthology series The People v. O.J. Simpson: American Crime Story.
TV: Harvey Fierstein
Fierstein may not be a name as familiar to movie audiences as Travolta's, but he's a veritable Broadway legend, having won nine Tonys for his work writing, composing, and acting in plays and musicals like Torch Song Trilogy, La Cage aux Folles, and Hairspray — in which he originated the role of Edna Turnblad 14 years ago. Onscreen, you may have seen him in the likes of Mrs. Doubtfire, Independence Day, The Good Wife, or Smash.
3. Wilbur Turnblad
MOVIE: Christopher Walken
Walken, who won an Oscar back in 1979 for his role in The Deer Hunter (and was nominated for another for 2002's Catch Me If You Can), has a whopping 130 credits to his name on IMDb. Although he won't be reprising his role as Tracy's oddball father on Hairspray Live!, the actor coincidentally appeared in NBC's previous live musical broadcast, Peter Pan Live!, as the villain Captain Hook.
TV: Martin Short
You may know Short from his work on Saturday Night Live, or from his many films — such as Father Of The Bride and Mars Attacks! — or from his recent TV appearances — on the likes of Damages, Unbreakable Kimmy Schmidt, and Modern Family — but did you know that he's also a Tony-winning Broadway star? Short won Best Actor in a Musical for the 1999 revival of Little Me.
4. Velma Von Tussle
MOVIE: Michelle Pfeiffer
These days, Pfieffer may be known alternately for her Oscar-worthy fare (Dangerous Liaisons, The Fabulous Baker Boys), her appearances in more big-budget films (Batman Returns, Dark Shadows), and everything in between (Scarface, Dangerous Minds, I Am Sam, White Oleander), but the actress can actually trace her roots back to musicals: one of her earliest film roles was as the lead in the infamous, horrendously-received 1982 sequel Grease 2.
TV: Kristin Chenoweth
Maybe you know Chenoweth from her recurring role as Press Secretary Annabeth Schott on The West Wing; maybe you know her from performance as singing waitress Olive Snook on Pushing Daisies; maybe you know her as Glee's boozy April Rhodes; maybe you know her as Wicked's perky Galinda. In any case, you probably know this Emmy and Tony winning actress from somewhere.
5. Amber Von Tussle
MOVIE: Brittany Snow
After getting her start on the soap opera Guiding Light, Snow starred for three years on the NBC drama American Dreams. She then transitioned into a career on the big screen, including roles in John Tucker Must Die, Prom Night, and Pitch Perfect.
TV: Dove Cameron
Young viewers will recognize this Disney star from her dual roles as both title characters of the network's Liv And Maddie; she also appeared in the Disney Channel original movie musical Descendants as Mal, the daughter of the villainous Maleficent (played by Chenoweth, her Hairspray mom). She's also in a band called The Girl And The Dreamcatcher with her Liv And Maddie co-star Ryan McCartan, who coincidentally just starred in FOX network's own musical broadcast, The Rocky Horror Picture Show.
6. Link Larkin
MOVIE: Zac Efron
Do I really need to introduce you to Zac Efron? The former High School Musical Star has gone on to great success in Hollywood — especially in the last fews years, in which he has really seemed to find his niche in rowdy comedies like Neighbors, Dirty Grandpa, and Mike And Dave Need Wedding Dates. Look for him in the upcoming Baywatch feature film reboot alongside Dwayne Johnson.
TV: Garrett Clayton
Like Dove Cameron, Clayton's biggest claim to fame so far also hails from the House of Mouse, starring in the Disney Channel original movies Teen Beach and Teen Beach 2. He also appeared in a recurring role in the ABC Family series The Fosters. Just last month, he starred alongside James Franco and Christian Slater in the movie King Cobra as real-life gay porn star Brent Corrigan.
7. Corny Collins
MOVIE: James Marsden
Marsden has made a career out of playing the handsome sadsack who never gets the girl — aka Cyclops in the X-Men series, Lon in The Notebook, Richard in Superman Returns, and now sharpshooting cowboy Teddy Flood on HBO's Westworld, who spent the entire first season pining after Dolores Abernathy and dying over and over and over again.
TV: Derek Hough
Hough may be most famous as one of the professional dancers on the ABC competition series Dancing With The Stars (which he has won along with his partners a record six times), but Hairspray Live! won't be his first acting gig; he has previously shown off his acting chops in a recurring part on ABC's Nashville, an episode of Jane The Virgin… and even an uncredited role as a Hogwarts schoolboy in Harry Potter And The Sorcerer's Stone. (Yes, really!)
8. Penny Lou Pingleton
MOVIE: Amanda Bynes
Bynes may have had a troubled personal life over the past few years, but back when Hairspray came out, the young actress was still a verifiable sensation, thanks to her work on shows and movies like All That, She's The Man, Easy A, and her own self-titled Nickelodeon variety series The Amanda Show.
TV: Ariana Grande
Granda is undeniably most famous as a pop singer, whose hits include the likes of "Problem" and "Break Free." But, like Hough, Hairspray Live! won't be her first time trying this acting thing. She previously starred on the Nickelodeon sitcom Victorious as well as its spinoff, Sam & Cat, and also turned in a memorable supporting role in Season 1 of Scream Queens as the hilariously doomed Chanel #2.
9. Prudence Pingleton
MOVIE: Allison Janney
Janney is one of the winningest actresses in Emmy history, thanks to her acclaimed roles in the likes of NBC's The West Wing, Showtime's Masters Of Sex, and CBS's Mom. She's also a two-time Tony nominee for her roles in the play A View From The Bridge and the musical 9 To 5. Besides Hairspray, her many film credits include American Beauty, The Hours, The Help, and The Girl On The Train.
TV: Andrea Martin
Martin was launched to fame in the 1970s thanks to her performances on the NBC sketch series Second City Television. Since then, she's been a regular guest actress on shows like Nurse Jackie, 30 Rock, and Modern Family, and has appeared in films like Wag The Dog, Hedwig And The Angry Inch, and My Big Fat Greek Wedding. But Martin is most famous for her stage work, earning six nominations — including two wins — over the years for Broadway shows like Oklahoma!, Young Frankenstein, Pippin, and Noises Off.
10. Maybelle "Motormouth" Stubbs
MOVIE: Queen Latifah
For the likes of Ariana Grande, Queen Latifah is a shining example of how to successfully transition a career in singing into a career in acting. The hit R&B singer, who used to be famous for songs like "U.N.I.T.Y." and "Ladies First," is now famous for her roles in movies like Taxi, Barbershop 2, Joyful Noise, the Ice Age series, and Chicago — which earned her an Oscar nomination for her performance as Matron "Mama" Morton. Coincidentally, she also appeared in NBC's last live musical, The Wiz!, as The Wiz herself.
TV: Jennifer Hudson
Ironically, Hudson has had a very similar career path as Latifah. Originating as an R&B singer on American Idol Season 3 (on which she shockingly only placed seventh), she soon transitioned that success into a movie career, winning an Oscar for her performance as Effie White in Dreamgirls. Although her film resumé isn't yet as extensive as Latifah's, they actually appeared together in 2008's The Secret Life Of Bees.
11. Seaweed J. Stubbs
MOVIE: Elijah Kelley
Apart from his sensational performance as Seaweed, Kelley's movie roles also include parts in Take The Lead, Red Tails, and Lee Daniels' The Butler. In yet another interesting coincidence, Kelley is the second Hairspray movie cast member after Latifah to have appeared in NBC's The Wiz Live! as the toe-tapping scarecrow — although neither he nor Latifah will be returning to their roles from the 2007 film.
TV: Ephraim Sykes
Although TV audiences may have seen Sykes' face on the likes of Smash, Vinyl, and Marvel's Luke Cage, the actor's biggest success has been on the Broadway stage, where he has appeared in the ensemble of five different musicals to date: The Little Mermaid, Memphis, Newsies, Motown The Musical, and most recently Hamilton.
12. Little Inez Stubbs
MOVIE: Taylor Parks
Hairspray represented Parks' first major onscreen role. In later years, she would go on to have a recurring role on Nickelodeon's True Jackson, VP and even a guest part on Victorious alongside future Hairspray Live! star Ariana Grande.
TV: Shahadi Wright Joseph
Since this young newcomer doesn't even have an IMDb page yet, it's safe to assume that Hairspray Live! will be her first onscreen role. But she's no stranger to the ol' song and dance, having appeared twice on Broadway, in The Lion King and School Of Rock.
Of course, Hairspray Live! contains even more talent than just these 12 names; apart from the hard-working ensemble, there will also be cameo appearances by the likes of Rosie O'Donnell, Sean Hayes, and Billy Eichner. See them all say "Welcome To The '60s!" when the live musical event airs on NBC this Wednesday, Dec. 7, at 8:00 p.m. ET.
Images: Brian Bowen Smith (9), Andrew Eccles (3), Chris Haston/NBC; New Line Cinema (12)