Bustle's Editors On Standing Rock + 'Westworld'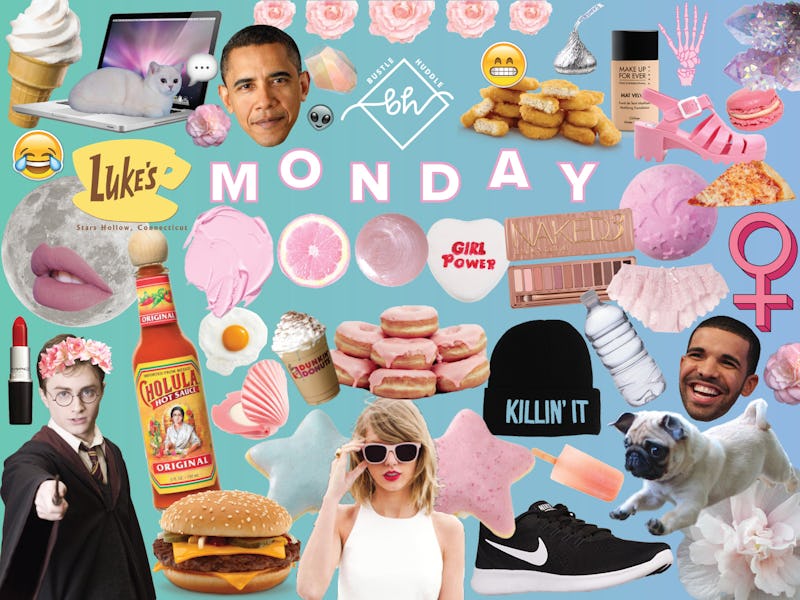 Happy Monday, everyone! December is officially in full swing, so if you haven't already decorated that Christmas tree and stocked up on comfy sweaters, now's the time. The holidays will be here before you know it, and you'll want to be as prepared as possible for those inevitable cozy nights in surrounded by hot chocolate and fuzzy socks.
As you settle in for the week ahead and set up those Bing Crosby-filled Spotify playlists, check out the news that had Bustle's editors buzzing this Monday, from the Standing Rock victory to that crazy Westworld finale.
Standing Rock + Victory
Over the weekend, activists and supporters everywhere celebrated when it was announced that the Dakota Access Pipeline (DAPL) wouldn't be built under Lake Oahe, and that the government would be exploring other options that won't interfere with the Standing Rock Sioux. It's undoubtedly a major victory for the many people who've stood their ground protesting the pipeline for months, but, as Donald Trump's comments Monday morning made clear, the battle is far from over. Here's what's next for the pipeline, as well as a few suggestions for how to keep fighting for Standing Rock going forward.
Oakland Fire Update: The death toll from the Oakland fire, which occurred during a party at a warehouse on Friday, is sadly continuing to grow. Over 30 people are confirmed dead, with many more still missing. It's an unbelievably awful tragedy, and if you're looking for ways to help the Oakland victims and their families, here's how.
Westworld + That Major Finale
Spoiler alert! Season 1 of everyone's new TV obsession, Westworld , came to an end on Sunday night, and people are freaking out. The finale was filled with twists and turns, and according to Bustle's TV Editor Samantha Rullo, it's only a preview of what's to come on the show. "Though the finale confirmed many theories that fans had been developing for weeks, it still managed to shock viewers with the reveal of Ford's new narrative, more Delos holdings, the park's secret history, and the origins of Maeve's rebellion," says Rullo. "Before the dust even had a chance to settle, Dolores transformed from 'damsel' to powerful antagonist, setting the stage for a violent Season 2 that asks even more ethical questions than the first."
And Your Next Oscar Host Is... Jimmy Kimmel! It'll be the first time the talk show star has hosted the Academy Awards, so be sure to mark your calendars for Feb. 26, 2017.
Gun Violence + A Powerful New Video
This is the ad that everyone can't stop talking about. Released by the company BBDO New York for Sandy Hook Promise, an organization created by those who lost loved ones in the 2012 school shooting, the video is seemingly about a high school romance — but, in a twist ending, proves to actually be a PSA for gun violence awareness. It's an incredibly powerful video, and it'll teach you some of the important signs of trouble to look for.
#Pizzagate, Unraveled: On Sunday, a man reportedly fired an assault rifle in a D.C. pizza restaurant in order to investigate the false story known as "Pizzagate" — i.e. the (completely fake) report that Hillary Clinton and her campaign manager, John Podesta, took part in a child sex operation based out of that restaurant. It might've seemed like a meaningless rumor, but clearly, this piece of fake news is having an unfortunately real impact.
Donald Trump + Ben Carson
Ready or not, Ben Carson is about to be back in our lives. On Monday, the former Republican presidential candidate was officially appointed Donald Trump's Housing & Urban Development Secretary — which is pretty troubling, considering that Carson himself has said that he doesn't think he's prepared enough to take on a Cabinet position. Oy.
Quote Of The Day: It's been nearly three months since the Stanford student who accused Brock Turner of rape released her now-famous letter, and Michele Dauber, the survivor's lawyer, spoke to Bustle about how far America still needs to go when it comes to rape culture. "We really need to hold people accountable," says Dauber. "It shouldn't matter if it's the president-elect of the United States — the living embodiment of rape culture, by the way — or the president of Stanford, or Judge [Aaron] Persky."
Baby Names + 2016 Politics
According to BabyCenter, the most popular baby names of 2016 are... *drumroll please* Sophia for girls and Jackson for boys. Even more interesting? The name Hillary grew in popularity by 64 percent this year, while Donald only jumped 5 percent. Womp womp.
Shopping Break: If you're struggling to figure out what to get your friends and fam for the holidays, look no further than this list of 30 products that have the editors of Bustle, Complex, and Brit + Co. totally hooked. From a Godiva advent calendar to cake batter-flavored Chapstick (can you sense a trend here?), these items are must-haves this holiday season.
Today's WTF Moment: When this kid missed school to go to the Wizarding World of Harry Potter (um, jealous), his mom wrote him an excuse note that said he was busy "learning defense against the dark arts." School officials might've been perplexed, but to us, she's the muggle mom of the year.
What To Watch: Break out the snacks and the wine, because tonight, Kendall Jenner, Gigi Hadid, and a few dozen others will be strutting their stuff at the Victoria's Secret Fashion Show. Tune in to CBS at 10 p.m. to see the show, which features performances from Lady Gaga, Bruno Mars, and the Weeknd, and don't miss the tutorial from celeb hairstylist Sarah Potempa (who's taking over the Bustle app at 8 p.m.) on how to curl your hair just like the models' own locks.
Design: Chelsea LaSalle, Alyssa Foote