Nicki Minaj's iPhone Game Is Finally Here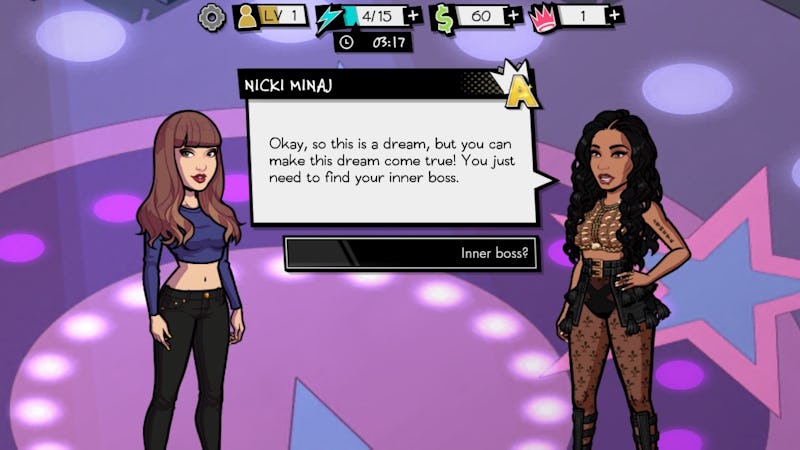 Good things come to Barbz who wait. A year and some change after Glu Mobile Inc. revealed a Nicki Minaj collaboration was in the works, the "Anaconda" artist's mobile game is finally here. On Wednesday, Nicki Minaj: The Empire hit the App Store, and it's got my heartbeat running away and beating like a drum. Yes, NM:TE has that super bass.
Now, if you are familiar with other Glu offerings like Kim Kardashian: Hollywood, Kendall & Kylie, or Britney Spears: American Dream , certain parts of Nicki Minaj: The Empire should ring a bell: you customize a cartoon character, complete missions, spend energy bolts, meet other cartoon characters, duke it out with your rival, collect game currency, befriend a mega celeb, and climb the fame ranks. However, don't think for a second you already know everything there is to know about Minaj's iPhone adventure; this isn't an "if you've played one, you've played them all" situation. NM:TE brought a bunch of fresh and new stuff to the mobile game table, so grab some silverware. It's time to dig in.
First of all, would you feast your eyes on this stunning 3D bird's-eye view? Don't get me wrong, I love K:HH's 2D side-scroller vibe and all (come on, like I'd ever say anything bad about that gem of a game), but this is a nice change of pace.
Oh, don't mind me. Just chatting with Nicki Minaj on the phone, no big deal.
I really cannot overstate how awesome this game looks.
I mean.
Another noteworthy difference? You can actually make your avatar walk around.
Whether your avatar is hanging out in the Anaconda chat room, Nicki's recording studio, a hotel lobby, Red Lobster doppelgänger Captain Pepperjack's, or at home, they are free to roam around the space as they please.
Oh, and you can furnish your NM:TE avatar's place of residence however you want.
And yes, that colossal lava lamp was worth every penny.
As for the actual gameplay, Nicki Minaj: The Empire includes chat rooms that connect you with other players (how Habbo Hotel!), a Mad Libs-esque songwriting feature, and the option to record songs using your voice. Not your avatar's voice. Your real voice. And if you share your work with the game, you could win a social media shout-out from Nicki Minaj. Not the avatar. The real Nicki Minaj.
I can barely stand my outgoing voicemail message, so I think I'm going to stick to penning lyrics for now (i.e., picking words from a list and plugging them into a template). Here are the scorching hot lyrics to my first rap, "Back Off My Ambulance."
Nicki dug it.
My rival, Bitta Sweet, was impressed, too. So much so, she tried to pass it off as her own.
Captain Pepperjack was too busy dealing with a biscuit bandit to tell me how much he loves "Back Off My Ambulance," but I'm sure he's a fan.
Look at that outfit. Dude clearly has tremendous taste.
Ready to find out if you have what it takes to impress Captain Pepperjack (and by "impress Captain Pepperjack" I mean "find out out who has been swiping all of the biscuits from his restaurant")? Nicki Minaj: The Empire is available in the App Store now.
Images: Nicki Minaj: The Empire/Glue Mobile Inc. (14)