11 Unknown Instagram MUAs That Will Blow Your Mind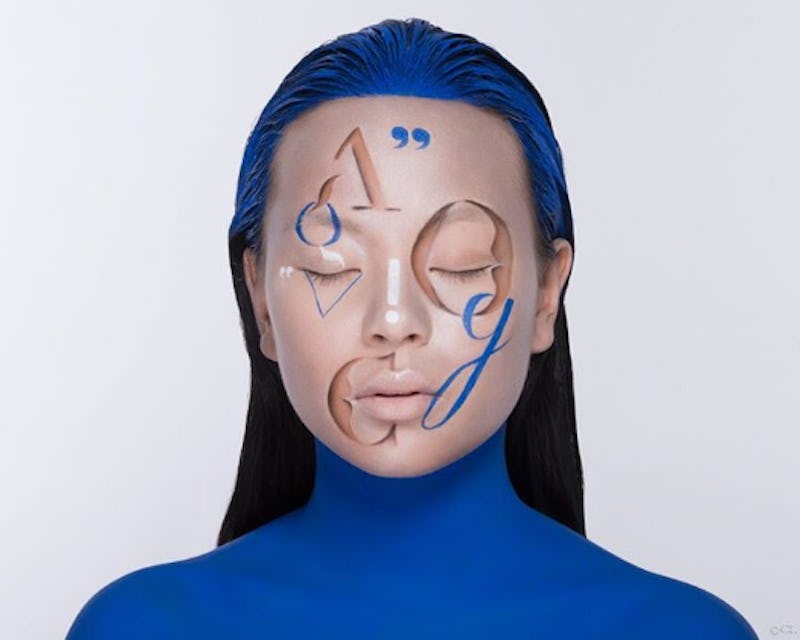 For makeup lovers, Instagram is one of the greatest presents bestowed upon the artistic community. It provides a landscape to share your personal creations and sip from a boundless well of inspiration — and there are so many unknown Instagram makeup artists yet to discover.
Certain artists, like @vladamua, @missjazminad, and @tal_peleg have utilized Instagram to perpetuate their careers and gain hundreds of thousands of followers — but that's not as easy as it looks. A lot of times, it takes one well-known person to share an artistic post to build a following. Of course a high follower count generally involves talent, but chance also plays a big part.
As a makeup artist, I'm constantly searching through Instagram's explore page to find new and creative #MUAs to serve as my inspiration. Over the years, I've followed a series of artists whose work is impeccable and trailblazing, yet they, for some bizarre reason, are relatively unknown. Though they are deserving of millions of followers, they haven't gotten there — yet. To promote the love for makeup and art, here's a list 11 lesser-known Instagram makeup artists to follow and brighten up your feed.
1. @Noirojos
This Insta-artist's swatches are clean without the artificiality of Photoshop. They're girly and soft with an eerie streak. She spins the ordinary into fascinatingly complex through her use of texture and, most importantly, glitter. Just take a look at this seductive lip shot that just screams danger.
And feast your eyes on all this glittery goodness.
Or this lip art embodiment of a '90s Kaboodle.
Lately, she's been creating short stop motion pieces, breathing life into her cosmetic products.
I'm certainly here for it all.
2. @Stellasabina_artistry
@Stellasabina_artistry perfectly captures that cool-girl mix of holographic and neon. Her looks are straight out of a Lisa Frank fever dream. This eye that should be sported at 2AM in the hottest hidden underground club in NYC.
And this lid that is simply out of this world.
Remember when everyone and their mothers were Harley Quinn for Halloween this year?
When you're needing a little color fix, you can always count on @stellasabina_artistry.
3. @John_fabulin
@John_fabulin is the master of transformation. He warps his features into colorful, larger than life charactures of humans, utilizing light and shadow to bring a Tim Burton-creepiness to his pieces. Here he is serving some fresh surgery real-ness.
And some spine-tingling spidery spookiness.
And also this beautifully terrifying mystery creation.
John's looks are pieces I'd expect to see while strolling in the MoMA rather than scrolling though my Instagram feed.
4. @Missanabelle
@Missanabelle's looks are painfully beautiful. Just imagine how long it took to apply all of those rhinestones by hand, just for us to have the privilege of feasting our eyes on something so lovely. Take a gander at this casual look, just perfect for running to the grocery store.
How about this simple complexion that you can wear when picking your child up from soccer practice.
And this natural look that is totally work appropriate.
Well, a girl can dream, can't she?
5. @Pinkishpiendel
@Pinkishpiendel's creations are just a party for the eyes. Her use of pointillism and texture to flatter and accentuate the eye shape is just proof of her unbelievably keen artistic vision. Who would ever think to use dashes of white on the lid to bring it forward.
Or dots of orange and black to elongate the eye.
How about this beautiful explosion of confetti to open up the inner corner.
@Pinkishpiendel's creations are like exploding piñatas: you never know what you're going to get, but you are certainly never disappointed.
6. @Marguax_marseglia
@Margaux_marseglia's looks are so artfully driven, it's hard to believe they're on faces rather than canvases. Her capacity to create optical illusions makes her a master amongst apprentices. Like this eye that would make Dali proud.
And this face that Picasso would have wished he came up with.
And this one that just... defies... all logic.
And this full-on body painting that was, shockingly, her first ever.
@Marguax_marseglia is a creative genius. Period.
7. @Kaynadianbeauty
Never before has a blurry photo looked so good. @Kaynadianbeauty utilizes motionblur to breathe new light and life into her various lip and eye confections. The active nature of her images capture the illuminating effects of glitter in a novel and effervescent way. Just check out this Valentine's Day dream come true.
And this hypnotic mermaid fantasy.
And this meteoric mirage.
@Kaynadianbeauty really shoots for the stars.
8. @Crazypretty
@Crazypretty's looks are just that: crazy pretty. They're elegant, clean, and definitely fashion-forward. You've most likely seen her candy-coated looks before, whether it's for Refinery 29 or Nylon.
Her beautiful work is everywhere on the interwebs.
@Crazypretty's Instagram gives a beautiful look into the outtakes of her shoots and the brains behind the beauty.
9. @Chaotikperspektive
The inside of this girl's brain must be an extraterrestrial swirl of cotton candy, confetti, silly string, and neon. Just like her moniker states, her looks are perfectly chaotic. Slashes and dashes of pink intersect green and blue while dots of white eyeliner dapple the center of the lid, like this Invader Zim-inspired look.
And this rad Christmas flapper angel creation.
She also takes amazing close up shots of her glittery eyes which are just magical to behold.
Whenever I need a shot of electricity straight to the bloodstream, I look at @chaotikperspektive's work.
10. @Aspa_shidaqin
Who knew makeup itself could be so sexy? @Aspa_shidaqin takes the most flawless pictures of makeup products, and of herself wearing them.
Her feed is basically a gallery for makeup enthusiasts.
If this isn't makeup porn, then I don't know what is.
11. @Wintervia
@Wintervia's eye looks are small capsules of an entire universe. Each piece has a totally different feel, a wholly new emotion that accompanies it. Her art is minimalist and intentional. It almost feels like each piece of glitter serves a purpose.
Her lines are always smooth and graphic.
Whether it's grayscale or technicolor, all of her looks induce a visceral reaction.
If one ever needed proof that makeup is art, you'd just need to take a look at @Wintervea's feed.
Being an artist is hard. When all you want to do is create things to make others happy, you need an audience to view the fruits of your labor. If you have a free moment, give these inspiring, artistic, and hard-working humans a follow.
Images: margaux_marseglia/Instagram