13 Sex-Positive Gifts For The Holidays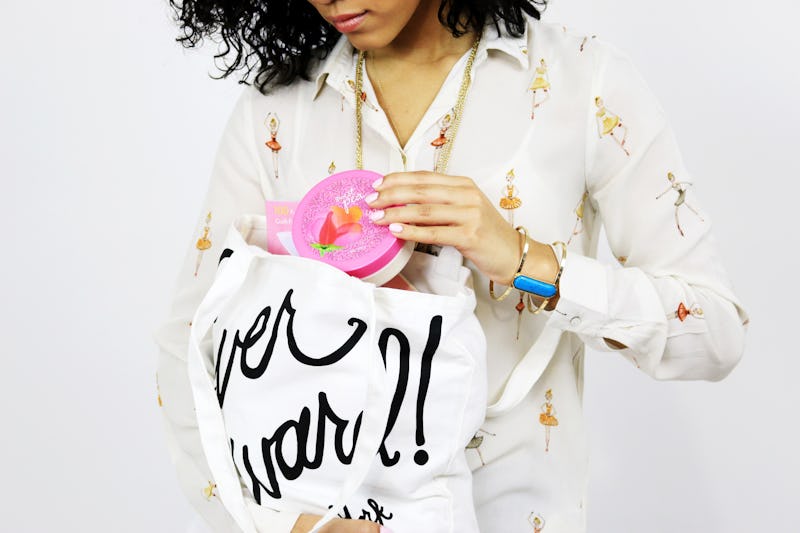 It's that time of year again, where the nights get longer and the days are filled with wondering what to get your bestie or significant other for the holidays. And if pleasure is your passion, this sex-positive gift guide just might help move your shopping in a dirty direction.
Although the season of the Winter Solstice is often G-rated, there's no reason why sugar plum fairies can't be slutty, why you can't light a menorah in fine lingerie, and why you can't get your ho ho ho on under the Christmas tree. For many, giving and receiving the gift of pleasure is exactly what this time of year is all about, because it's a proven fact that sex produces a decrease in stress and an increase in self-love — something we could all use a lot of in the coming year.
Given the ongoing attacks on women's rights and LGBTQIA rights as of late, plenty of folks are celebrating this traditional time of giving through activism and charitable contributions. If you are down for a cause but also want to share something tangible — and sensual — some of these sex-positive items also happen to benefit folks in need.
1. Unbound Subscription Box
Unbox Gift Subscription, $65, Unbound
The "Birchbox of sex toys," Unbound is a subscription service that drops sex-positive accessories in your mailbox four times a year. This woman-owned and run company has the ethos to empower women through sexploration, so each carefully curated package offers the latest and greatest of sexual lifestyle products from organic lube and the hottest new sex toys to erotic jewelry. If you're looking for a one and done kind of gift, they also offer themed boxes, like the BDSM Box and the Solo Beginner's Box.
2. Lovability Condoms + F*ckboy Repellent
Lovability Condoms and F*ckboy Repellent, $8, Lovability
Two words: feminist condoms. Lovability is a new woman-owned and run company on the scene dedicated to removing condom stigma. Their M.O. is for "women to get what they want in life, and repel what they don't," so they created vegan, latex condoms packaged right side up that come in a stylish carrying case. Bonus points for the so-called "F*ckboy Repellent" that they also include in this handy gift pouch (it's just glitter, vegetable oil, and water, don't worry) and three different cute sayings on their tins ( Labyrinth references will get you everywhere). Oh, and did I mention they donate a condom to Planned Parenthood with every purchase?
3. Vesper Crave Vibrator Necklace
Crave Vesper Necklace , $69, Babeland
Crave's Vesper necklace has become a staple for countless stylish, horny folks on the go since its debut. This versatile vibe is both a sleek accessory and your ticket to ecstasy anytime, anywhere. It's also USB rechargeable and available in silver, rose gold, and 24 kt gold plating with matching chain.
4. Crescendo Vibe
Crescendo , $199, Mystery Vibe
Crescendo, the world's first fully adaptable vibrator, is a true shape shifter. It can be posed in a variety of feel good positions, comes equipped with six motors and custom vibration patterns that you can control with the Mystery Vibe app, and charges wirelessly. With unlimited ways to combine shape, speed, and intensity, this toy truly reflects the diversity of desire out there in the world.
5. A Subscription To Pleasure
For the sex-positive person who has everything, a subscription to a feminist porn site might be just the thing to satisfy. Which site you pick is up to you, but the Crash Pad Series is your go-to for hot, queer action, Kink.com is geared towards the BDSM-loving folks in your life, and OMG Yes is more of a how-to, covering women's sexual pleasure in its many incarnations and how to keep it coming.
6. Tailbud Butt Plug
Tailbud Butt Plug, $78, Amazon
For those looking to elevate their butt play to be more elegant — or more animalistic — Rosebud's luxurious, genuine horse hair "Tailbud" butt plugs are perfection. You can even choose the tail tone to match your hair color, to truly transform into the playtime pony of your wet dreams.
7. Intimate Earth Anal Lube
Whether you add a toy to the mix or not, anal lube is a quick and easy gift for those butt play-obsessed folks on your X-rated gifting list. Beginners especially will love the Adventure Anal Relaxing Serum which uses all natural ingredients like clove, goji berry, aloe and lemongrass to ease your backdoor into action.
8. Babeland Pleasure Kit
Pleasure Kit , $25, Babeland
One of the country's longest running feminist sex shop chains, Babeland offers a lot to the sex-positive community — and to sex-positive charities, too. Their "Come for a Cause" Pleasure Kit was developed in partnership with the Virginia League For Planned Parenthood to introduce newbies to self-pleasure. With a mini vibe, lube, a pair of batteries, and a pamphlet on getting in touch with yourself, it's well suited for the young feminists in your life.
9. Fraulein Kink Kitten Mask
Miss Kitten Mask, $220, Narcisse
Combining high-end fashion and BDSM accessories, Fraulein Kink offers all things erotic, from stunning ankle restraints and ball gags to this beautiful kitten mask with fringe that can be parted or remain in your face for maximum mystery.
10. We-Vibe 4 Plus
We-Vibe 4-Plus, $94, Amazon
The We-Vibe 4 Plus is a couples vibe extraordinaire, providing intimacy that spans continents. It can be used solo or during sex, and whether you're in a different room or in a different time zone. The We-Vibe's corresponding app allows couples to control the frequency and intensity of the vibe via smartphone, and create and share custom vibration playlists to stay connected.
11. Unbound Handcuff Bangles
Handcuff Bangles, $38, Unbound
A fashionable and functional accessory if there ever was one, Unbound's stackable bangles double as handcuffs. While it's unclear how much restraint they might offer, they look hot as hell, and would be sure to add impact to any outfit, and any evening out — or in.
12. Online Kink Classes
Kink Academy subscription, $20 per Month/$179 per year, Kink Academy
For a more interactive present, why not give the gift of BDSM to your bestie or significant other with a subscription to Kink Academy? With over 2,000 videos and 140 sex educators, this learning portal lets newbies and experts alike bone up on their non-vanilla knowledge and explore practices from kink to polyamory and more.
13. Lingerie
Tomoe Ouvert Wire Bra, $150, Narcisse
If you're shopping for femme-identified friends or lovers, when in doubt: think lingerie. The styles, cuts, and colors are infinite, it's freeing and sexy AF to wear, and it looks good on every body. From the strappy layering of Bordelle (shown above) to the buckled beauty of Creepyyeha, the gift of undergarments is one that keeps on giving, all year round.
Here's to a sexier season!
Images: Unsplash; Courtesy of brands; Andrew Zaeh for Bustle (5); Giphy