Why The Holidays Are The Best Time To Meet Someone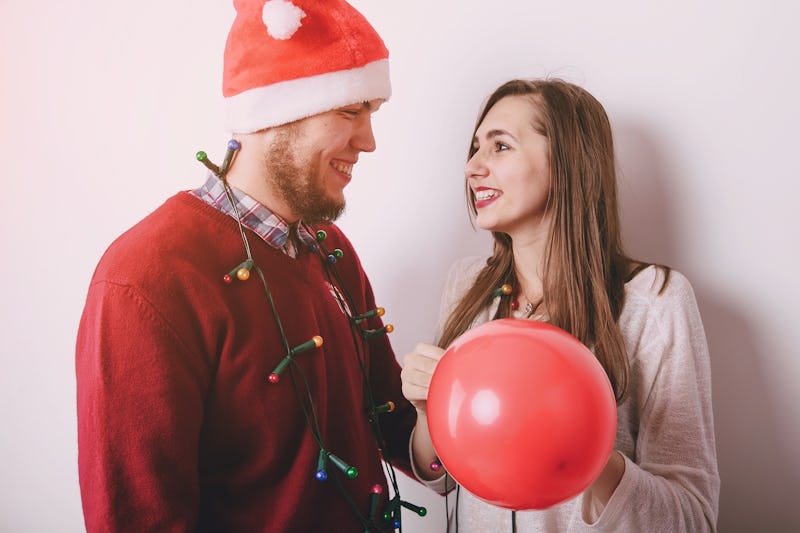 The holiday season is one of my favorite times of the year: there's no shortage of festive music, scrumptious food, whimsical decorations, and most important of all, holiday cheer. Everyone seems to be slightly more kindhearted in the lead-up to Christmas, which can make dating during the holidays surprisingly ideal. Being in a new relationship when the holiday season kicks off can present some unique challenges — do you get them a present or invite them to family parties? But if you're flying solo, all the warm and fuzzy feelings floating around make the holidays a great time to meet potential romantic partners.
"Dating during the holidays can often be about looking for something warm, fuzzy, and immediate," Chris Armstrong, relationship coach and owner of Maze of Love, tells Bustle. "Said differently, we can be more impatient daters during the holidays. We don't want to be alone for the holidays; we love the idea of having a plus one. In this, we can often be impatient if we do not feel something strong with someone right off the bat... instead of investigating whether something may be there. Or, we can be the complete opposite and find that warm and fuzzy (and immediate) and just go with it."
While there are plenty of reasons to embrace being single during the holidays, it's totally understandable to desire a relationship in the cold winter months, too. If you're looking for love, here are seven reasons the holiday season is the perfect time to meet someone new.
1. Singles Get Out More
Sure, the frigid weather might make you want to hibernate under your covers, but the combination of time off work and the festive atmosphere make the holidays a great time to actually go out and mingle. "The holidays are a good time to find romance because single people get out more," Armstrong says. "When you're single during the holidays, you feel alone, you want to be warm and happy with someone and so you put yourself out there. This is a good thing for other single people."
2. There Are Lots Of Holiday Events To Mingle At
Tired of swiping to find love? This time of year is laden with opportunities to meet people IRL — including events like your office holiday party. "The holiday season offers so many functions, parties and social events that make it ripe to be in a situation where you can meet others," Armstrong says. "Holiday cooking classes, New Years Eve parties, and singles mixers are all different and prevalent things that occur during the holidays."
3. The Holidays Emphasize Loneliness (And Makes Us Want To Couple Up)
Spending time with loved ones during the holidays is great, but it can also emphasize your lack of a partner if you're single (I can't be the only one watching Love, Actually alone for the hundredth time). "Everywhere we turn we see happy couples, whether walking hand-in-hand or we're bombarded with romantic holiday movies," relationship coach and therapist Anita Chlipala tells Bustle. "And if we're single, hanging out with friends is great, but it's just not the same as being with a partner. The holidays serve as a reminder that people don't want to be alone, and may take more action to find someone."
4. Cold Weather = Cuddling Season
"People tend to be indoors by themselves more and it gets darker sooner, so there is more incentive to find someone to cuddle with," dating and relationship coach Lindsay Chrisler tells Bustle. I have to admit, one of my main motives to find a relationship is the desire to have a 24/7 cuddling companion (and personal masseuse). The idea of 'cuffing season' might be a little played out, but that doesn't mean people don't actually want someone to cozy up (and get naughty) with during the cold, blustery winter holidays.
5. The Holidays Are Rife With Bonding Opportunities
One way to meet someone during the holidays? In the airport. According to dating app Happn, users are actually more active the week right after the holiday. Last year, there were more 33 percent more likes and 19 percent more crushes (aka matches) made during this time, and if you'll be traveling, take note of the best ones for meeting people.
"With the holiday season right around the corner, Happn users will be traveling through airports all around the country. The amount of time spent in airports can drag on, but on the other hand, the airport could be the perfect place to make a meaningful personal encounter, or maybe even a love connection," Didier Rappaport, CEO and founder, Happn tells Bustle. "These are the top airports where there is the best chance of crossing paths with and meeting that special someone on Happn. It's no surprise that our list featured hot spots, like JFK, SFO, LAX and O'Hare — bustling travel hubs with so many chances to connect."
Plus, if you're out on the town on Christmas Eve or Christmas Day, you have a built-in conversation starter that will help you bond with the cutie you're making eyes at. "Some places will be open during the holidays, even on days like Christmas," Chlipala says. "It's an easy conversation-starter: 'So what brings you to a bar on Christmas? Family fight or you didn't make it home?'" The two of you can chat about your holiday plans (or lack thereof) and bond over some eggnog.
6. Being Bored At Home Is The Perfect Excuse To Date
"Going home for the holidays can lend itself to some boring days and long nights with family members who might not get along — and people are desperate to get out and hang with people their own age," Kali Rogers, CEO and Founder of Blush Online Life Coaching, tells Bustle. "Don't be surprised if you run into somebody you haven't bumped into ages and all of a sudden see them in a different way. It might be the desperation to get the hell out of dodge, or it might be a genuine interest in someone you'd never thought you'd see again." Just beware of all the ways online dating is different when you're home for the holidays — you never know who you'll come across.
7. It's The Season For ~Love~
"[The holiday season is] also engagement season, which means there will be engagement parties filled with friends of the couple meeting each other for the first time," Rogers says. "Celebrating love AND meeting friends of friends might arguably be the best way to meet someone new."
Thanks to all your nosy distant relatives prying into your love life, there can be a lot of pressure to have a partner during the holidays. But whether you choose to revel in your solitude or go out on the prowl for a new relationship, the choice is yours and no one else's — plus, you can always just get a puppy for the holiday instead.
Images: Fotolia; Giphy (7)