Why You Need A Hair Oil In Your Beauty Routine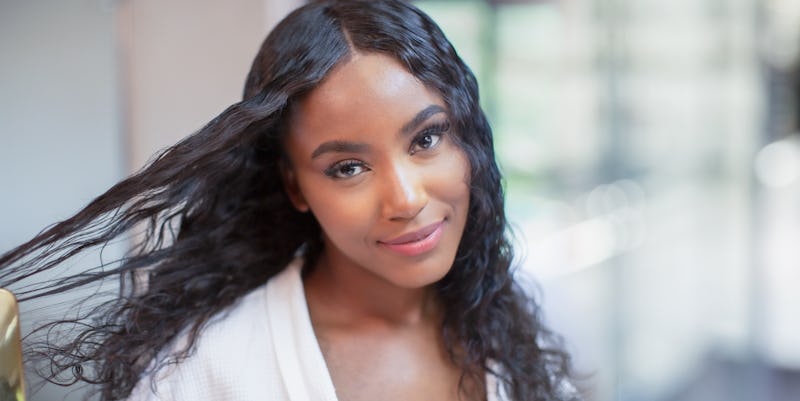 Caia Image/Photodisc/Getty Images
Oils are kinda scary. After all, they seem pretty counterintuitive: Why would you want to put something in your hair that will make it greasy and weigh it down? But there are actually a number of ways to use hair oils that will make your strands healthy. And who doesn't want stronger and shinier hair? So to find out a little more about the best ways to add a hair oil to your beauty routine, I emailed with an expert.
Chaz Dean, creator of WEN Hair & Body Care, let me in on some of his favorite ways to use treatment oils to keep hair healthy. For starters, he revealed that most treatment oils are perfect not only for your hair but also your skin (in case you needed another reason to start using oils in your beauty regimen ASAP). This means the options for how and even where to use treatment oils are almost endless. Whether you need to hydrate your scalp, repair your strands, soften your cuticles, or even remove your makeup, you can do it with an oil, explains Dean. So if you've been feeling like you need a little extra help controlling frizz or soothing your scalp, here are five ways Dean recommends using these beauty multi-taskers in your hair to keep it healthy, strong, and smooth:
1. Fight Dandruff
WEN Tea Tree Eucalyptus Treatment Oil, $54, QVC
Using oil as a scalp treatment can help with a whole host of concerns. If dandruff and hair growth are a couple you would like to address, Dean recommends massaging two to four full droppers of a treatment oil that contains tea tree and eucalyptus oils into your scalp.
2. Nourish Dead Ends
Umberto Beverly Hills Roman Oil Serum, $15, Amazon
If your ends are looking a little fried, oils can help with that too. Work a few drops between your fingers and then smooth over the tips of your strands. This will help nourish dead ends, says Dean.
3. Treat Overnight
Art Naturals Argan Oil, $12, Amazon
One of the best ways to reset your hair and really moisturize your scalp and strands is with an overnight treatment. You can use just about any type of oil, and even add essential oils to the mix for added benefits and scents. Try massaging two to four full droppers into your scalp and smoothing any excess over the rest of your strands before going to bed. Another option Dean suggests is to add a couple drops of your favorite treatment oil to an overnight, hydrating mask. For optimal results, make sure to sleep on a silk or satin pillowcase so that your tresses and not your pillowcase are absorbing all of the ingredients that will leave your hair feeling soft, silky, and healthy.
4. Style Dry Hair
Evo Love Perpetua Shine Drops, $21, Amazon
Another reason to incorporate a hair oil into your routine is to help control and revitalize frizzy and lackluster strands. All you need to do, says Dean, is "Add a couple drops to dry hair when styling to tame any frizz." Minimum effort for maximum results.
5. Repair Damaged Hair
Indie Lee Jasmine Ylang Ylang Nutrient Oil, $40, Indie Lee
If you don't particularly care to sleep with oils in your hair but still want a more intensive treatment, try this hack. According to Dean, pores open up when you sweat, which makes mid-workout the perfect time to also treat your scalp. He recommends applying two to four droppers of your favorite treatment oil to your scalp, massaging it in, and tying your hair up in a bun before exercising. After your workout, just wash your hair as you normally would.
But there are truly no limits to using oils in your beauty routine. As Dean says, "The more you use them, the more results you will see."
Images: Caia Image/Photodisc/Getty Images; Courtesy of Brands