These GIFs Sum Up The Holidays In The '00s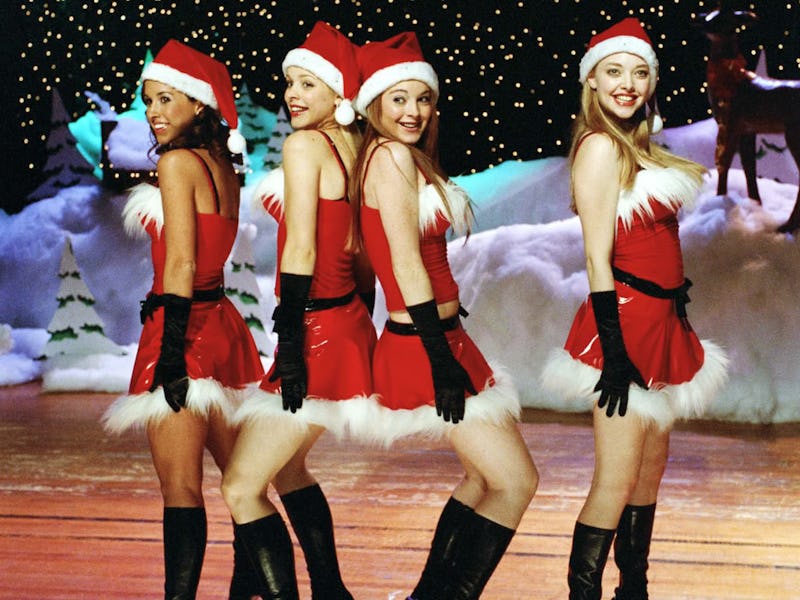 Tradition plays a huge part in the magic surrounding the holidays — there's just a special joy and comfort that comes from knowing you have the same things to look forward to every year when December rolls around. However, each decade does have its quirky little differences. What the holidays in the 2000s were like was naturally different than what holidays in the '90s were like, due to the changing trends of the time. So what were holidays in the early '00s like? Let's explore — in GIFs, of course, because there's literally a GIF for every occasion. Even the ridiculous ones. Especially the ridiculous ones.
Although the '90s get the bulk of the nostalgic spotlight these days, the early '00s certainly deserve more fanfare than they get. Not to mention the fact that people often wax nostalgic about things from the '90s that were actually from the early '00s. As a '90s "kid" and an early '00s high school/college student, it's safe to say I got the best of both worlds — I'm realistic about each decade's shortcomings and its strengths. And when it comes to the latter, the early '00s had them in spades around the holidays. In other words, as comically bad as some of the trends we were rockin' (around the Christmas tree) may seem now, they made for one heck of a holiday season back then.
But, really, the only way to adequately describe what holidays in the '00s were really like is through GIFs.
Deciding What Hat to Wear to Brave the Winter Elements
Do you go with your Von Dutch trucker hat? Or kick it old school with a newsboy cap? More difficult decisions were never made.
Trying to Download a Holiday Song Mix CD When LimeWire Kept Freezing Up
Nothing was more infuriating than "Holly Jolly Christmas" turning out to be nothing more than a screeching garble.
Waiting in Line to See the Latest Harry Potter Movie
Bonus points if you were in costume whilst waiting in the massive line to see the movie. Nerd love: One million, and you wouldn't have it any other way.
Killing Time Waiting for Your Holiday Dinner by Filling Out MySpace Surveys
Although, let's be real: It did get exciting when you starting fudging your responses to make your life seem more adventurous than it really was.
Watching the "Jingle Bell Rock" Talent Show Scene in Mean Girls On Repeat
Every dang time.
Picking Out Cheeky State T-Shirts from Urban Outfitters for All of Your Friends
Because who didn't want an innuendo for the holidays? No matter they'd never been to the state; a "Gettin' lucky in Kentucky" was hilarious regardless.
Feeling Superior Because Your Parents Got You a Flip Phone
If you were the first of your friends to get a flip phone with a camera, your smugness was quite ate your holiday spirit.
Scrolling Through the TV Guide Channel to Find Your Favorite Holiday Movie
You can't prove it, but you're fairly certain you aged in dog year's during this time.
Hearing Songs from Jessica Simpson's Christmas Album Everywhere You Went
The mall must have been getting some sort of kick-back for playing that record on repeat.
Reacting to the Tiffany & Co. Charm Necklace Your S.O. Gifted You
What, like you didn't want to channel Elle Woods at some point too?
Sporting Your Uggs (or Knock-Off Uggs, aka Knuggs)
Paired with a colorful velour tracksuit, of course, 'cause you were awesome.
Images: Paramount Pictures; Giphy (11)