From 'Boy Meets Boy' to 'Walk Two Moons,' 11 Realistic YA Books That Should Become Movies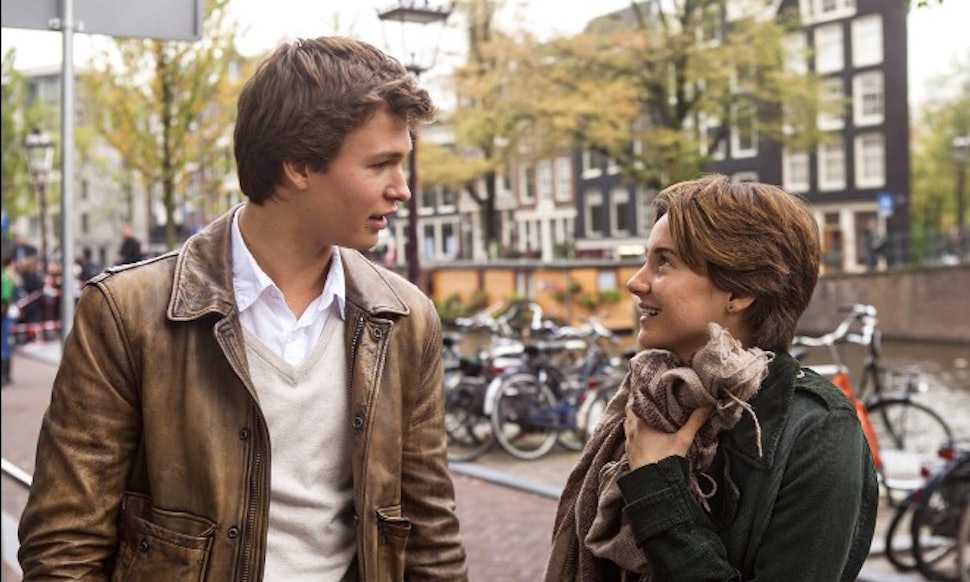 For the first time seemingly ever, the big summer movie this year doesn't involve superheroes, gunfights, or the number two (or three, or four...) in the title. There are no fight scenes, no vampires, no potential for sequels or spinoffs. In a refreshing change of events, the most anticipated movie of the summer season is a tiny indie called The Fault in our Stars , a drama about two kids with cancer. That's it — no zombies, no wars, no Robert Downey Jr.: just two sick teenagers who fall in love. What crazy studio green-lit that?
A smart one, obviously. It's thrilling that TFIOS has garnered such attention, especially during a season where small, intimate movies tend to get crushed by their superpower-wielding competitors. The fact that the film is an adaptation of John Green's YA bestseller, too, is reason to celebrate; realistic books for teens, ones without dystopia, fantasy, or supernatural in the description, seldom get made into movies.
And happily, TFIOS isn't the only realistic YA book getting the big screen treatment in the near future. Gayle Forman's If I Stay will hit theaters in August, and recently, both Green's Paper Towns and Rainbow Rowell's Eleanor & Park were announced as upcoming projects. Here are eleven more YA novels just like them that we want to see become movies. Hollywood, are you listening?
Image: 20th Century Fox
'Looking for Alaska' by John Green
About: A teenage boy who, while attending boarding school, befriends an enigmatic, possibly unstable girl.
Could Star: Logan Lerman as Pudge, and Elle Fanning as Alaska.
Potential to Get Made: Very high. Now that TFIOS and Paper Towns are realities, Alaska and the rest of John Green's books should get the film treatment before long.
'Catalyst 'by Laurie Halse Anderson
About: A high school senior who unravels after her life-long plan to attend MIT gets derailed.
Could Star: Kaya Scodelario as Kate.
Potential to Get Made: Not very. Halse Anderson's first and most famous novel, Speak, turned into a decent TV movie, but her others haven't followed suit. Perhaps they're too introspective to adapt — but we'd love to see some brave studio try, whether with Catalyst or any of Halse Anderson's others.
'Thirteen Reasons Why' by Jay Asher
About: A high school student who learns of his role in the suicide of a female classmate after being given a series of tapes recorded by the late teen.
Could Star: Logan Lerman as Clay. Really, Logan Lerman should just play every quiet, kind teenage boy movie role there is. Ariel Winter as Hannah.
Potential to Get Made: Three years ago, the answer would've been "extremely likely." In 2011, it was reported that Thirteen Reasons Why was getting made into a movie, with Selena Gomez attached as Hannah. Nothing seems to have come of it, though, so the project's probably shelved. Here's hoping someone revives it — but not with Gomez, please.
'Prep' by Curtis Sittenfeld
About: The New England boarding school adventures of Lee Fiora, a shy misfit from Indiana.
Could Star: Sarah Sutherland as Lee. Selina Meyer's daughter knows how to play awkward.
Potential to Get Made: Not high. Prep spans all four years of high school, and its biggest criticism is that "nothing really happens." Not exactly a movie studio's dream. Still, fans of Sittenfeld's novel would love to see Lee, Cross, and the rest of Ault's student body come to life on-screen.
'Elsewhere' by Gabrielle Zevin
About: A 15-year-old who dies in a hit-and-run accident and wakes up in "Elsewhere," an afterlife where people age backwards until they return to Earth.
Could Star: Abigail Breslin as Liz.
Potential to Get Made: It's definitely possible. Elsewhere is based in realism, but it has just enough fantasy elements to appeal to studios reluctant to adapt a book with such a depressing concept.
'Summer Sisters' by Judy Blume
About: The friendship of two girls who spend every summer together, following their lives from middle school to adulthood.
Could Star: Hailee Steinfeld as Vix; Bella Thorne as Caitlin.
Potential to Get Made: Eh. Of all of Blume's novels, Summer Sisters is the one that reads most like a movie, but the recent adaptation of her book Tiger Eyes failed to get much notice. Perhaps in the right hands, though, Summer Sisters could do better.
'The Absolutely True Diary of a Part-Time Indian' by Sherman Alexie
About: A Native American teenager who creates tension in his family and reservation after transferring to an all-white high school.
Could Star: No one currently in Hollywood. Making this movie would mean casting an unknown, Native American actor, which will freak out studios but make huge strides for diversity in film.
Potential to Get Made: Wikipedia says a film adaptation is in the works, but a Google search reveals no information. It'd be fantastic if it was true, but unfortunately, probably unlikely.
'Stargirl' by Jerry Spinelli
About: The friendship between a high school junior boy and a new, eccentric sophomore girl.
Could Star: Tye Sheridan as Leo; Saoirse Ronan as Stargirl.
Potential to Get Made: There's some, but not much. A movie version, apparently written by Paul Feig, had been planned for a 2009 release, but production never began. Here's hoping someone re-starts the process, with the Freaks and Geeks creator still on board.
'Walk Two Moons' by Sharon Creech
About: A 13-year-old girl who longs to reunite with her missing mother, and the similar, strange story of her friend, a girl whose own mother has disappeared.
Could Star: Like with The Absolutely True Diary, a newcomer would have to play Sal, who's part Native American. As for Phoebe, Kiernan Shipka could fit the role.
Potential to Get Made: It could happen. Sal and Phoebe's stories make for interesting material, and the book has obtained a cult following in the 20 years since its release.
'Boy Meets Boy' by David Levithan
About: The relationship between two high school boys in an unusual, gay-friendly town.
Could Star: Freddie Highmore as Paul; Miles Heizer as Noah.
Potential to Get Made: Pretty good. Levithan's 2006 novel, Nick and Norah's Infinite Playlist, was made into a successful movie. The LGBTQ content of Boy Meets Boy might make some studios hesitate, but others could (and should) embrace the opportunity to make such a unique, important film.
'The Truth About Forever,' 'Just Listen,' 'Someone Like You,' etc. by Sarah Dessen
About: Practically all of Sarah Dessen's novels, revolving around high school girls and their summer adventures, would work as movies.
Could Star: Any of the actresses already mentioned, as well as Chloe Moretz, Analeigh Tipton, Willow Shields, Willa Holland…
Potential to Get Made: Not bad. Two of Dessen's books were combined into 2003's How to Deal, so Hollywood knows her novels exist. Actually making them into movies, though, is a different story. We're keeping our fingers crossed.