You Definitely Know This '24' Star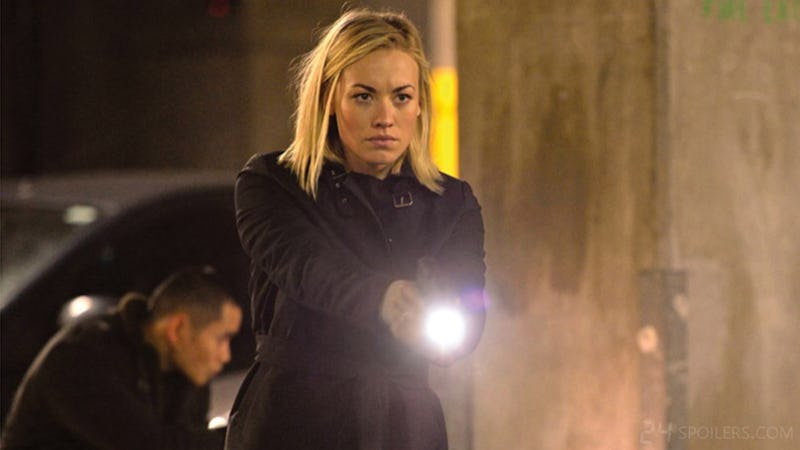 Those who have been rabidly anticipating tonight's return of America's favorite counter-terrorist agent on 24: Live Another Day have likely been playing all the promos, teasers, and trailers on a loop. But while those people have been getting their fill of Jack freakin' Bauer, they may also have caught glimpses of a blonde woman running around and pointing guns at people. Who is this mysterious beauty?
If she looks familiar, there's a very good reason. And no, it's not because she's Kim Bauer, all grown up and working for the CIA. Although the two do bear a striking resemblance, this is an entirely new character created for Live Another Day, a CIA agent with something to prove after her husband sold government secrets and committed suicide. Her name is Kate Morgan, and if that sounds familiar, there's a very good reason for that, too. Back in Season 2 of the original 24, one of the main characters was a woman named Kate Warner... who also had straight blonde hair. It's like the writers are trying to make things as confusing for us as possible.
But other than her character's name and her resemblance to Jack's daughter, most viewers probably do know this woman from somewhere: she's played by 31-year-old Yvonne Strahovski. This Australian actress most recently played psychopathic Hannah McKay on Showtime's Dexter . Over the course of the final two seasons, she transitioned from the titular killer's target to his twisted love interest. Though that show was widely maligned at the end of its run, most viewers agreed that Strahovski was a rare bright spot in those muddled episodes — she even won the 2013 Saturn Award for Best Guest Starring Role on Television.
But Hannah isn't even Strahovski's most famous role. Before Dexter, she starred in all 91 episodes of NBC's action-comedy Chuck, where she played a CIA agent, of all things — the exact same occupation as her Live Another Day character. Her role as Chuck's partner Sarah Walker has given her plenty of practice in how to look good while kicking ass and taking names. She should be a perfect fit in the world of 24, even if it is decidedly less comedic than the lighthearted adventures of Chuck.
Where else have you seen Strahovski? She has popped up in a few films over the past few years, as Jason Statham's love interest in 2011's Killer Elite, as Seth Rogen's former flame in 2012's The Guilt Trip, and most recently as an imperiled scientist in the supernatural action flick I, Frankenstein. Strahovski also serves as the voice of and body model for the character Miranda Lawson in the Mass Effect video game trilogy.
This plethora of experience in action movies/shows/video games should have prepared Strahovski for all of the kick-ass fights and stunts required of her character in Live Another Day. But only time will tell if Kate Morgan herself is prepared for the grueling 24 hours ahead of her.
Images: FOX; Showtime; NBC; BioWare