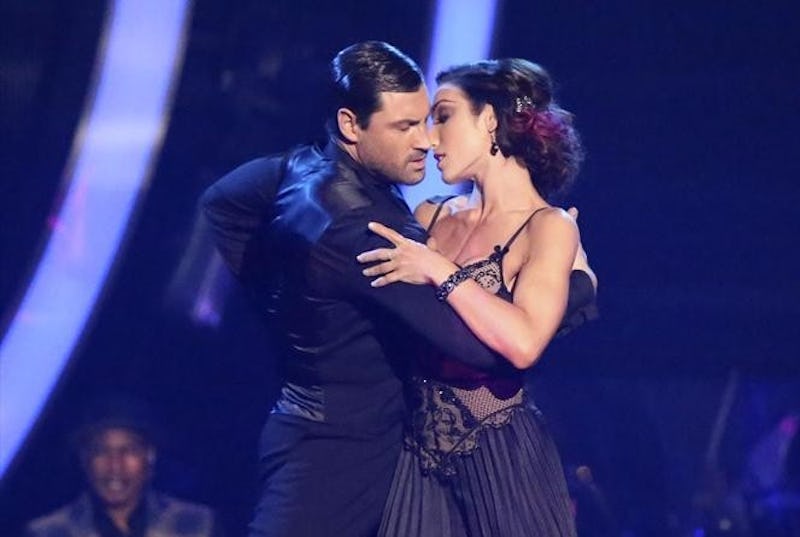 I will admit that I can get a little over-invested in competitive reality TV shows; you base that sucker on dancing and add a dash of two souls connecting in this cruel, dark world, and I'm a goner. Mentally willing Maks Chmerkovskiy and Meryl Davis to fall in love every week on Dancing With the Stars is surely not my coolest moment, but I've hoped for weirder, and I take solace in knowing that just about every person watching the show must be rooting for it too.
Because those two knuckleheads are meant to be, and everyone can see it. Hell, even Abby Lee Miller could see it, and she's surrounded by a 3-dimensional haze of hatred and Aquanet at all times. Yes, it seems Meryl has truly tamed the DWTS beast, but rather than tame him to the point of, say, not telling a guest judge he doesn't care what she thinks, Meryl has simply brought out the best in Maks. And from where we sit, that's love, my sparkly friends.
But I don't want to be deceived by this love we're all dreaming of... what if Maks and Meryl are simply another Maks and Erin Andrews? Strong dance partners destined for a fate of awkward interviews that everyone swears are "not bitter, totally NOT bitter." Are we to believe the mimosa dates and tales of behind-the-scenes hugs and kisses? No, we are not; because we don't have to. All the proof we need (yes, NEED) is right there on screen in the Mirrorball pudding:
Let's take it to the DWTS leaderboard for a reminder of the slow, televised unveiling of Maks and Meryl realizing they're soul mates:
The Meet-Cute
Let's not forget that Maks, bad boy of DWTS, totally fan-girled and asked Meryl to marry him upon their first meeting.
No one was really expecting the connection to grow much past joking, especially from the more reserved pint-sized gold medal winner, but this first-week exchange was enough for an eyebrow lift, at least:
Maks: I will give you all I got.
Meryl: I want all of it.
Maks: I got a lot to give.
Meryl: I can tell.
I can tell... I can tell! Get a room, you two. (Or, like, a house that you share together for the rest of your lives.)
The Trust
Maks and Meryl were already displaying superhuman trust in each other in week two, throwing themselves around like they knew the other would never let them fall (even though they both fell... a lot).
Now that could easily be explained as two athletic freaks coming together to show off just how freakishly athletic they are. But when Meryl imitated Maks' nervous walk perfectly, a true 'ship was born.
The Emotional Connection
After a week spent apart for the dreaded-but-actually-totally-fine DWTS Switch-Up, Maks and Meryl reunited with a lingering hug and extended therapy session. We've seen Maks get hot and heavy with his dance partners — a sexual connection is no surprise when it comes to the eldest Chmerkovskiy brother. But the emotional connection he's made with Meryl has been a surprise not only in it's mere existence, but in it's visibility to the audience.
In week six, Meryl read that man like a book as Maks was finally breaking down about guest judge Julianne Hough accusing him of phoning his switch-up performance in with Danica. "That's the problem, is you're questioning yourself, and you're not the problem. The problem today is you're scared." To which Maks replied, "I'm terrified, I'm not scared ... I used to be too proud to admit it and now I'm too proud not to admit it." Now, that was unexpected.
And then they followed that up with a smoking hot performance, of course
The Plans for the Future (Hint: It's Forever)
Last week, Maks threw caution to the wind in regard to keeping anything a secret about his and Meryl's extracurricular relationship. After their most emotional performance yet, Maks went into protective mode of his girl (see: soul mate) Meryl and guest judge Abby Lee Miller's criticism of her feet in their Rumba, saying, "I really [didn't] care for anything she had to say," which I actually think came out more polite than he meant it.
This raw display after his strategic declaration for future relationship plans in the rehearsal package — "I'm not gonna impose my friendship on anyone, but with Meryl, I think it's pretty clear that we're going to try to maintain whatever it is we have going on way past the show" — is enough to convince even the most skeptical of the forever-love that's formed on that DWTS stage. And, let's face it the only skeptics left are the ones trying to marry Maks themselves.
Maks + Meryl = <3
Images: ABC