We Want More Alana Bloom On 'Hannibal'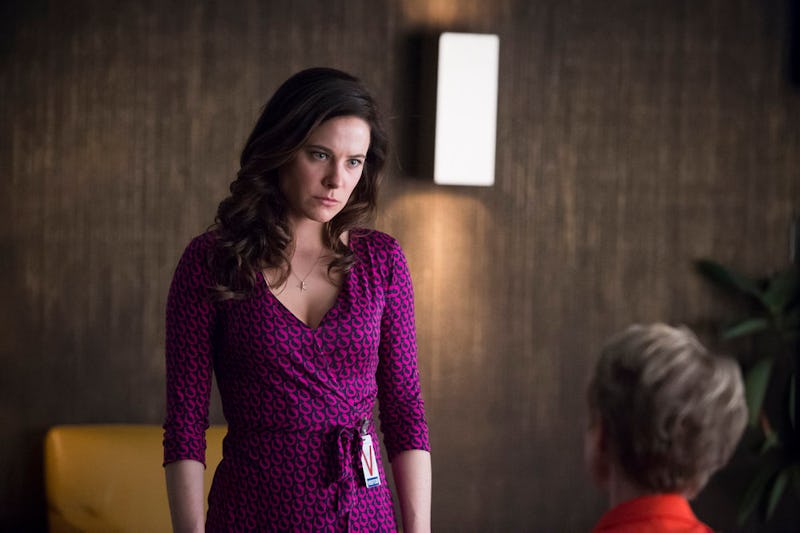 Fans of NBC's Hannibal already had a pretty good idea that after discovering Hannibal's true nature, Jack Crawford (Laurence Fishburne) might die in Season 2's finale — and perhaps leave behind some screen time for one of his female co-stars. Why are we so certain he'll die, you might ask? For one thing, he was stabbed in the neck in the season trailer released earlier this year. More recently, however, ABC picked up the sitcom Black-ish, in which Fishburne will both star and produce, which leads us to wonder: If he's busy with a new series, will he be able to continue his stint on Hannibal?
It's possible, but both those factors make it unlikely. You might be saying, "But Jack Crawford is a huge character in all the books!" You would be right, but this is Hannibal we're talking about. Showrunner Bryan Fuller treats the source material like Play-Doh, twisting and molding it every which way.
Going with the assumption that Jack will indeed not make it to Season 3, we know a lot of fans would love for Hannibal to further explore its female characters — rather than killing off the best ones — and we know a few characters they can start with. Let's look at some of the ladies next year's episodes can — and should — spend more time on.
Alana Bloom
As arguably the most significant female character on Hannibal, Caroline Dhavernas' Alana (who, funnily enough, was a man in the books) is the obvious choice. From the above-mentioned Season 2 trailer, it also looks like she might play a large part in taking down Hannibal himself. Some Hannibal fans aren't crazy about where this season's storyline has taken Alana (i.e. into the bed of our titular cannibal) and feel that she's become nothing more than a sexual object for Hannibal and Will to fight over, but something tells us Alana will always be an important character. Plus, she really did get the short end of the stick this season — we're ready for something (or anything) good to happen to her.
Freddie Lounds
Freddie (Lara Jean Chorostecki) has kind of a Gale Weathers thing going on — she's scrappy, nosy, and will most likely take a while to die, if she does at all. Since her first appearance on Hannibal, with her all-burgundy outfit that totally clashes (in a good way) with her fabulous Grace Adler hair, she's become a fan favorite. We're sure Fannibals everywhere would love to see more Freddie.
Bedelia Du Maurier
After a long hiatus of hiding from Hannibal and his kitchenware, Bedelia is back on this Friday's episode (as we predicted), presumably to make sure everyone definitely knows Hannibal is a psychopath. While it's possible Hannibal will finally snag and kill her, we hope Bedelia makes it to next season (especially now that Gillian Anderson's show Crisis has been canceled).
Miriam Lass
Miriam (Anna Chlumsky), Jack's protege who was kidnapped by Hannibal, has been MIA since she flipped out and shot Dr. Frederick Chilton, after Hannibal tricked her into thinking his rival was the true Chesapeake Ripper. However, if Jack dies, we're sure to see her at least once again. The biggest thing working against a full-time or recurring role for Chlumsky is that many fans wondered if she was supposed to be a Clarice Starling-type, which might clash with Fuller's vision for his eventual introduction of the character.
Abigail Hobbs
Abigail (Kacey Rohl) is presumed dead, but we think there's a good chance Hannibal stashed her away somewhere, Miriam Lass-style. Though he believes Will is on his side and they're going to live murderously ever after together, what better insurance policy is Abigail, the surrogate daughter Will (thinks he) couldn't save?
Margot Verger
We don't know for sure that Mason will die in Season 2, though it seems unlikely he'll stick around much longer. That said, if Mason isn't in Season 3, Katharine Isabelle's Margot most likely won't be either — especially now that she won't be having Will's baby. If she is, though, we'll gladly take more scenes of her in glamorous, sparkly blazers.
Images: NBC (6)