Don't You Dare, 'Awkward'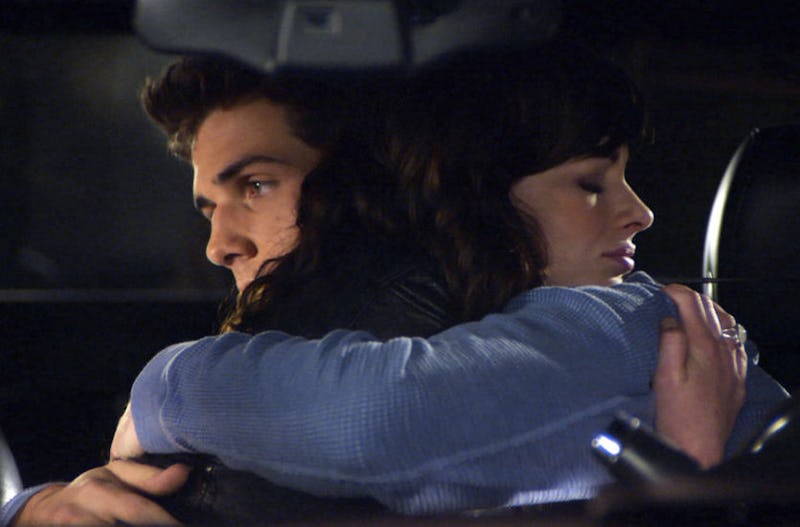 Over the span of three seasons, we've witnessed moment after moment of sexual tension, secret romance, open romance and heartbreak between Jenna and Matty on MTV's Awkward . Now in Season 4, senior year, you would think it would be time for the two lovebirds make a final decision about their relationship status since they will both be graduating and starting new chapters in their lives. But so far, that's not the case. A the beginning of this season we saw Awkward's Jenna and Matty as friends with benefits. But now Jenna is enjoying some newfound maturity after a college visit and a new college boyfriend while Matty had a breakdown over his adoption and then also had to witness Jenna kissing her new older love interest.
So what's next? Well according to the logline, Jenna tries to get Matty to date someone new but as soon as she sees him hitting it off with someone, she realizes she still has feelings for him. So far, the new showrunners for Awkward Season 4 haven't provided us with many Jenna and Matty spoilers to theorize about but to be honest, it seems like the two exes need some time apart. Now, I'm not saying Matty and Jenna shouldn't get back together, they just need time to figure out their own lives separately from one another.
For so long, Jenna and Matty were each other's biggest supporters. She stood by him through a lot and he was there for her in many ways as well, but neither of them were mature enough or in the right mindset to make it work. First Matty couldn't define their relationship or take it public and then we all saw the debacle that was Colin and Jenna.
But now, Jenna is finally thinking about her future, her life outside of high school and outside of Palos Hills. Matty on the other hand is trying to just figure out who he is. The only thing he needs to focus on his himself and get support from friends. Romance should be the last thing on his mind. Especially if it's with Eva as indicated in that promo. The one thing Awkward's new showrunners did say was that no matter what their relationship status, Jenna and Matty have an "emotional tie" that will continue to be the center of the show. So even though she's with Luke, that doesn't mean she can't be there for her friend in his time of need.
The trajectory the writers of Awkward are taking with Jenna in Season 4 is actually quite realistic. Many people do start to think about where they want to go in life and who they want to be outside of the little bubble that is high school and that leads to some maturity and depth that was never there before. My biggest theory for the future of Jenna and Matty is that by the Season 4 finale, which I'm assuming will be graduation, Jenna will finally be able to make a decision about how much she wants Matty in her life. And who knows, if Jenna and Matty can't make it work as anything, not even friends, his new burgeoning friendship with Sadie could be really fun to watch in the college years.
Images: MTV; Tumblr/freelove34; Tumblr/happilywilted