North West's Nursery Is A Site To Behold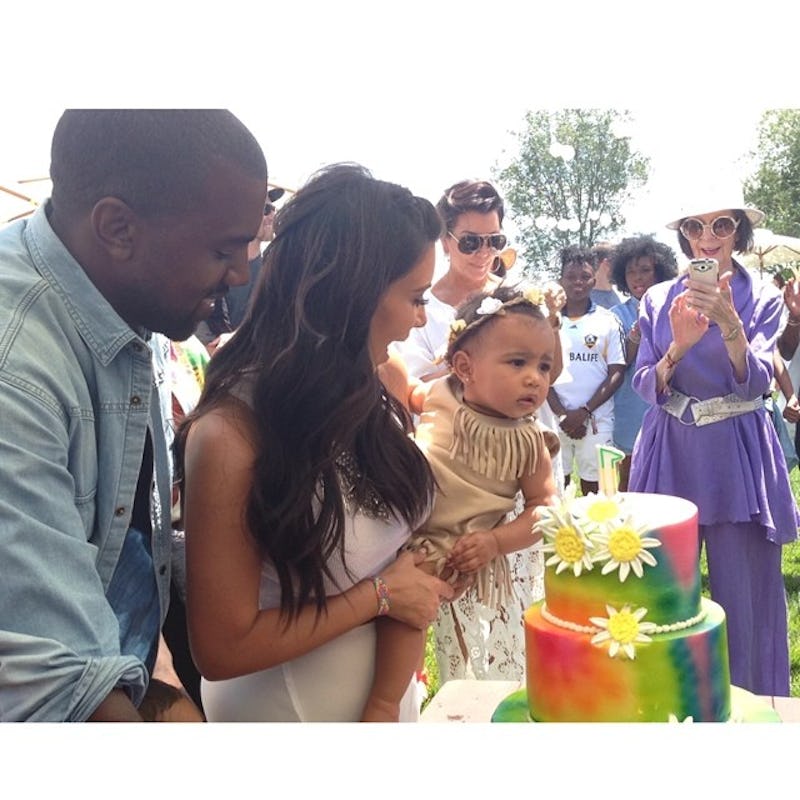 It's no secret that both Kim Kardashian and Kanye West enjoy luxury. From out-there designer fashion to blinging accessories and entire walls of flowers, subtlety and frugality is not what this couple is known for. Don't get me wrong, I wouldn't want it any other way. Would you expect any less from a couple that count Queen Bey and Hova in their circle of friends? That's why it's a no-brainer that the Keeping Up with the Kardashians star and her new husband would outfit their baby's digs in style. While we'll catch glimpses of North West's nursery on KUWTK, that's all fans will get to see of baby North on the series.
West has gone on record about wanting his child to be protected from overexposure and the general madness that comes from being a pint-size reality star. But that doesn't apply to her room. While the jury is still out whether baby North is impressed by her celebrity nursery, you can believe that her daily living situation is going to be at least as extravagant as her massive Kidchella party, if not more.
So what can you expect from a nursery created by Kimye and the Kardashian clan? Only the best, of course.
A WARDROBE WAY Better THAN YOURS
Name a designer and I bet it's already in North West's closet. Kardashian's Instagram feed is littered with shots of gifts from pretty much everyone in the fashion world. From Cavalli to Stella McCartney to Hermès, Baby North's closet is perhaps one of the most expensive parts of the whole nursery.
A LUCITE CRIB
According to the Huffington Post, Kimye splurged for a $3,950 crib, reportedly the same one Jay Z and Beyoncé purchased for Blue Ivy, which means this one item costs more than most people's rent. For the curious, the model is a NurseryWorks Lucite crib. It's a great option if you like the idea of keeping your baby in a clear box and pretending it's in suspended animation in a sci-fi movie.
EVERYTHING WHITE, ALWAYS
The Huffington Post article also mentions an all-white palette, meaning Kim is continuing her reported "no bright colors" rule for baby North. Though I can't help but wager that her strict color palate control is just going to make a grown-up North rebel and dress in full neon all the time.
GIANT STUFFED ANIMALS
A teaser photo on Hollywood Life reveals that North's nursery is also home to giant toys, like the giraffe spotted in the background of many of Kardashian's Instagrams. While giant stuffed toys can run a pretty penny at premium toy stores like FAO Schwartz, OK! points those hoping to emulate the Kimye baby room to a more modestly priced stuffed tiger (in white no less) by Melissa & Doug.
While the room looks classy, setting it up wasn't necessarily a breeze, as an older episode where the Kardashian siblings prep for North's early arrival sent everyone into a frenzy, particularly Kourtney, who has the most mommy experience under her belt by far.
All that worry over the space is probably nothing Kimye can't handle, though. We already know North's parents want to try their hand at the whole house-flipping thing, so they're probably not too shabby when it comes to sprucing a space up. We can't wait to see what epic renovations the room might undergo this season as North grows from a baby into a toddler.
Images: kimkardashian/Instagram (3); 2Modern, Melissa&Doug