Not Every Fantasy Suite Card Has Been Handed Out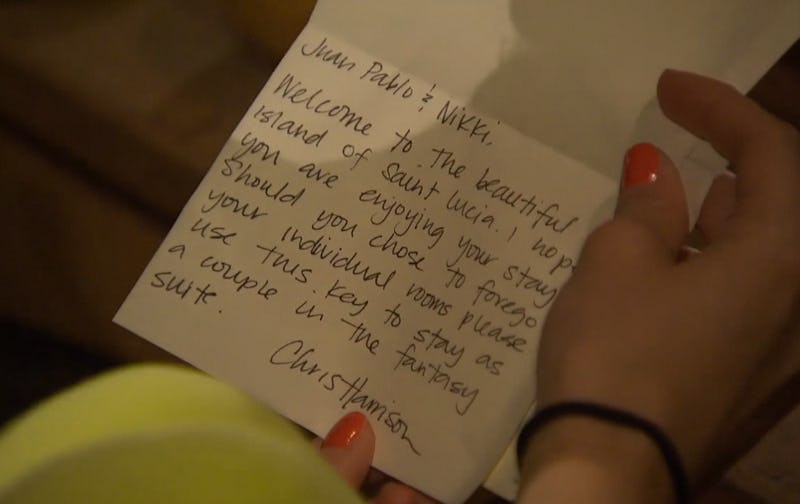 What are the odds Andi Dorfman hands out Fantasy Suite keys to all three of her men on Monday? We know that Bachelor/Bachelorette contestants do have sex on the overnight dates, but how many Bachelor and Bachelorettes have declined to hand out that Fantasy Suite cards? You know, the ones that have had the same message on them forever? "Should you choose to forgo your individual rooms, please use this key to stay as a couple in the Fantasy Suite." (I knew that so well I didn't even have to Google it.) Well, in 18 seasons of The Bachelor and nine seasons of The Bachelorette, only one person has declined to offer someone a key to the Fantasy Suite.
That person was Emily Maynard who had a 6-year-old daughter at the time and wanted to set a good example. She never handed the card over to Arie Luyendyk Jr. because she said "I don't trust myself, but good Lord is he hot." But while she declined to put the offer on the table for Arie, she did offer up the chance to Sean Lowe, as long as he understood that it was just to spend more time together — he would not be spending the night.
So while Emily may have been the only person to deny a key to someone all together, there have been others throughout the years who offered up the overnight date with the caveat that it wasn't about sex, but about spending time to talk. In fact in all, three Bachelors and two Bachelorettes have gone on record as having said there was no funny business on their overnight dates.
Season 17 Bachelor Sean Lowe was a born-again virgin. So while he went on all three of his overnight dates, he didn't stay to sleep and instead used the opportunity as more time to talk.
Brad Womack issued a statement about his second time on the show saying he used the overnights to get to know the women better intellectually, not physically. "I wanted to take the opportunity with all three of the women to talk, off camera, so we could all feel even more comfortable," Womack said. This could be true considering Emily Maynard accepted his invitation despite still having a young daughter. If he made it clear to her it was just to talk, that could explain why she said yes.
Season 14 Bachelor Jake Pavelka has also claimed to not have slept with any of the women on his show, despite going on all three overnights. He said the reasoning behind his decision was that he didn't want to sleep with someone only to send them home the next day. "What are you going to do when you have to look somebody in the eye and the night before you made love to them and you are sending them home?" He asked saying for him it was about "minimizing regret." He may have ended up with the show's villain, but at least he didn't bang someone and toss them the next day.
Original Bachelorette Trista Sutter, who has some pretty rude views on the sexual politics of the show, has implied that she too didn't sleep with the men on her Fantasy Suite dates.
Season 6 Bachelorette Ali Fedotowsky did go on all her overnight dates, but later explained that she only had sex with one of the men saying, "I had one guy I was really into, one guy I knew was just a friend."
So yes, it's rare for a Bachelorette to not extend the offer at all, but it's much more common to use that time in the fantasy suite hanging out and not necessarily having sex. Will Andi break the mold and become the second ever Bachelorette to deny a contestant a key? Well, she has had terrible luck with Fantasy Suite week, so you never know.
Images: ABC (2); bachelorabc/Tumblr