Baby-Sitters Club 2014 Means Twerking and Selfies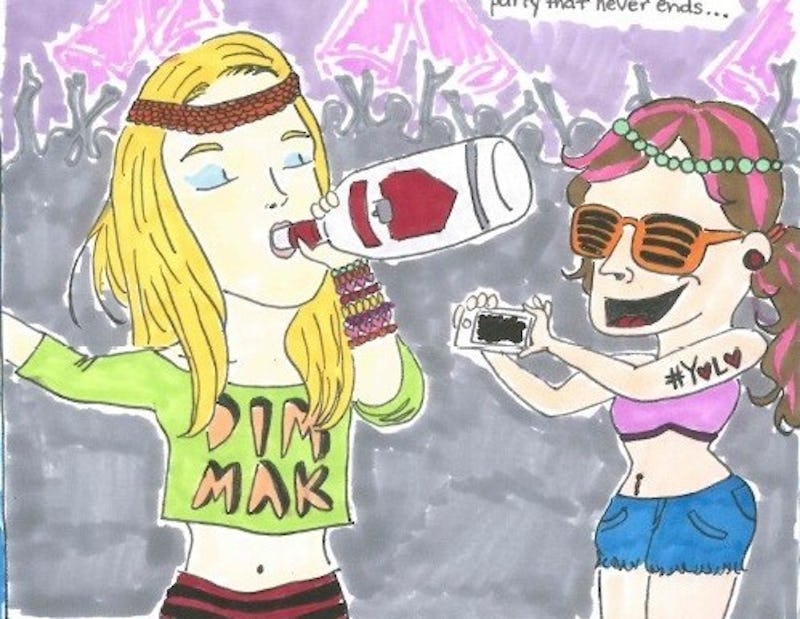 The world has changed a whole lot since the days of Ann M. Martin's ridiculously successful The Baby-sitters Club series. It was a huge deal for Claudia to have a phone in her bedroom, so there was no Internet to speak of for the most part, and certainly no cell phones. And as we all know, with modern technology comes changing issues. And lots of hashtags.
Last Night's Reading Tumblr's creator Kate Gavino, an artist and blogger, realized this and created 2014 Baby-sitters Club, a modern take on the series with illustrated covers of sample books. And basically, they're genius. Sure, the girls had to face diabetes, troublesome triplets, and crushes, but with Tinder, SnapChat, texting, and loads of other new things introduced into 2k14, the baby-sitters would have a lot of... distractions to contend with when running their business.
Check out below some of Gavino's amazing creations, and some more that I think definitely need to make an appearance in this updated series. #bscproblems, anyone?
Kristy Thomas
Kristy, of course, is the founder and president of the Baby-sitters Club. It was her "great idea" that launched this whole endeavor and the hundreds of books to follow. Kristy is a jeans, T-shirt, and baseball hat tomboy, and she'd definitely keep that going into 2014. She's sporty and, yes, OK, kind of bossy, but that's part of her charm.
Because of this ambition, it's not surprising that Gavino sees her as über successful:
But that's just one of the books in the series, of course. There are others I could imagine:
Kristy Tries Mint-Colored Jeans
Kristy's Startup Receives Series A Round of Funding
Kristy's Fantasy Football Fiasco
Mary Anne Spier
The shy, quiet BSC secretary was never really a fan favorite (sorry Ann, I know she was based on you), and she doesn't even get a new 2014 cover, so I came up with three I think would fit right in:
Mary Anne's Secret Fifty Shades of Gray Fan Fiction
Mary Anne Reacts To That New York Times Editorial
Mary Anne Dumps Logan... via GIF
Claudia Kishi
I can't even deny that Claudia was the best. She had her vices, though, like junk food, that will escalate with all the new technology at her fingertips in 2014. I really believe Gavino is correct and she'll be a killer style blogger:
But in the name of these vices, there are a few more Claudia titles for the series:
Claudia Makes The A-List in Kim Kardashian: Hollywood
Claudia's Candy Crush Addiction
Claudia and the Project Runway Netflix Binge
Stacey McGill
Stacey was a pretty cool runner-up to Claudia, and this New York City girl taught all of us preteen girls what diabetes was. So it's no surprise that this cosmopolitan woman would find the rave scene in quiet Stoneybrook:
She's also all about style and brands, so there are a few more books I can imagine Stacey starring in:
Stacey Decides Owl Patterns Are So In
Baby-sitters Club Mystery: Stacey and the Secret Starbucks Menu
Stacey Can't Pick the Best Instagram Filter For Her Selfie
Dawn Schafer
Little Miss California was perfectly pegged by Gavino as being so into gluten-free food. This laid back sitter is all about chill living and sustainability:
Along those lines, you just know Dawn would totally star in these titles:
Dawn and the Troublesome Juice Cleanse
Dawn's Cans Jam For The Stoneybrook Farmers Market
Super Special: Dawn Takes Everyone To Coachella
Mallory Pike
Poor Mallory. She always got the short end of the stick when it came to the BSC members. As it seems, in 2014, that trend continues:
Hopefully, the redheaded and bespeckled Mallory will find her way in the next decade. But for now, her books:
Mallory Decides to Go Freelance
Mallory's Brush With Cyberbullying
Mallory and the Disappointing BuzzFeed Quiz Results
Jesse Ramsey
To be fair, mostly what I remember is that Jesse learns sign language and loves ballet. But maybe she can reach new heights with these book titles under her belt:
Jesse and the LinkedIn Opportunity of a Lifetime
Jesse Learns About Twerking
Jesse's Ballet Vlog Takes Off!
Images: Last Night's Reading/Tumblr; Giphy (2); Last Night's Reading/Tumblr; Giphy; Last Night's Reading/Tumblr; Giphy; Last Night's Reading/Tumblr; Giphy; Last Night's Reading/Tumblr; Buzzfeed; Giphy