How Will Swift Handle the Criticism?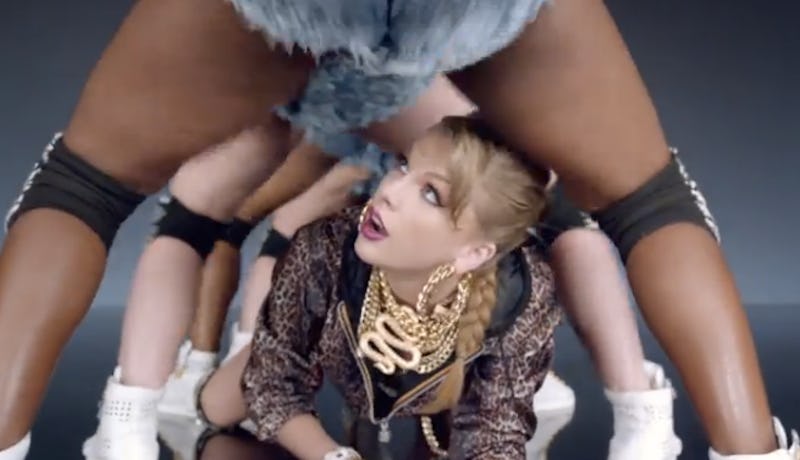 After the pom-pom dust settled and the ballet feathers floated away, Taylor Swift's "Shake It Off" music video left a sour taste in many mouths. The song, ostensibly about dancing like no one's watching, ran into some dicey territory with some of its moves. In one scene, Swift climbs through the legs of twerkers. In another, she dresses like she is a part of a very stereotypical hip-hop group. Like many pop stars' videos before her — Miley Cyrus' "We Can't Stop," Katy Perry's "Birthday," Macklemore's performance of "Thrift Shop," Christina Aguilera's "Can't Hold Us Down" — Swift has appropriated from a culture not her own. During a time where there are race riots happening in our country, where there are curfews in Ferguson, where there is violence and fire and gunshots and police dressed in military camouflage, there is Swift, gawking at African-American back-up dancers as they shake their butts.
It was all fun and games (T. Swifties' got a new video! She's so funny, she's making fun of bad dancers! OMG, there's a cheerleader part like in "Hey, Mickey!") until you were able to take one step back and notice, that oh no, this is not OK. There's never a right time to culturally appropriate, but if there was ever a bad time, now might be it.
Needless to say, people took notice of Swift's poor decisions in "Shake It Off" and were quick to point out they're upset.
This man has a point:
Another valid point:
Interesting observations:
Exactly why Swift can't get away with it:
What most of us thought:
"Shake It Off" does, however, baffle some people:
What will make Swift different from those before her will be her response. Perry's explanation for her propensity to culturally appropriate definitely missed the mark, Macklemore said that Jewish costume he wore was one big misunderstanding, and Cyrus? Well, we're still waiting. It will be interesting to see if Swift, whose message in "Shake It Off" is to ignore the haters, will actually take heed.
Images: TaylorSwift/YouTube