More 'True Detective' Season 2 Details!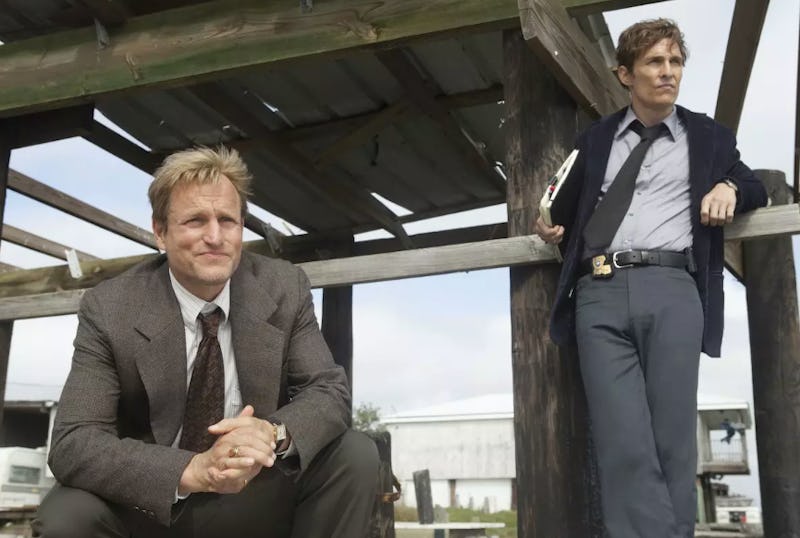 We still don't know for sure if HBO will bring us the Colinaissance, but now we do know some more details about Season 2 of True Detective , as Collider has revealed that it will be "slightly less dark." Since the series is an anthology, each season doesn't need to retain the same tone, which means my hopes for True Detective: The Musical are not entirely for naught. (OK, they probably are.)
Anyhow, Huffington Post UK reports that HBO president Michael Lombardo said the following at the Edinburgh International Television Festival:
It's still dark [...] Nic explores the darkness in people's souls. It's not as dark, but it's not a light ride. [...] Nic likes looking into the crevices of the soul.
And we all know that in your soul lies a dark rainbow!
So, OK — it won't be as dark, but we shouldn't expect puppies befriending kittens, either. This ain't The Adventures of Mary Kate & Ashley — although now that I mention it, who's with me for MK&A circa 1996 to star in True Detective!?
Actually, let's stick to the likely players for next season: Colin Farrell (oh please, oh please! For the love of a Colinaissance!), the always lovely Elisabeth Moss, and Taylor Kitsch.
But remember: it ain't been confirmed yet. There's very little that's actually been revealed. Still, even though there's only so much knowledge about Season 2 available, it's easy to dive off the speculative cliff with any tidbit of information we get. Like this tidbit: Collider also reports that Season 2 would feature an amalgam of directors, which is a staunch departure from Season 1, which had Casey Fukunaga at the helm for the entire season.
So: Season 2 will be different, but not too different. Got it? Cool.
Image: HBO