Rachel's headed back to Ohio!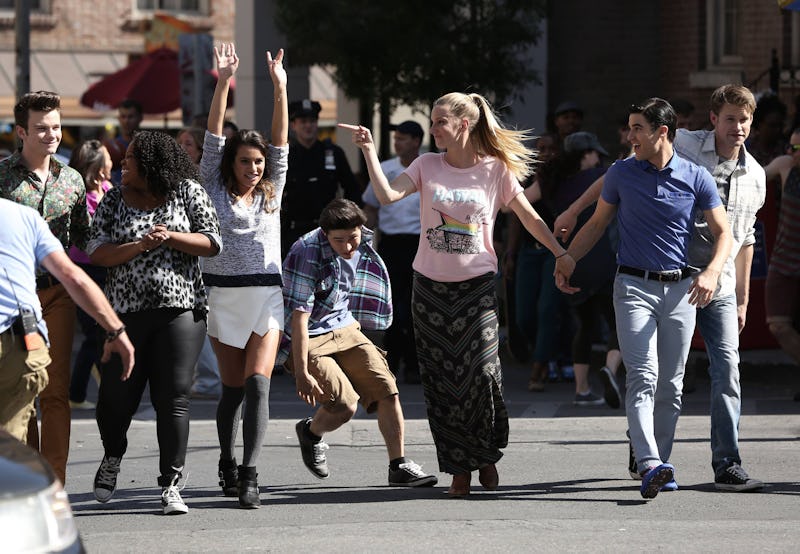 When we left Rachel Berry and friends in New York during the Season 5 finale of Glee we were left with a lot of questions about what Glee's final season left for each of the characters. Was Rachel's television career going to take off? Would Sam and Mercedes make it? What is happening with Santana (and Naya Rivera for that matter)? Now, according to The Hollywood Reporter, Fox is giving away clues as to where all of our favorite Glee characters will be for the final curtain of the hit show.
Ryan Murphy explained in April to The Hollywood Reporter that there would be a time jump for the final season, which we saw when Season 5 ended with Rachel saying they should all reconvene in six months. In new reports, Rachel will be returning to Ohio after a "humiliating failure" in her television career that we saw struggle to take shape in the past season's finale. Rachel's Season 6 goal will be to glue the pieces of the now defunct Glee club back together, since she owes the club all of her success. Other characters, like Blaine, Sam, and Will all find reasons to be in Ohio (which makes the season much easier for those who didn't like the Ohio/New York jumps that occurred over the past couple of seasons).
Other fan favorites like Kurt, Sue Sylvester, Artie, Mercedes, and Coach Beiste will return for the season, along with Naya Rivera as Santana, who will have a reduced role. A surprising addition to the season is Max Adler who will be reprising his role as Dave Karofsky, the closeted gay basher who dealt with depression in earlier seasons, but later found happiness within himself.
So what is in store for each character during the final season? While we have to wait until mid-season to find out, there's no harm in predicting what we'd like to see happen for some of the characters, right?
Rachel Berry
We already know that Rachel will be returning to Ohio where she grew up to save the glee club. But wouldn't it be nice for Rachel to find happiness wherever her Glee story may end? She has had a tough story in the past, with the loss of Finn (and real loss of Corey Monteith), no longer performing in her dream role of Fanny Brice in Funny Girl, and losing out on a television career. It would be great to see Rachel return to her roots and perhaps even lead the glee club as their new supervisor.
Mercedes and Sam
While they went their separate ways in the Season 5 finale, with Sam returning home to Ohio and Mercedes going on tour, I hope to see Samcedes make it. Although they've had a difficult time with their relationship in the past (Mercedes wants to wait to have sex until she is married, which caused a slight problem), with a time jump, they could be in a completely different place in their lives and find that they need each other.
Santana and Brittany
Please god, make Brittana happen at the end of the series finale. Fans shipped this relationship from the very beginning, and it would be a crime if they didn't end up together. Hopefully the issues with Naya Rivera won't cause too many issues in making them happen. Let's just get them to sing "Landslide" and everything will be okay.
Blaine and Kurt
Although a lot of people think that Blaine and Kurt deserve to be together at the end. After all, the two moved in together at the end of Season 5. But with the re-introduction of Karofsky, I am wondering if he might play a role in breaking them up.
Will Schuester
In the final season of Glee, I think Will deserves to have it all. The last time we saw Will, he just welcomed his son, Daniel Finn, to the world with his wife Emma. Because Will was the worst Spanish teacher ever, it would be nice to see him still at McKinley, but with a bigger job, like the principal.
Image: FOX