Things Look Dicey For These 'Glee' Exes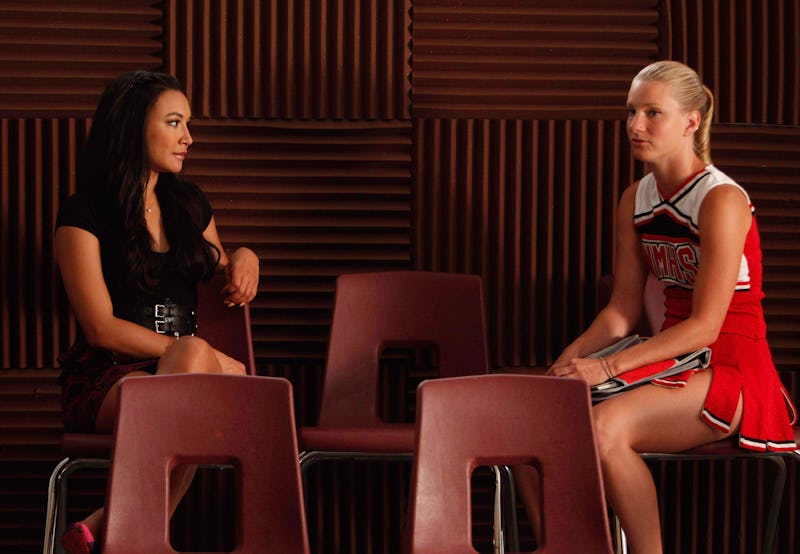 Good news, Brittany S. Pierce fans: Heather Morris is returning to Glee for Season 6. Morris was spotted on the McKinley High School set with co-star Lea Michele, and it's absolutely fantastic to have the host of Fondue For Two back in the Glee universe. The last time we saw Brittany, she had bailed on MIT to go on Mercedes' mall tour as her backup dancer. More importantly, she had propositioned on-again-off-again girlfriend Santana, who encouraged her to follow her dreams and leave the smarty-pants at MIT behind. It was an ambiguous way to leave one of the most central relationships on the show, which led fans to question whether or not Season 6 would show a Brittana reunion. Brittana was a fan favorite couple on the show since the Brittany and Santana shared their first of many "sweet lady kisses" (as Brittany loves to call them). Glee doesn't pick up for another few months, and recent spoilers don't say much about the state of Brittany and Santana's relationship. But I need to know what's going to happen. Now please.
Are these two destined for endgame status when Glee returns? I'm not so sure. Here's why Brittany and Santana might not make it as a romantic couple in the finale... as much as that really sucks.
Santana Has A Smaller Role In Season 6
Yep, it's true: Santana will no longer be a series regular on Glee when the show returns for Season 6. Why? It depends on what you believe, but there are plenty of rumors that suggest that Naya Rivera isn't having the best time on set. Whatever the reason, less time with Santana means less time for a Brittana reunion.
Brittany Has Other Lima Love Interests
Santana dated Dani in New York, but we haven't seen the Demi Lovato character in a while. Brittany, on the other hand, has dated several members of the New Directions, most recently Sam. Now that Sam and Mercedes are done, could Brittany reconnect with her old flame if she returned to McKinley?
They've Both Moved On
Brittany and Santana will always love one another, but it's fair to say that both of them have moved on romantically — or at least, both of them are trying to. Santana knew that Brittany only wanted her back in the 100th episode of Glee because she was unhappy with the life she was leading at MIT — she wanted to go back to the things that made her happy, like Santana and performing. Santana, on the other hand, is pursuing her own dreams in New York and has fallen for another girl in the process. It was clearly challenging to deny Brittany's request that they go on a vacation to the "island of Lesbos," but Santana did it because she knew it was for the best.
Not Every High School Couple Can Stay Together
Glee isn't exactly grounded in reality, but I'm not sure that Glee would choose to put all of the original couples from high school together. Quinn and Puck are already a thing (and hopefully will stay a thing) and Blaine and Kurt are so obviously endgame, despite those rumors about a potential romance between Blaine and Karofsky (seriously... what?!). That doesn't automatically make Santana and Brittany's relationship an impossibility, but it does make it less likely that Glee will push these two together in the final episode to bookend the show. That'd just be too easy, wouldn't it?
Images: Jordan Althaus/Fox; Giphy (4)