Will She Vote For Cody To Win?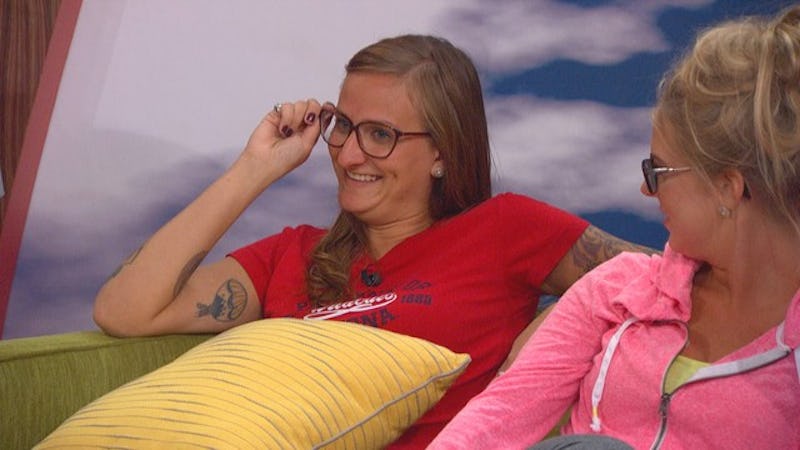 Take a minute to remember the Big Brother booing of 2014, when now jury member Christine was swiftly evicted by her alliance and sent to the jury house. Then when she entered the jury house, she was immediately laughed at. So for someone who was betrayed by the houseguests in the house, and then laughed at by the houseguests out of the house, guessing who Christine is going to vote for during the finale on Sept. 24 might come down to who she was before the game even started.
Christine was a pretty unique player this season. She was brought into the Bomb Squad alliance forcefully by Devin, and then kept around by the guys until they had an easy chance to get her out. It felt like they used her as a vote, and I always had this feeling they were never really loyal to her — mostly because this season was an unfortunate boys' club. Then there was her close friendship/flirtmance with Cody that everyone noticed and couldn't stop talking about once she left. So if Cody were in the final two, it almost seems like he has her vote for sure, right? Well, I'm not so sure about that.
Throughout most of the season, Cody and Christine had a touchy-feely relationship that made a lot of the houseguests uncomfortable. They seemed to be really close, but when the opportunity came, Cody had no problem betraying Christine and voting her out. But I don't think Christine wouldn't vote for Cody because of that. I think she might not vote for Cody if it is Derrick sitting next to him.
Christine is a self-proclaimed superfan of Big Brother. She was one of the more knowledgeable houseguests this season, and was even able to predict what competitions would be occurring each week using her knowledge from seasons past. So if superfan Christine is who she says she is — and not a fake superfan like "I am the sole decider of who wins" Frankie Grande — then I would think the superfan in her would have to award the prize to Derrick.
Derrick's game would have been a lot more difficult without Cody, but in the end, it was Derrick who managed to go this entire season unscathed game-wise, never put on the block, and only exposed for the puppet master he was by people who were already out of the house. He played a great game. Cody, while having a similar game to Derrick, didn't make as many big game decisions. He didn't influence the house the way Derrick did, but instead, Derrick influenced him. I think if Christine puts whatever her "friendship" was with Cody aside, she'll see Derrick played the better game.
Obviously I am not addressing Victoria in this, because if by some bizarre miracle that Victoria is brought to the final two with Derrick or Cody, there is no way Christine would vote for her. She has too much respect for this game.
Images: CBS; allbbupdates/Tumblr