Add These 2 to Your Celeb BFF List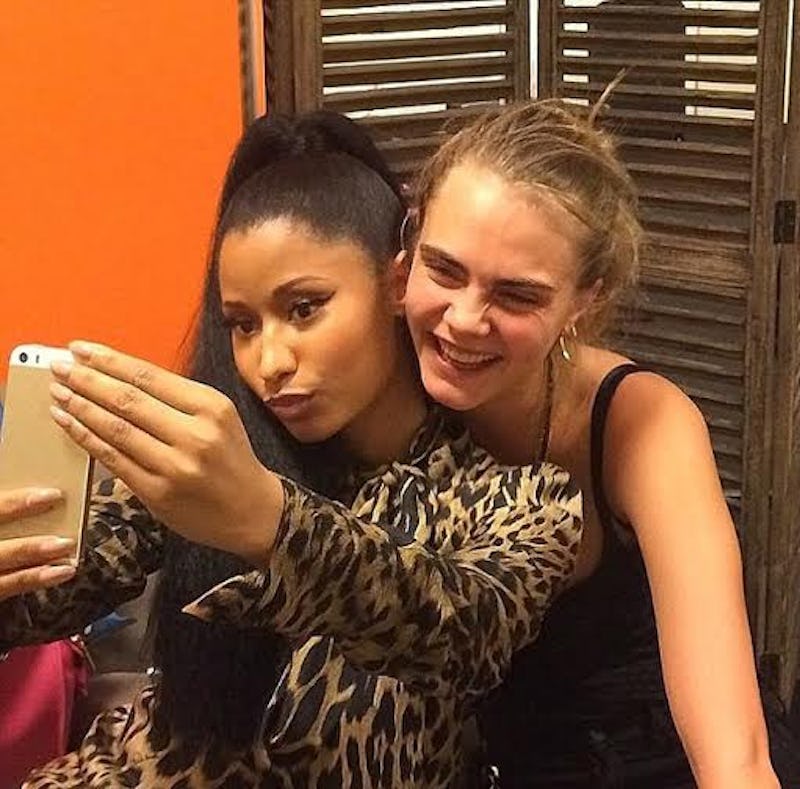 It was bound to happen. Nicki Minaj and Cara Delevingne have both had their fair share of instant celebrity friendships, so of course they were going to end up as instantaneous BFFs themselves. The ladies met up backstage at Beyoncé and Jay Z's On the Run Tour show in Paris earlier this month and, no surprise here, the two documented their time together through Instagram posts. Aside from the fun photo opportunities, it seems this friendship has gotten pretty serious since they enjoyed the city of lights together. A source who spoke with The Sun said the ladies have developed a "deep friendship."
Allegedly, "the pair has been talking almost every night since they met in Paris. Nicki has been giving her advice on everything from music to relationships." Well now my interest is really piqued! My mind is exploding wondering what they are like together. What do they even have in common? What could they possibly be talking about? Can we get some text message screenshots over here, ladies?! Well, that's not going to happen; however, I have a healthy imagination and developed my own theory about some key talking points. They have to be gossiping about these four celebs.
Miley Cyrus
Delevingne and Cyrus have publicly kissed. Conversely, Nicki Minaj and Miley Cyrus appear to be in an Instagram beef after Minaj hated on Cyrus for her "Anaconda" parody. Delevingne did basically the same thing by posting her own "Caraconda" photo which apparently didn't bother Minaj. I guess her Anaconda don't want none unless it's Cara Delevingne.
Rita Ora
Cara Delevingne and Rita Ora have been pretty open about their love fest. Ora has even said, "Cara [Delevingne] is officially mine. She's, like, untouchable. I've taken her off the market. We call each other 'wifey'." Awkward because Rita Ora publicly took shots at Minaj. When Minaj insinuated that Ora's friend Iggy Azalea does not write her own songs, Ora took the opportunity to show some shade on Instagram. She posted an image that reads "A boss-ass bitch doesn't say they're a boss. Everyone knows." Minaj has a song titled "Boss Ass Bitch" so the recipient of that insult is pretty clear. Is a friendship triangle brewing?
Kim Kardashian
Delevingne has been seen partying with Kim Kardashian and Kanye West at numerous fashion events. As far as I know Minaj doesn't have any connection other than that they are both being, uh, celebrated in the year of the booty. Hopefully there's nothing butt love here.
Justin Bieber
Justin Bieber met Cara Delevingne at the Victoria's Secret Fashion Show last year and seemed to be getting along. Meanwhile, Minaj has collaborated with Bieber on the hit song "Beauty and a Beat." Neither of them seem to be close with the pop star, but in that "stars are just like us" fashion they have to be talking about him every now and then. I mean, everyone else is. How could they not?
Images: Getty Images (2); nickiminaj; caradelevingne; ritaora; kimkardashian/Instagram