It's Been 10 Years & We Need Them More Than Ever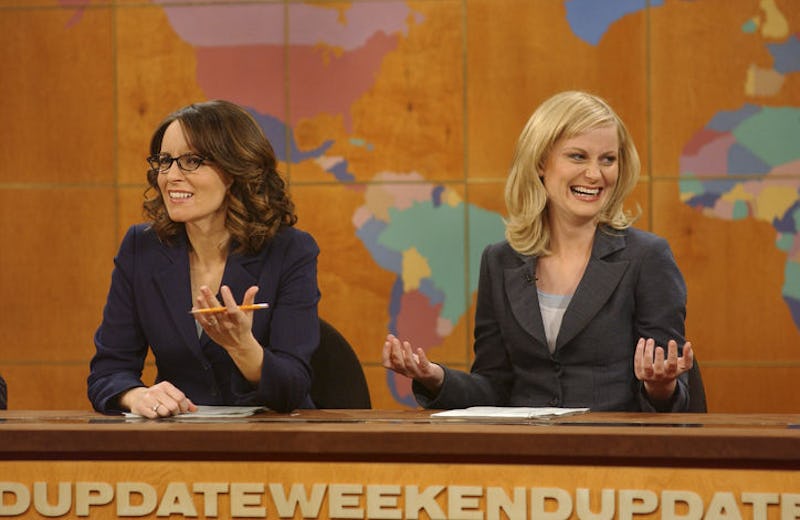 One decade ago Amy Poehler and Tina Fey Co-Anchored Weekend Update, making Saturday Night Live history. Everyone's favorite on-screen and real-life BFF's were the first (and only) all-female desk for the popular segment of the late-night sketch show. Not only did they land joke after joke near pitch perfectly, they simply stole the show. Poehler and Fey were the right balance of cynicism and silliness on Weekend Update. After heavy hitters like Will Ferrell, Tracy Morgan, and Jimmy Fallon bowed out, Fey and Poehler took the spotlight in a big, big way.
Recently, Saturday Night Live has come under fire for its diversity problems. When Fey and Poehler were front and center on Weekend Update in 2004, they immediately shut down the tired "women aren't funny" nonsense and raised the standard of writing and delivery on the show. Maybe Saturday Night Live could look to its more recent history for a little lesson on why they need to stop being afraid of women. Lorne Michaels recently pulled Cecily Strong from the desk and based on the so-so season premiere from last Saturday, it didn't do the show any favors.
While Saturday Night Live works through its growing pains, here's to Amy Poehler and Tina Fey. Here's to a too-short but oh-so-sweet time when funny, feminist women were front and center in one of television's most popular shows of all time. When life gets you down, when you need a laugh, or when you need a little extra encouragement, here are some moments from Amy Poehler and Tina Fey's time behind the Weekend Update desk to remind you just what "awesome" means.
When you need to love your body more
Let Tina show you the way to booty-love.
When you need to show your BFF you mean business
Playfully, of course.
When you need to lay the truth down on the patriarchy
DID I STUTTER?
When you are just NOT having it
Let Amy be your muse for no-nonsense!
When you just need to throw your hands up in the air
And say, "Screw you, world! I rule!"
When you want to celebrate your beautiful womanhood
Which is all day, every day.
When you land that fancy new promotion
Gloat! You earned it.
When you want to get down and get weird with your BFF
Why not make every occasion a reason to do this?
When you just need to believe
If Tina and Amy can get through to LiLo, anything is possible.
When you just gotta hug it out
It's like a warm cup of tea for your soul.
When you need to let someone know what's what
Sometimes sh*t gets REAL.
Lastly, this just needs reiterating
PREACH LADIES, PREACH!
Images: NBC(2); nbctv/winebitch/chocolatecoveredkittens/opera-woes/ oystermag/fallsdownstairs/feynificent/Tumblr; Rebloggy;knopeyep/live-it-out/ Tumblr; 2damnfunny