Will the Partner Switch Ruin Their Showmance?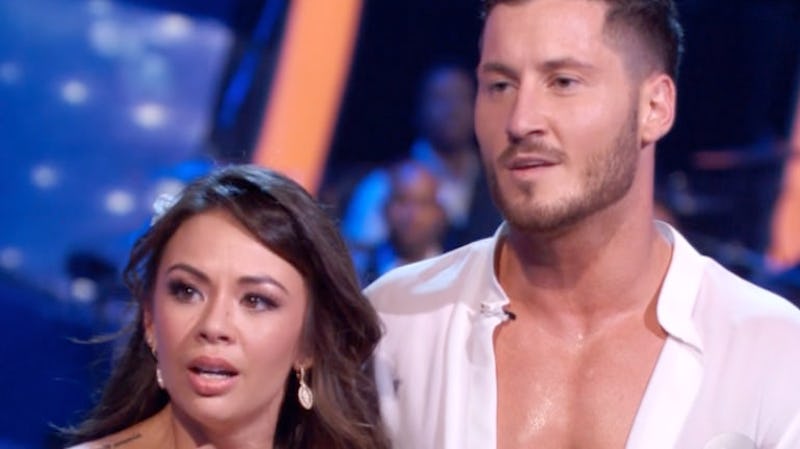 Say goodbye to Janelskiy because on everyone is switching partners on Monday's Dancing With the Stars. This year the fans voted for the new pairings, but that won't make the twist any less drama-filled. Last year the switch separated Maks Chmerkovskiy and Meryl Davis and Maks was accused of phoning it in until he could get back to Meryl. So what will Monday bring for this year's favorite not-a-couple Janel Parrish and Val Chmerkovskiy? Their showmance could take a big time hit.
Val Chmerkovskiy is now paired with Back to the Future actress Leah Thompson and Parrish will dance with Artem Chigvintsev. People magazine has already revealed the styles of dance for the couples and Parrish is doing burlesque while Val will be doing Broadway. All of this spells disaster for the chemistry the two has built on stage thus far. While fellow DWTS pro Allison Holker has confirmed that the pair isn't dating, that hasn't stopped fans from shipping Janelskiy. In fact their showmance is a big part of what has gotten them noticed, and it turn has gotten them votes.
The two are in a bit of trouble now because if they replicate that chemistry with their new partners, they're in danger of fans thinking they were always just faking it for the votes. If they don't give it their all though, they could fall into the Maks trap and have the judges think they didn't try with their new partners.
Plus there's the styles of dance that could throw things off as well. Janel and Val have been pretty hot and heavy onstage in their routines, but will she be able to do the same for her steamy burlesque number with Artem? Will fans of hers and Chmerkovskiy's be insulted if she does easily replicate that level of intimacy with another person?
In all honesty, I'm also wondering if Parrish will be able to bring it with another partner. She's already posted twice on Instagram saying how much she's going to miss Chmerkovskiy.
It seems like not having him is going to be a big distraction for her this week. In turn she could possibly not perform as well without her preferred partner.
We don't know for sure how things will turn out until the pairs dance, but there are a lot of things that can go wrong for Janel & Val. Fans of the pseudo-couple may not like what they see come Monday night, and it could spell disaster for the duo down the line.
Images: ABC; Janel Parrish/Instagram; goodreads