Will 'Dark Places' be as Insane as 'Gone Girl?'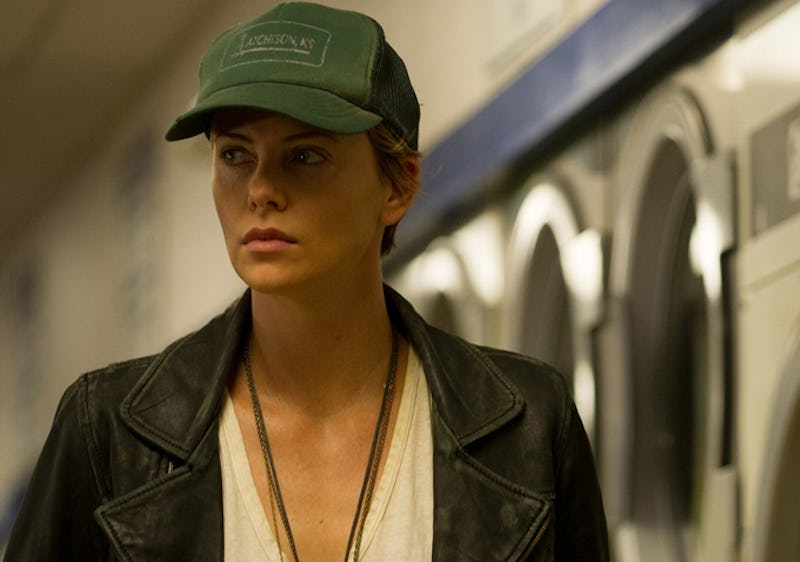 If you've seen or read Gone Girl in the last few weeks, chances are it's not leaving your mind any time soon. Both Gillian Flynn's 2012 bestselling novel and David Fincher's recent film adaptation are vivid and haunting, full of twists and turns that'll leave even the most prepared audience members with sweaty palms and racing hearts. For those who loved the thrill, here's some good news: Gone Girl 's just one of three novels written by Flynn, and the other two — Dark Places and Sharp Objects — are just as crazy, intense, and can't-put-it-down compelling as her most well-known book. Even better news? Both Places and Objects are getting adapted, too — and Places is coming out in just a few short months.
Well, maybe. The film was originally scheduled to have a fall release date, but now it's more likely to come out sometime in the spring. The delay makes sense, seeing as Gone Girl's all over pop culture, but still, the move is disappointing; while not as popular as Gone Girl, Dark Places is just as good, an eerie, unforgettable book that will hopefully warrant an equally memorable adaptation. It may still be awhile before we actually get to see it, but Flynn fans should be prepared — this is a movie you can't miss. Here's what to know about Dark Places:
It's Even Crazier Than Gone Girl
Thought Nick and Amy Dunne were the epitome of dysfunction? You haven't met the Day family. In Dark Places, the narrator, Libby, is a thirty-something woman whose mother and sisters were murdered, supposedly by her brother, in what seemed like a Satanic cult ritual back when she was a child. Twenty-five years later, she teams up with a group of investigators out to prove her jailed brother's innocence, although she's not sure she believes in it. It's violent, shocking, and so insane that it makes the drama in Gone Girl look like an episode of Full House.
It Has a Star-Studded Cast
Charlize Theron's starring role as Libby would already be reason enough to have faith in the film, but the additions of Christina Hendricks, Chloe Grace Moretz, Nicholas Hoult, Tye Sheridan and Corey Stoll certainly don't hurt the cause. Not a shabby ensemble.
But Its Director is Just Getting Big
While Gone Girl hired perennial Oscar nominee David Fincher to direct, Dark Places went with someone less well-known, French filmmaker Gilles Paquet-Brenner. Although he has seven films under his belt, he only gained notice in 2010 with the acclaimed drama Sarah's Key. Dark Places is his biggest, most anticipated film yet.
It's Another Female-Led Film
Gone Girl may have had a "women problem" in its plot, but as for its cast and crew, the movie was actually pretty great for females; Rosamund Pike starred, Flynn wrote the script, and Reese Witherspoon produced. Dark Places, too, will be good for women, with Theron acting as both its star and co-producer.
It Has Gillian Flynn's Approval
Although Flynn didn't write the script for Dark Places like she did for Gone Girl, she's given the film her seal of approval, telling Variety in September that it's "absolutely lovely. It's haunting and unnerving." The author also spoke highly of Theron's performance as Libby, telling Entertainment Weekly that the actress' transformation into the character was "really spectacular."
It Almost Didn't Get Made
Dark Places' delayed release date is just the latest in a years-long saga for the movie to hit theaters. Ever since the book's publication, plans for a film adaptation had been in the works, but funding couldn't be secured — but then came Gone Girl. The novel's enormous success and own planned adaptation helped get Flynn's other projects back on track, and now both the movie of Dark Places and the TV show of Sharp Objects are on their way to audiences — and we can't wait.
Images: Mandalay Pictures; 20th Century Fox; Getty Images (2)