One Direction FanFic Is Coming To The Big Screen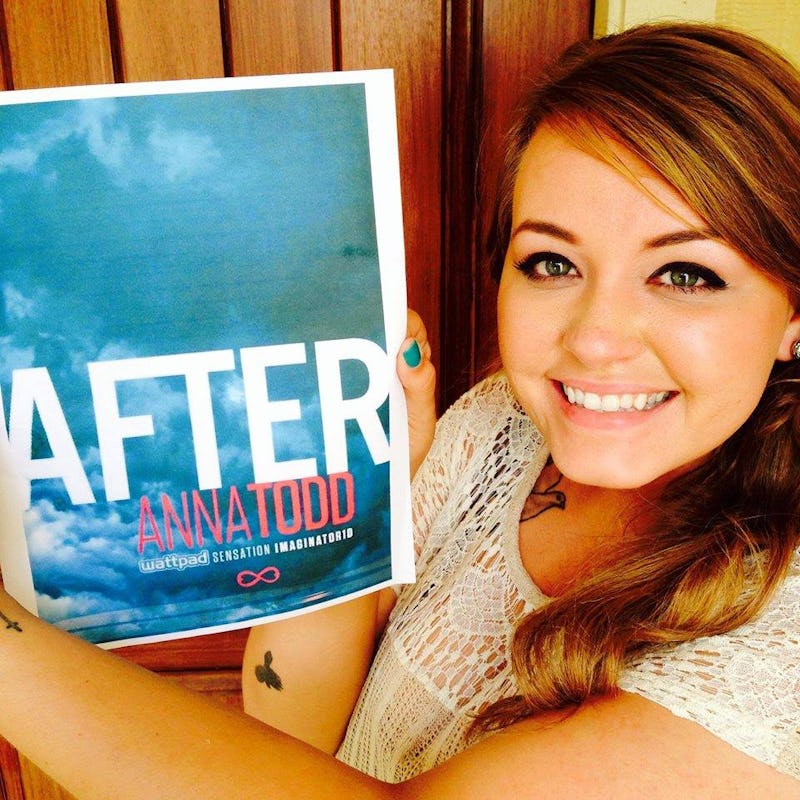 One Direction fanfic is coming to the big screen, everyone. On Thursday, Paramount acquired the movie rights to Anna Todd's After , the wildly popular Harry Styles fan fiction and online "book" project. Back in April, United Talent Agency represented After in its search for a production company that would buy the screen rights. But with 1 billion readers behind the project (yes, a billion), the deal must not have been too hard to find.
Adam Shankman and Jennifer Gibgot have signed on to produce the movie — it's a team you'll recognize, since they're behind the energy-filled teen movies such as Hairspray, 17 Again (clearly Zac Efron fans), and The Last Song with Miley Cyrus and her ex-fiancé Liam Hemsworth.
After centers on a standard good-girl-meets-bad-boy plot, and twists into a vein of obsession and addiction. Here's the plot summary of book one:
Tessa Young is an 18 year old college student with a simple life, excellent grades, and a sweet boyfriend. She always has things planned out ahead of time, until she meets a rude boy named Harry, with too many tattoos and piercings who shatters her plans.
After was created in three parts on WattPad, which is an innovative project — an online community of readers and writers that allows writers to post up chapters of their stories, and fans are open to comment or even contact the writer directly before the next installment unfolds. In this way, readers can be truly influential in the plot and character arcs of the ultimate story ― though, as comment sections are wont to do, they can occasionally get out of hand.
But the story launches off WattPad and into Twitter, Instagram, and YouTube, and devoted fans have created music, fan art, videos, and so much more to accompany the project.
Simply in virtue of its origins in the fanfic community, After has been a controversial project the more its popularity has grown. E.L. James confirmed the validity — or at least omnipresence — of fanfiction with her Twilight adaptation Fifty Shades of Grey (although the movie version has undergone lots of script and casting shakeups behind the scenes; we'll have to wait until Valentine's Day to see how it fares). And there still are fanfic haters out there who will refuse to acknowledge After based on its not so lofty or "literary" origins ― a tribute to the One Direction favorite and young Hollywood lothario Harry Styles. But fan fiction doesn't have to mean unimaginative or original. Aren't most writers inspired by the people and events around them?
For her part, Todd herself admitted to "barely ever reread[ing] the chapter before posting]," and writing a lot of the story from her phone, which won't easily get you into the hearts of literature-lovers. But that will soon change, as the online project is going hard-copy October 21, with the first book published by Simon & Schuster's Gallery Books. And I imagine Gallery Books sprung for an editor.
No matter how you feel about After or fan fiction in general, it's hard to argue with hundreds of millions of readers. And I'm sure that's exactly what Paramount was thinking. Wonder what Harry Styles is up to around filming time?
Images: Anna Todd via Facebook; livelovelaugh-with-varshajain/Tumblr; Giphy