'Brooklyn Nine-Nine' Kills It On Halloween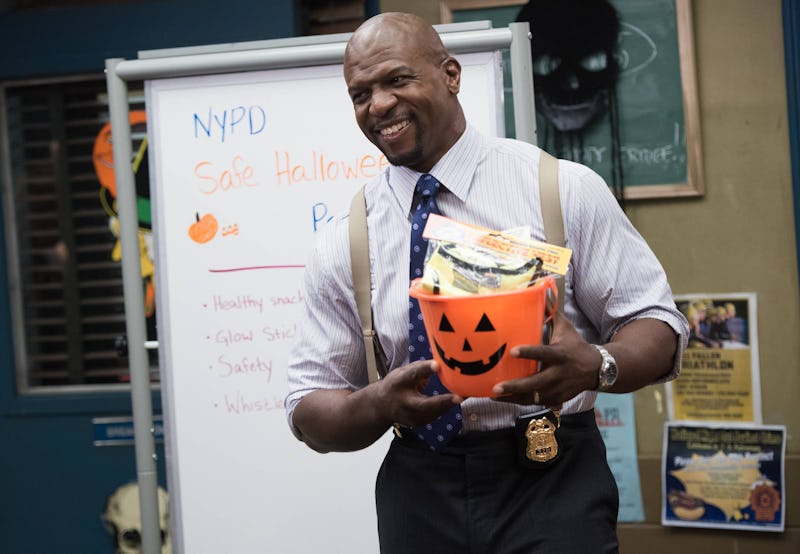 The cops at the nine-nine are ready for the busiest, spookiest night of the year. We've seen many a costume Brooklyn Nine-Nine , we're in Season 2 now. Whether they are hitting up the thrift store to go undercover or participating in the Jimmy Jab Games, these kooky cops are usually willing to suit up in a 'stume, as Boyle was trying to coin. At the end of last year's Halloeen episode, the group gathered to join Charles with 'stumes of their own and plenty of holiday cheer. What was great about all their costumes is that they were top notch yet pretty simple to pull off. They mostly used office supplies. If you run out of time this Oct. 31 and need to put something together from around your workplace, maybe you should take some inspiration from Season 1's Brooklyn Nine-Nine Halloween costumes.
Also in the episode, Jake Peralta bet against Captain Holt that he could steal the Captain's medal of honor without getting caught. The Season 2 Brooklyn Nine-Nine Halloween episode will revisit that bet, hopefully with even more exciting costumes. Last year, Andy Samberg's Jake Peralta dressed up as a Janitor. It was super lame and did not work. Next, he was dressed as a King to conduct his creepy army of Royal Babies (seen below) like some kind of Gotham mastermind. The popular costume, as it turns out, was not so 2013-specific as we thought back then.
Despite all that, Jake's coworkers kind of outshined him in the costume department:
"Ginger Prince of Little Italy" Charles Boyle
The most enthusiastic about the holiday, Boyle dressed as Mario Batali. Though according to everyone at the office he looked more like Dumpy Chuck Norris, Dumpy Ron Weasley, Miranda From Sex and the City, Eric Stoltz from Mask, Joy Behart and "homeless Troll doll". Poor guy. His coworkers may not have understood the look but I got you, Boyle. I'll even try to make 'stume happen, because this actually a pretty easy idea!
"Bone Person" Amy Santiago
Amy hates Halloween for valid reasons. People are drunk, unattached to their morals and identities, and they're often carrying fake guns (a police woman's nightmare). However, she was given an undercover assignment and forced to don a borrowed Skeleton costume from the Department; it didn't fit and it smelled of vomit. She later traded it to Hitchcock, which hurt Charles' feelings. Her second costume, made of caution tape and even including a professional, makeshift tie, was much more fun.
"Catholic School Dropout" Rosa Diaz
The former ballerina dressed as Bride of Frankenstein. Or is it the Bride of Frankenstein's Monster? I can't keep up. Who cares, look at her take that guy out like a boss dressed in simple sheets and paper cut outs!
The Rest of the Nine-Nine
Captain Holt put on an eye patch and called himself... a pirate? Nick Fury? Xander, from the final season of Buffy the Vampire Slayer? We may never know, but I appreciate his festive effort. Gina Linetti, always one for the dry joke, borrowed a uniform and dressed as a cop. Sargent Jeffords used his shimmying skills to be Salt and Pepper shakers. If you've got it, flaunt it! Even Scully transformed himself into Rambo using just a tie and other things he found laying around. Not bad.
Can't Forget The Perps
Another one of the highlights from this episode was the rolling line of perps who walked through the office in costume. Though not quite as home made, they are worth remembering. The costumes were so ridiculous they sounded like guests at one of Stefon's hottest clubs. Besides the multitude of Royal Babies, we saw a Hillary Clinton making out with a Kim Jong-Un, a punny banana, Sister Steve, Raggedy Anne drinking on a stoop, the two ends of a horse, and a sexy robot who Jake got his flirt on with (it ruled).
Images: Eddy Chen/FOX; brooklyn99FOX/Twitter; britishfalpal, sheriffmac, vespermartini(2)/Tumblr