Angela Bassett Teases What's Next For Desiree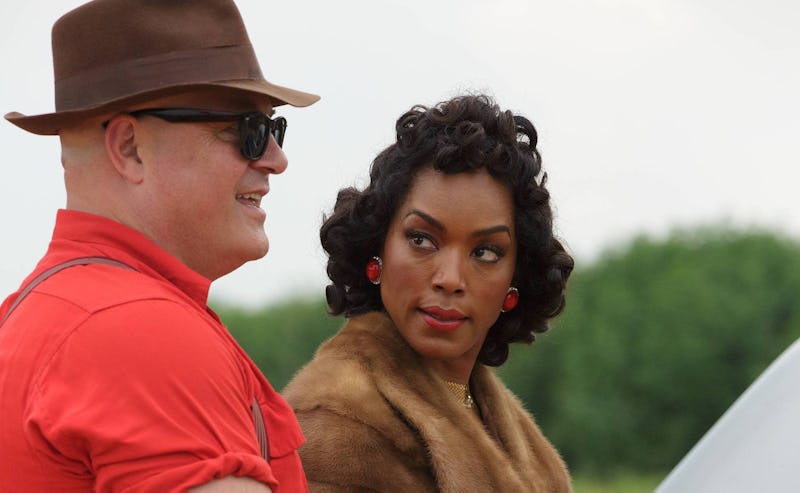 It was a great day for horror fans everywhere when Ryan Murphy welcomed Angela Bassett into the American Horror Story fold. Since then, she's continued to dazzle fans with her powerful acting chops and introduce us to two very different, but equally compelling characters — first with Coven's Voodoo Queen Marie Laveau and now with Freak Show 's three-breasted woman Desiree Dupree, whose story arc we're only just starting to delve into. Well, I was able to chat with the actress herself during a recent conference call where Bassett teased Desiree's future with Dell on AHS: Freak Show and discussed that scene with Evan Peters' Jimmy Darling.
Now that Desiree knows she is 100 percent female, her future is open to a whole new gambit of possibilities. And, according to Bassett, Dell will be playing no part in it. "I think there was a time when he was kind and good to her and believed in her and made her feel valuable and special," Bassett explains of their characters' relationship. "But I think that there have been moments over those years when they've been together where he's crossed the line with her in his speech and the things that he's said."
"I think there has come a point in last week's episode where he crossed the line of no return in that she thought she knew who he was, but found out she was sleeping with the enemy," she continues. "There's something about him that was dishonest and disloyal. They were there for each other. They told each other their painful truths and I think he crossed the line and sometimes that happens and you can't go back. You can't make yourself go back."
Can't say I really blame her, there. Truth be told, Desiree is way too good for Dell and deserves to find someone who will love her better. Speaking of which, Bassett also recounted that sexy-turned-bloody scene between her and Evan Peters, and whether or not she found it awkward at all given that this was their first real AHS scene together ever.
"Well not too awkward. He is a cute little boy… who's engaged," Bassett jokingly teases. "No, it wasn't too awkward. You know, you're playing characters and he's quite a professional. I think the most awkward part was that he was so emotional and just tears and things coming out of one's nostrils. I think that was the most awkward part. But sexually it wasn't."
Something tells me Peters didn't mind it one bit either.
Images: Michele K. Short/FX; Giphy; evanpetersasylum/Tumblr