Find Your Family In A Book This Thanksgiving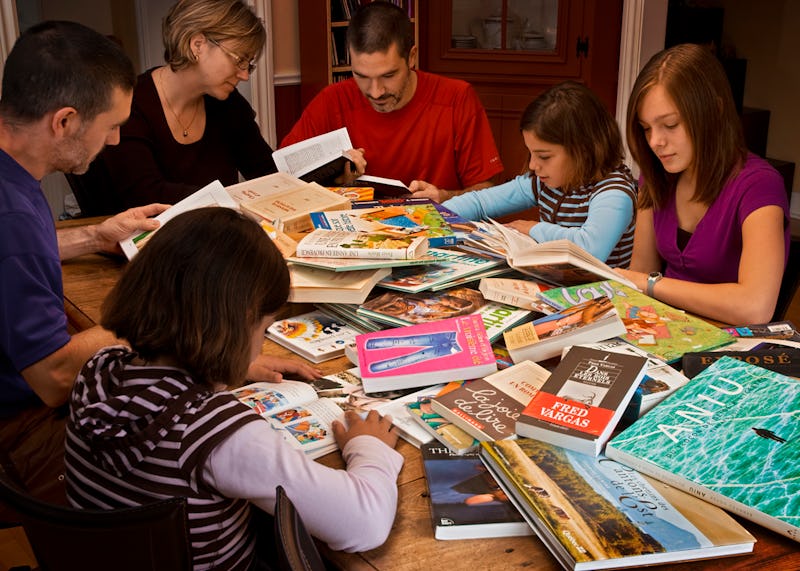 We're getting into holiday travel season, which means you're going to need a traveling companion. You just can't trust the movie selection on those 3-inch airplane seat screens (Grown-ups 2 was playing on both legs of my recent flight), and why spend the money on WiFi? A book will do the trick. I don't have to sell you on this.
And what better time of year than moving into the end of November to tackle a family story? Just as there are all kinds of families, there are all kinds of books about families — from the wacky but devoted to the dysfunctional and dispersed, from huge broods to single children, to single parents, children of divorce, and those with the near-disgusting "still happy after all these years" parents.
For instance, I won't be traveling home for Thanksgiving this year, for the first time ever, so I'll be reading the "family be crazy, who needs them?" books to make me feel better while I eat an entire apple pie by myself, and probably some cranberry sauce molded into the shape of a can it comes in because it's not a holiday up in the Great White North where I currently reside. If you are headed home, you might prefer picking up a story that mirrors your own — or maybe you're more comfortable finding humor in a situation completely opposite your own family drama. No matter what, you can't go wrong with one of these 11 family-centered books this holiday.
If you and your siblings are under the the thumb of the loving, but wacky matriarch of the family, you will related to This Is Where I Leave You by Jonathan Tropper
It starts with a collapsed marriage and continues through the death of a father, the reunification of a family, a family member's new love, and even a birth. Basically, This Is Where I Leave You covers all of the tough and fun stuff of family bonds. The story of siblings and their mother sitting shiva after their (atheist, not Jewish) father's death is hilarious, heartbreaking, and so emotionally resonant you will probably hug your brother, sister, and parents when you're done reading.
If You're Going Home To Your Aging Parents This Thanksgiving, Find Solace In Can't We Talk About Something More Pleasant? by Roz Chast
Roz Chast's graphic memoir strikes so strong a chord, you'll feel like it's booming right out of your chest. Absolutely anyone coping with aging parents (and we'll all get there at one point) will find comfort and even some comedy in Chast's Kirkus Prize-winning, National Book Award finalist, and New York Times bestselling memoir. Do yourself a major favor, and if you're going home to a situation like this, maybe the first Thanksgiving your parents are in a nursing home, or the first Thanksgiving this topic even has to come up, read Chast's account beforehand and no you're not alone.
If Your Large Family Is Chock-Full Of Powerful Women, You'll Understand Like Water for Chocolate by Laura Esquivel
This female-run, sumptuous novel from Mexican writer Laura Esquivel is perfect around Thanksgiving — and not just because it contains some seriously delicious recipes. The matriarchal De La Garza family is fortified by strong bonds and a pact to take care of each other, but that doesn't mean they're just going to be a-OK when one of their own, Tita, wants to get married. Tita is devastated when she's denied her one true love, and so she cooks and cooks and Esquivel flirts with magical realism as Tita's emotions come out in the food.
If Your Twin Brother Is Your Rock In The Family, Check Out I'll Give You The Sun by Jandy Nelson
Jandy Nelson's artistic YA novel I'll Give You The Sun has been getting much-deserved buzz since well before its release this year. The story spans years of the relationship between brother-sister twins Noah and Jude, as they go from being inseparable to barely speaking. Their separation surprises everyone around them, as they were always so close as to be referred to as NoahandJude, as one. To say too much would be to give away the essence of the story, but it's about art and fate, though I'd argue above all it's about how you can re-find yourself by rekindling the connections with family, those who knew you when.
If You Had An Unconventional Sibling Relationship, Find Common Ground With We Are All Completely Beside Ourselves by Karen Joy Fowler
Karen Joy Fowler's family drama won so many awards it will make you dizzy. So if you haven't already, you must pick up We Are All Completely Beside Ourselves , especially around the holidays as it challenges not only what we think of as family, but what we think of as humanity. Rosemary grew up with her beloved sister Fern, who was her partner in crime and her other half that made her complete. But it's not until later it's revealed that Fern, though considered her sister, isn't a young woman but a chimpanzee. Meanwhile, 22-year-old Rosemary looks back on what tore her sister away from her, and also her (human) older brother.
If You Are Finding A Positive Relationship With Your Father, Get Lost In The Family Man by Elinor Lipman
Warning: Though hilarious, The Family Man will make your heart toasty warm. Henry is a divorced gay man, who after a distant family tragedy decides to reinsert himself into the life of his former step-daughter Thalia. Thalia moves into the basement of Henry's Upper West Side New York home, and their quasi-father-daughter relationship is rekindled. In it's pages, you may just learn to rediscover the absolute joy of family, which will certainly make your Thanksgiving travels a lot more merry and bright.
If You Grew Up With A Happy, Adoptive Family, A Brief Chapter in My Impossible Life by Dana Reinhardt May Resonate
Reinhardt's debut YA novel centers on 16-year-old Simone, whose olive skin and dark brown eyes don't match her adopted family's light skin and hair, but that never really mattered to her. She's happy with her family, and she never sought out her birth parents. That is, until the 33-year-old Hassidic Jewish woman Rivka, her birth mother, asks to meet Simone. Rivka is dying of cancer, and through their newfound relationship, Simone learns about her heritage and it only enhances her sense of identity and the real meaning of family — both the one you're born to and the ones that choose you.
If Your Life Is You And Your Mom Against The World, Try Reading Where'd You Go Bernadette by Maria Semple
If you're stuck on a plane reading Where'd You Go Bernadette , be forewarned: It will make you laugh out loud and look like a total weirdo to your seatmate. When Bee's best friend and mother Bernadette disappears, she goes all detective on her mother's email correspondence, documents, and other personal files to find where she went. It's full of twists and turns, and it's a little dark but definitely just as screwball, but in the end, it's the charming mother-daughter relationship that will pull you in.
If Your Family Saga Reaches Back Generations Together, You'll Understand the Dynamics of Some Luck by Jane Smiley
Generations upon generations of the Langdon family has lived on their Iowa farm. And through the years, they've been through wars, marriages, births, and the smaller events that have defined the family. Smiley was longlisted for the 2014 National Book Award for Some Luck , and with the novel she undertakes an epic, but structurally strict format: every chapter that passes, a year passes in the story, starting in 1920 and ending in what will be two books later in the trilogy. It's expansive in its scope, but sometimes it feels downright intimate in its emotions.
If Your Childhood Wasn't The Most, Say, Traditional, You May Understand The Family Fang by Kevin Wilson
Gather 'round, fans of Wes Anderson's The Royal Tenenbaums, because the family in The Family Fang will likely grab you with their quirky oddities all the same. From the opening lines — "Mr. and Mrs. Fang called it art. Their children called it mischief" — you know you're in for something a little different in Wilson's novel. The story goes back and forth from when the Fang children, Annie and Buster, are children growing up with their off-kilter performance art duo parents, to when they are adults coping with their strange childhood. One event in particular for the therapist's couch: Mr. and Mrs. Fang pushed the children into theatre with so much gusto, both Annie and Buster won the leads in the school play. Only thing? The school play was Romeo and Juliet.
If You're Part of Not Twins, But Triplets, You'll Love Liane Moriarty's Three Wishes
Before Liane Moriarty wrote one of this year's most talked about books Big Little Lies , she wrote this hilarious family comedy about triplet women and their divorced parents Three Wishes . The book begins where the timeline ends: at the girls' 34th birthday dinner, when one triplet shoves a fondue dork at another's pregnant stomach. The novel then backtracks over the girls' 33rd year to see what could have instigated such a thing. There are struggles with affairs, panic attacks, pregnancies, getting jobs, and the endless trial of their parents, and though it's all witty and sometimes laugh-out-loud funny, it also feels honest about the bond of sisterhood.
Image: PVignau/Flickr