How Will Deacon React To Rayna's Betrayal?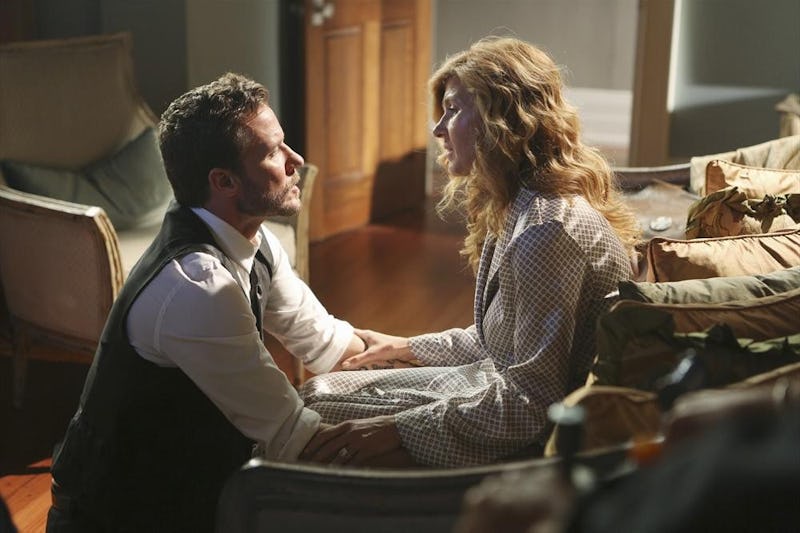 Just when we thought there might be smooth sailing ahead for the upcoming wedding, it turns out the drama is only just beginning now that Rayna has betrayed Deacon on Nashville by leaking the details of their private relationship to a Rolling Stone reporter. In an effort to stop the reporter from focusing on her troubled relationship with Luke or the weird relationship going on between Maddie and Luke's son Colt, she agreed to tell him anything that he wanted to hear about their past — and judging by how rattled she looked when they finally finished, she did not spare one gory detail.
Obviously this is going to blow up in a big way, because the Rolling Stone reporter doesn't mess around. I can't help but wonder not only how Deacon is going to react, but how Luke is going to feel when he figures out that after sacrificing an entire weekend of quality time with his fiancée for the sake of this article, she ended up spilling all the details about a man she claimed she was well over. We haven't had any clues from next week's teaser how Deacon is going to take his private life being spilled out on the pages of music's most notorious magazine. Maybe Rayna will get lucky and he'll still be nursing that cold like a man-baby for so long that he just won't notice, but something makes me doubt it.
So is this it? The final blow that is going to stop this wedding at the last second? I think we're all anticipating something stopping Luke and Rayna from tying the knot, since we've seen how prolific of a love story she and Deacon have. Now that all that past is getting drudged up it would be hard for them both to ignore it once it's immortalized in print. And something about that impromptu vow that Luke and Rayna just made in their bedroom makes me feel like it's the only time we're going to hear them say it.
Image: Mark Levine/ABC