Maybe the Snow Queen Really Trapped Elsa on 'OUAT'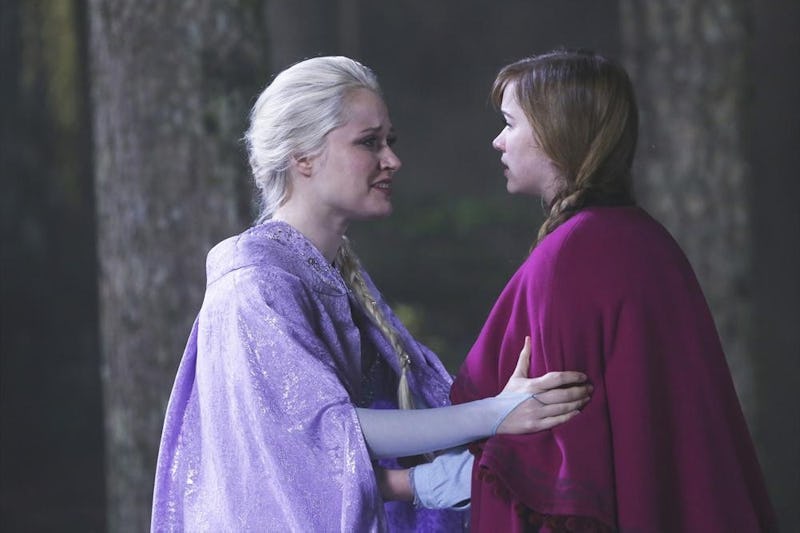 As Emma interrogated the Snow Queen and the Snow Queen ignited a darker power in Emma on Once Upon A Time that made her parents and loved ones fear her for the first time, you were probably panicking about what would happen to the Savior. But all I could think was, "Ah-hah, so that's what happened to Elsa." Elsa's memories of her Aunt Ingrid were wiped and the Snow Queen is attempting to blame her entrapment on some fight between Anna and Elsa, but we all know that Anna couldn't have trapped Elsa in the urn. Even if it does turn out to have technically happened that, it would only be possible if Ingrid first embedded irrational feelings in the sisters that made Anna fear her sister — the same fear the Charmings felt of Emma.
Ingrid has a plan, and it's to create what she believes is the perfect family. We can't deny that she, Elsa, and Emma share a special bond: they're all misunderstood young women with unique powers they can't quite control and families who often fear their magic. Honestly, the Snow Queen is delusional if she thinks she can turn the Savior and the Queen of Arendelle against their families or the people each of them protects. But regardless, she's got to be the reason Elsa turned up in Rumpelstiltskin's possession, not Anna, and here's the timeline to prove it.
GERDA HAD INGRID HIDDEN IN THE URN UNTIL HANS LET HER OUT
I know people are upset that OUAT is showing the king and queen of Arendelle in a bad light, but truthfully we knew something was off about Elsa's parents from the animated version. Elsa made a single mistake and as a result, they isolated both daughters from the world and each other. Unfortunately, it makes sense that Gerda would have been the one to trap Ingrid in that urn and rid Arendelle of her memory because it's what she did to Anna in the film. (Urn isolation — bedroom isolation — you get the gist.) Anyway, point is, this is where Ingrid's reign of terror began.
INGRID IGNITES AN ANGER IN ELSA THAT STRENGTHENS HER POWER ENOUGH FOR ANNA TO FEAR IT
This is where we left off with Emma, as well. She ran as soon as she saw fear in her family's eyes. The promos do show a fight between Anna and Elsa and we know that Anna doesn't trust her Aunt Ingrid. Anna loves Elsa powers and all, just like the Charmings love Emma, but Ingrid will make sure Elsa doesn't see it that way. Whether it was Anna or Ingrid who put her there doesn't matter, because that's where Ingrid needed her for time purposes.
INGRID LEAVES ELSA FROZEN IN TIME AND USES RUMPLE TO FIND EMMA
According to the OUAT timeline, Elsa and Anna's back story happened way before David became a prince and before Belle met Rumple. In other words, Emma hasn't been born yet. At some point between Ingrid's escape from the urn and her time as Emma's foster mother, Ingrid and Rumple clearly had a relationship beyond what we saw in their first meeting. Even though Emma didn't know who she was yet, Rumple knew the name of the Savior and could have easily given it to Ingrid (for a price).
GOOD THING ELSA CAN'T AGE IN THERE...
For Ingrid's plan to work, Emma had to have already broken the curse, found her family, and discovered her powers. Emma was obviously too young when Ingrid appeared in our world and became Emma's foster mom. Meanwhile, Elsa is in the urn all these years with no memory of how she got there — just waiting for Emma.
ELSA ACCIDENTALLY COMES TO STORYBROOKE
Oh good, time for the nice ice cream lady who was there the whole time to show her real skin. She's been right there in Storybrooke and yet she had to wait for Elsa, because otherwise her fairytale family is incomplete. Elsa comes out of the urn, fairly close in age now to Emma, Emma and Elsa's families both fear them, and the world is in a happy place. Well, in the Snow Queen's unhinged mind, anyway.
INGRID MADE EMMA BELIEVE SHE'S A MONSTER, JUST LIKE SHE DID ELSA
And now we're up to date. Even if Anna was the one to open the urn, it's because her manipulative aunt planned it that way. The heroes will find Anna and when they do, Elsa will forgive her, and Mary Margaret will figure out away to put Baby Neal down long enough to realize she has a daughter. There's still the damn mirror to worry about but they'll defeat her — they always do. Now, let's get this bitch out of here so Cruella de Vil can come do her thing.
Images: Jack Rowand/ABC; storybrookeregal (2), thechloris, onceuponatime-fairytales, therollyjoger, elizabethmitchellfanclub/Tumblr