Zac Efron Definitely Drives "Stick" Shift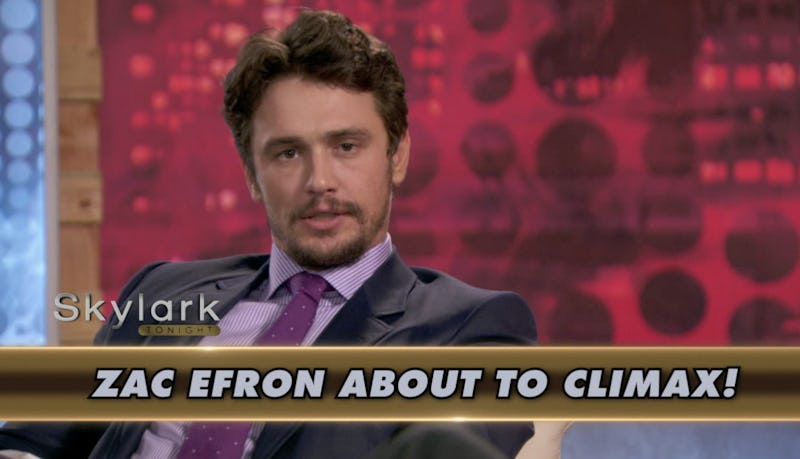 At this point in James Franco's weird and wonderful career, not many of us would be surprised if a headline read, "James Franco discusses masturbation on talk show." However, "Zac Efron talks to James Franco about masturbation in graphic detail" is kind of a different story. Efron appears on the upcoming Seth Rogen, James Franco and Lizzy Caplan comedy The Interview in which Franco plays talk show host Dave Skylark. Efron appears on the faux show Skylark Tonight and the two almost immediately get into the topic of "Driving stick shift" and the results are hilarious. Though it's not just the long thread (staff?) of penis jokes that make the clip laughable, it's the serious, deadpan manner in which both Efron and Franco deliver.
Efron admits to being a proud masturbator, or as Skylark calls him a master of masturbation, and opens up about doing it 17 times a day and accomplishing the task with his knees or completely hands-free. Sure, the clip is "fake," but you can't help but wonder...In any case, the sneak peak into The Interview does give us a sneak peak at Efron's "O" face. Reason enough to watch, AMIRIGHT?
If anything, the video solidifies Efron's place in the world of comedy: the guy who's prettier than James Franco who even James Franco is in awe of his prettiness. We all saw Neighbors, no one is blaming Franco or Rogen for totally placing Efron on a pedestal. He's also a gifted comedic actor, y'know.
Head on over to E! Online to watch the exclusive clip.
Images: Columbia Pictures