Sadie & Mark Could Take The 'DWTS' Mirrorball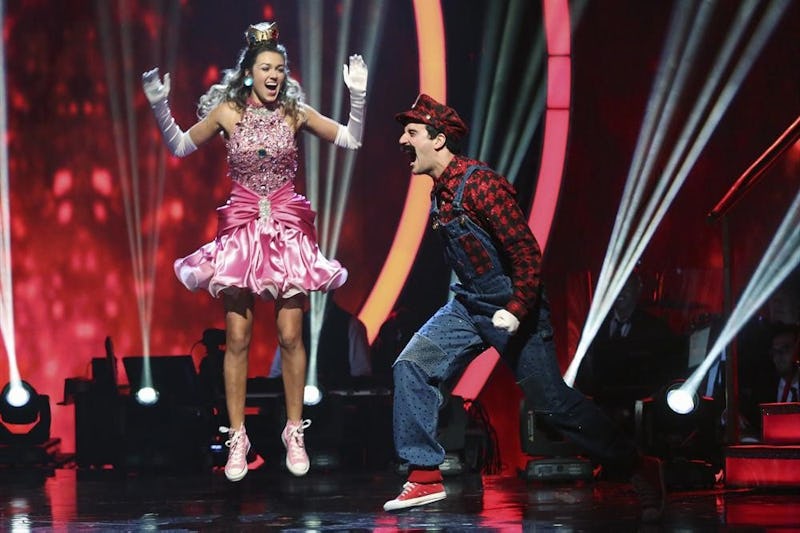 Duck Dynasty's country cutie danced her way from the bottom to the top of the Dancing With The Stars leaderboard during her final weeks of competition and won herself a well-deserved spot in the Finale. Everyone likes an underdog story, and if Sadie Robertson and Mark Ballas can win DWTS, she'll be the youngest Mirrorball champion since Season 8's Shawn Johnson.
That being said, Sadie certainly has her work cut out for her going up against Fresh Prince of Bel Air's warrior Alfonso Ribeiro and Pretty Little Liars' emotionally invested Janel Parrish, because Alfonso and Janel have been the most consistent throughout the competition. But that's just it: Alfonso and Janel have been crowd favorites since Day 1 and it's about time Sadie and Mark took over the spotlight.
If anyone was to be Sadie's ideal match as a partner, it was Mark Ballas. Mark is known on the show as one of the biggest risk-takers when it comes to production and choreography, so his fresh and innovative ideas were a perfect combination with the season's youngest contestant. But even more than that, Mark's teaching style and attention to Sadie's values are what kept their relationship strong and made Sadie Season 19's most-improved competitor.
Sadie and Mark deserve the Mirrorball because that's what the show is all about: improving and perfecting something you never thought you could do. Janel and Alfonso both agreed to do the show knowing they had the dancing and acting experience they needed to come out with clean-cut and emotional performances. On the other hand, Sadie came into the competition barely knowing if she could wear the scandalous costumes, never mind learn to dance. Going into the finale, I know now that the girl can certainly get the crowd going. She has absolutely blossomed into a season performer before our eyes.
The most impressive thing about Sadie and Mark, though, was their ability to make it this far without going against Sadie's beliefs and values. A Catholic girl all the way through to her core, Sadie had to insist on certain modifications like costume choices and even Mark's hand placement on her body. Of course, in this respect, other couples had far more sensual and passionate connections during their performances. And yet, somehow Mark was able to create performances that allowed Sadie to maintain a visibly comfortable, respectful, and adoring relationship with her partner without betraying her values in the process.
And they even have a leg up on their biggest competition: Janel & Val. Sadie's father's emotional reactions every time Sadie performs are quite possibly cuter than Janel and Val's passionate relationship and with 25 family members in the audience during the Finals, you just can't beat the obvious adoration the "Quack Pack" has for Sadie. I'm sure her support system has a lot to do with her success on the show, but the fun that Sadie is having out there is completely undeniable and Mark did that for her. Mark's choreography for the video game-inspired freestyle was arguably his best ever on the show and it's bound to be one of the most memorable DWTS performances to date.
And if Sadie wins that Mirrorball Trophy, it won't be just because One Direction's got her back — it will be because of the way she and Mark brought the iconic Mario and Peach characters to life. Sadie was probably an infant when that Mario theme song was written, but it was a much-needed and undoubtedly well-received throwback for anyone watching. Sadie's journey on DWTS will make her the face of Duck Dynasty forever regardless of the outcome, but it's time the most-improved contestant went home with a victory.
Images: Adam Taylor/ABC