These Chicken Finger Latkas Are For A Good Cause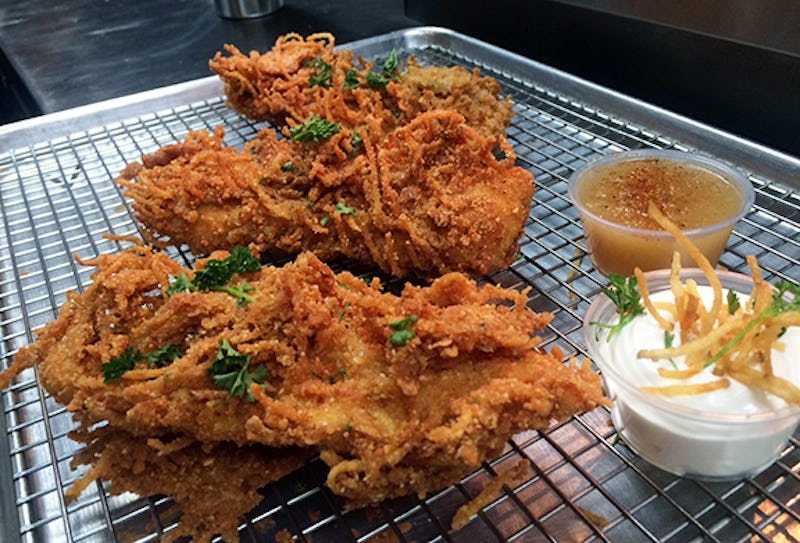 We're all about feel good deals and delicious food, and when you combine those two things together, well, happy holidays indeed. Thankfully, Sticky's Finger Joint gets us. The New York City-based restaurant, known for its inventive flavor combinations and tasty food experiments, is serving up delicious gourmet chicken finger latkas this holiday season — and it gets better. Now through December 24, 10 percent of all Latka Finger proceeds will be donated to MAZON, the national non-profit working to end hunger among people of all faiths and backgrounds in the U.S. and Israel. The great news? These community-based grassroots holiday giving campaigns can be found all over the country. Giving back has never tasted so good.
And yes, you heard me right. I said Latka Finger, as in, gourmet latka chicken finger. In fact, since its opening in 2011, Sticky's has been known to deviate from the fast-casual food norm, rolling out several Frankenfood-esque recipes that may even rival the cheeseburger-stuffed doughnut. First came the Wasabi Finger, then S'mores Fries, and now, just in time for Hanukkah, Sticky's signature Latka Finger — free-range chicken marinated in a mix of buttermilk, onion, and applesauce, then coated in a batter of grated onion, shredded potato, and matzo meal before being fried to golden brown perfection. And keeping in line with holiday tradition, each Latka Finger is accompanied by sour cream, homemade cinnamon apple sauce, and a bag of your very own Hanukkah Gelt.
I had the pleasure of sampling this hand-crafted masterpiece while chatting with Sticky's co-owner Paul Abrahamian at their flagship location in Manhattan's Greenwich Village, where Abrahamian and I talked all things food, family, and philanthropy:
So how'd you decide on donating 10 percent of your holiday latka sales to MAZON?
We didn't want to team up with a strictly Jewish non-profit, because it's like Groucho Marx said, "I would never want to belong to any club that would have someone like me as a member." And I didn't want this to be polarizing in any way shape or form; I just wanted this to be fun. It's not a matter of white, black, Jewish, gay, straight, short, tall... it doesn't matter. It's like, if you're hungry you need food, and I thought this was a really great non-profit to work with. The only Jewish aspect of this organization is that it's the Jewish response to hunger — it's non-denominational. This is who we are. We're going to keep finding causes and non-profits that we truly believe in, and we're going to keep running campaigns like this with our food specials.
And the latka chicken finger was the brainchild of your Grandmother, who is a Holocaust survivor, right?
I think her resilient nature was definitely passed down, along with this idea that I need to give back. I'm not religious, but I want to do it the right way. There's this famous Jewish quote, "If I am not for myself, who will be for me? If I am only for myself, who am I?" She's been asking me to do a latka finger forever, and I was like alright Grandma, let's do this. And that made her really happy.
But Sticky's Finger Joint isn't the only restaurant giving back to those in need this holiday season. Zagat's Eat Well, Do Good list chronicles dozens of New York City restaurants that donate millions of pounds of excess food to more than 500 soup kitchens, food pantries, and other community food programs via City Harvest, New York City's food rescue organization dedicated to feeding the city's 1.4 million men, women, and children who face hunger each year. And the giving certainly doesn't end in New York City. Several North American chain restaurants (oh hai Canada) are finding creative ways to give back in December 2014. Check out a few of these savvy philanthropists:
1. Pinkberry
Now through December 24, Pinkberry is running its "Care For Those Who Care For Others" program in participating regions throughout the U.S., where Pinkberry team members visit local community fire departments, hospitals, and other community organizations gifting Pinkberry "thank you for your service" gift cards.
2. Tim Horton's
Tim Horton's is paying good deeds forward through December 30 with its #WarmWishes holiday giving campaign. Each time social media activists share their good deeds with @TimHortons using the #WarmWishes hashtag, Timmy Ho will donate a toque (that's Canadian for "winter hat") to a child in need through the Tim Horton Children's Foundation.
3. Chipotle
On Tuesday, December 16, every Chipotle in Minnesota and select locations in Wisconsin will donate 50 percent of its proceeds to Toys for Tots Twin Cities. Just make sure you mention "Toys for Tots" upon ordering your burrito/bowl, or the donation won't go through!
According to the National Restaurant Association, 90 percent of restaurants nationwide are actively involved in giving back to their communities. With this in mind, perhaps this holiday season we should be asking ourselves, "Is there a Sticky's in my town that deserves such recognition?" Go ahead and nominate them for the Restaurant Neighbor Award. And with 90 percent of restaurants giving back to their communities, be sure to ask if a portion of your hard earned holiday dollars are being donated to a good cause with each chicken finger, burrito, froyo, coffee, or latka purchase.
Images: Goldest Egg; Sticky's Finger Joint/Facebook (3)