Books To Prep You For 'The Walking Dead's Return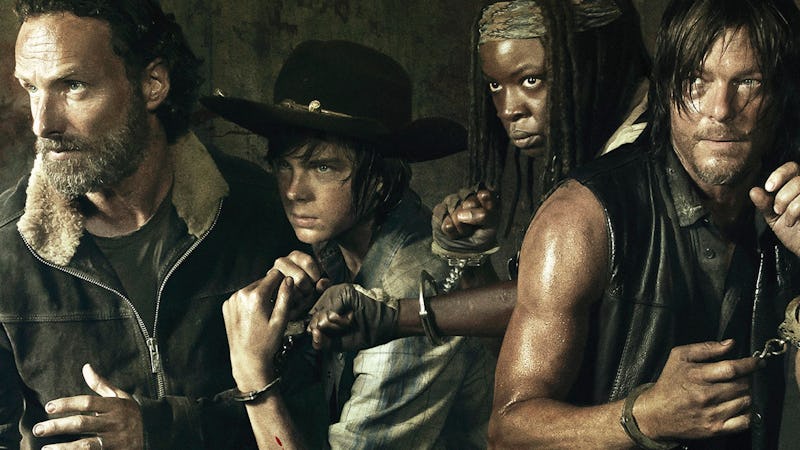 Put the tissues away, because the acceptable mourning period — and The Walking Dead midseason hiatus — is coming to an end. You might still be heartbroken over Beth's death, but it's time to get amped for the return of Rick and company.
The winter finale left viewers with so many feelings, not to mention high expectations for the February 8 return. If the Season 5 teaser trailer is any indication of things to come, fans can expect that everyone's favorite band of walker slayers will do anything to stay alive — as Rick says, "Surviving together is all that matters." Not to mention, the crew is gearing up for an all-out battle. With whom exactly is yet to be revealed, but there are plenty of forces out there who would love to take this rag-tag group of heroes down. And you can certainly expect to see some serious walker annihilation, intense action, and even, if we are to believe the new TWD Season 5 trailer, maybe even a little hope.
If you are a fan of the original The Walking Dead comic book series, then you might already be stocked up on the latest issues to help prepare you for when the AMC series comes back to your Sunday nights. You can use the black and white pages to help you cope with all of the questions you have about the second half of the season. Questions like will Daryl ever be mentally stable again after that shocking finale? Will Morgan finally find — and stay with — Rick and the gang? Are these all pointless questions because everyone is doomed to be eaten by "civilized" cannibals? With just a week until the return of biters, gun fights, hopeful reunions and inevitable losses, here are some books — from punk rock zombies to post-apocalyptic wanderings to the comic that started it all — to get you ready for the return of The Walking Dead.
The Walking Dead by Robert Kirkman and Tony Moore
What better way to get psyched for the return of The Walking Dead than to read the comic it was based off of? If you're worried about ruining the show, have no fear. The show and comic follow the same general story, but there are enough differences between them that you will be safe starting at the beginning of the almost 140 issues of the comic.
This post-apocalyptic mix of horror and fantasy about a strain of the flu that wipes out 99 percent of humanity within weeks tells the story of the survivors that are left to gravitate towards two leaders — the benevolent Mother Abigail and the evil Randall Flagg. I don't know about you, but Team Rick is calling my name.
This magical novel combines science fiction, Shakespeare, and the apocalypse to tell a story of the intersecting lives of a washed up Hollywood star, a misguided prophet, a lost child actor, and those who matter most to them. Spanning 15 years and the entire globe, Station Eleven highlights the importance of relationships and what it means to be living versus to be alive. If you like the style of storytelling on The Walking Dead, the overlapping story lines in this book are a sure draw.
Joe Ledger is one bad ass detective, and in his first appearance in Jonathan Maberry's series, he will stop at nothing to hold off the terrorist group responsible for creating and using a weapon that transforms ordinary people in to flesh-eating zombies. Detective Ledger is a man after Sheriff Grimes' own heart.
Another series you can dig your teeth into is Diana Rowland's hilarious White Trash Zombie novels about Angel, a delinquent and a drug addict from the swamps of Louisiana who has just developed her next vice: human brains. After all the blood, guts, and tears from binge watching The Walking Dead on Netflix during the midseason break, you could use a good laugh.
This collection of accounts of a zombie plague that swept the earth examines the social, political, environmental, and religious changes that follow an epochal event. Max Brooks chronicles the lives of individuals not too unlike the lives of your favorite TWD character, so much so that you half expect find the story of Daryl or Rick in the book's pages.
Featuring authors like Stephen King, Lisa Morton, Neil Gaiman, Sherman Alexie, George R. R. Martin, and many more, this collection of stories has something for ever kind of reader. Each zombie tale comes from a master storyteller and covers every essential genre including horror, drama, romance, gore, and fantasy. The perfect collection for even the most picky of the zombie-obsessed.
In a futuristic world where most of humanity has succumb to a disease that leaves them brain dead and flesh hungry, Melanie is one very special child, and there are a lot of people who would like to get their hands on her. A mix of horror, fantasy, and science fiction, after reading this, you might think of Lizzie and Mika when you finish this one.
The Road by Cormac McCarthy
A father and son wander in a tragic, hopeless, and terrifying post-apocalyptic America searching for the coast. This story of a parent who will stop at nothing to protect his child will remind you of Rick, Carl, and Judith and Herschel, Beth, and Maggie, and I can't promise you that this tale will be any less tragic than the characters' on the show.
Images: Giphy (9); youcanstay-withme-forever/Tumblr