5 Actresses Who Should Follow Her Lead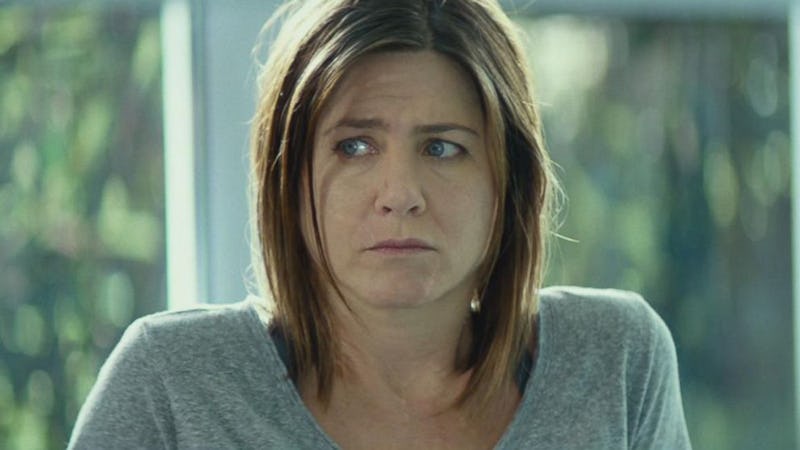 The 2015 Oscar race might be a relatively predictable one, but there is one contender whose ascent this season couldn't have been more surprising: Jennifer Aniston. Although she won an Emmy and was loved by millions for Friends, the actress hadn't gotten a real chance to prove her talent until this year. Cast as a damaged, grieving woman in the indie drama Cake, Aniston surprised by everyone by a) taking the part and b) killing in it; so far, the role has earned her honors from the Golden Globes and SAG Awards, among others, and it's predicted by many that an Oscar nomination will be next.
And if you'd told that to a Friends fan 10 years ago, they would've laughed you out of the room. Jennifer Aniston, a serious, possibly-Oscar-nominated actor? No way. Sure, her role in 2002's The Good Girl had proved she could do more than just banter with Ross, but that's still a far cry from competing with Julianne Moore and Reese Witherspoon at Hollywood's most prestigious awards show. Yet here she is, wining raves and nominations for the best role of her career, finally earning respect as a dramatic actress after decades in the business. And it's all because she decided it was time.
As Aniston's said in interviews, Cake wasn't the first drama film she'd wanted to star in, or even the second (that would be The Good Girl) — apparently, she'd worked to land the lead in several darker films over the years, but hadn't ever been given the shot. Still, the fact that she tried so hard, and finally succeeded, proves how committed she was to changing her image into one that Hollywood, and audiences, would take seriously. It's an impressive effort, and whether or not she does get that Oscar nomination on Thursday, there's no doubt that her work has certainly paid off. It's also an inspiring one — both to audiences who've watched her work for years, and for the other actresses out there who might benefit from following suit, such as:
Amy Poehler
I love Amy Poehler. You love Amy Poehler. Everyone loves Amy Poehler. She's endearingly kooky on Parks & Rec, was hilariously weird in They Came Together, and will be the wonderfully creepy "cool mom" in Mean Girls for the rest of eternity. But as good as a comedic actress we know she is, we haven't gotten to see her dramatic side. And I know she has it in her — the scene in Parks where Leslie accepts Ben's proposal is guaranteed to make any viewer cry. Next step: showing it off to more people than just the handful of people who watch NBC.
Maya Rudolph
Maya Rudolph can do everything from comedy (SNL, Bridesmaids) to music (The Maya Rudolph Show, The Rentals), so why hasn't she tackled drama? Actually, she has — it was just in a movie that no one really saw, 2009's Away We Go. The movie was only decent, but her performance was great; here's hoping that if she takes on more dramas in the future, she's given a platform that people actually want to see.
Emma Stone
Thanks to her acclaimed role in Birdman , Stone's already on her way to earning some "serious actress" cred. Still, the role was full of one-liners, and she's still mostly known for lighthearted comedies than dark twisty dramas. She needs a meaty leading role, one that'll cement her already-strong status as one of Hollywood's most valuable players.
Kathryn Hahn
Kathryn Hahn is a national treasure. Everything she is in, she makes better, whether it's Girls or Transparent or the truly-bad-except-for-her This is Where I Leave You. Despite this, however, she's still relatively unknown by most audiences, and in need of a serious breakthrough. My suggestion? A dramedy where she can show off both her comedic and dramatic sides, and she can get it attention by filling it with all the famous actors she's worked with before who surely owe her a few favors.
Aubrey Plaza
The acid-tongued, people-hating weirdo from Parks & Rec made me cry in Safety Not Guaranteed. Give this woman a drama, stat.
Images: Cinelou; Getty Images (5)